I'm Justin O'Dwyer and I work for Objectivity, a software development and maintenance company.  Last summer I spent two weeks at DWP Digital's Tech Lab in Warrington as part of a secondment opportunity.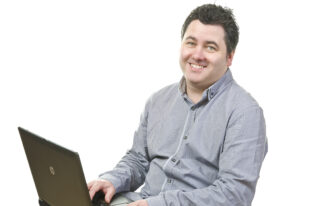 This wasn't my first experience of working for the Civil Service - in the early nineties I'd worked as an administrative assistant in the Employment Service and at HM Customs and Excise.  Both departments were very limited in their use of technology back then, with just a few green-screen terminals and the odd computer used internally, and no customer-facing technology aside from good old-fashioned telephones.
With my previous experience in mind I was excited by the chance to collaborate with DWP Digital, and by the opportunity to get a view on how the Civil Service's relationship with technology had changed during my lengthy absence.
Investigating innovation
Over the two-week period I assisted the Tech Lab team with their investigation into multi factor authentication – an extra layer of security that safeguards data and applications.
We carried out research into different technologies available and shared our findings. The result was a working proof of concept for proximity-based locking of workstations, which we developed into a mobile app.  The secondment covered an entire sprint which meant the solution could be refined and hardened, following an iterative development process.
It became obvious to me quite quickly that technology in the Civil Service has gone from being a marginal supporting element of service delivery to an essential component - both internally and in terms of customer-facing applications.
The scale and social purpose of DWP's work mean that innovation is high up on their agenda.  I was impressed by the team's dedication to fully understanding what users want and need from their services, and how they're using innovation achieve that.
Collaborating for success
Collaborations such as these have obvious benefits for both organisations. The DWP Tech Lab team were able benefit from my experience and investigate multi-factor authentication in more depth than would otherwise have been the case.  I was able to share open source automation and hybrid mobile development tools with the team, which have the potential to significantly lower the effort and costs of certain types of experiment.
And from Objectivity's point of view, I was able to gain insight from the Tech Lab colleagues who were generous with their time and extremely open to sharing their technical knowledge and working practices.  I've been able to pass on this good practice to my own colleagues.
On a personal note, I was given the opportunity to explore technologies to which I might not otherwise have been exposed to, and I had the pleasure of collaborating with a talented, friendly, and well-motivated team of technologists.
I came away from my secondment with a deep respect for the people working within DWP Digital, and for their commitment to designing and building innovative, digital services that directly and significantly benefit UK citizens.
It seems it's not just the deployment of technology that has changed since I worked in the Civil Service, but also the opportunities available to work with the latest technologies and methodologies to develop systems that make a positive difference to people's lives.