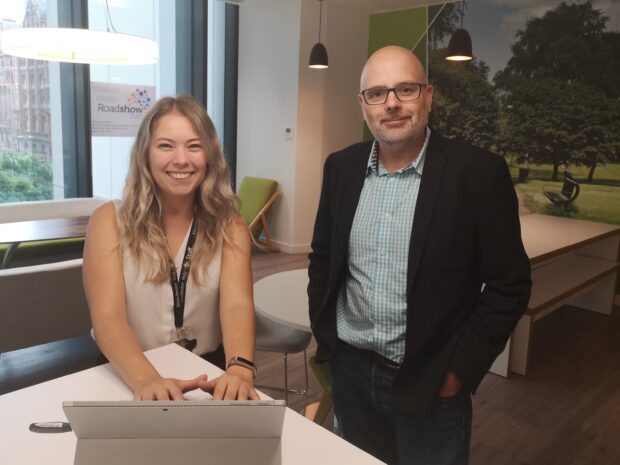 The Digital Channels team is responsible for some of DWP's most exciting digital products and services. And they're currently recruiting! Read on to find out more about what it's like to be part of the team.
Karl: It's an exciting time to join us
Responsible for robotics, document management and DWP's contact centre, the Digital Channels team is at the forefront of the key DWP customer touchpoints.
I'm the senior product owner for the Next Generation Contact Centre (NGCC). As the UK's largest contact centre it deals with around 6 million calls per month and supports more than 28,000 call operators.
The service is built on a Genesys platform that enables us to deliver an orchestrated omni-channel experience for users, improve internal communication, support information sharing and assure security.
Diversity is our strength
We've got a fantastic team located across our digital hubs in Blackpool and Manchester, made up of engineers, service managers and project managers working together to continually improve the service.
The team has a wealth of experience and also includes a number of recent graduates who bring innovative thinking, drive and enthusiasm. We actively promote learning and development across the team, with colleagues qualifying in ITIL, Scrum and KANBAN certification over the past year.
Last year we won the gold award for innovation at the European Contact Centre and Customer Service Awards.
Every day is different
No 2 days are the same in the Digital Channels team as we work with suppliers and stakeholders from around the business to deliver against our product pipeline using Agile techniques.
This year alone we've launched a new identify and verification channel; launched workforce management solutions; delivered new accessibility services; introduced customer survey tools and introduced SMS notifications.
And there's much more on the horizon including telephony self-service; task handling; robotics process integration; video calling; speech analytic enhancements; and a new reporting suite.
Over the next 3 years the team will simultaneously enhance the customer experience whilst driving operational efficiency. There has never been a better time to work for DWP Digital!
Melissa: It's an inviting work environment
I work in the Programme Management Office for the NGCC. In my role I get involved in a variety of things including financial forecasting and tracking, liaising with the commercial team, assisting with the recruitment demand for new colleagues and managing various types of reports.
I also organise our quarterly NGCC face-to-face events and get involved with coordinating and facilitating the bi-annual Digital Channels full team conference.
Due to the open-plan, friendly atmosphere in the Manchester hub I'm constantly hearing about the exciting projects across the wider Digital Channels team.
A key part of my role is ensuring that all Digital Channels Delivery Leads submit their project status reports complete with risks, milestones and fortnightly plans. This work is instrumental in showcasing where we're up to in terms of delivery.
I'm also responsible for submitting the Digital Channels monthly risk report complete with valid mitigations and plans to bring down the impact and likelihood of a risk where appropriate - something made easier by the approachability of everyone in the team.
Keeping spend on track
Now call me a geek, but the part of my role I enjoy the most is the financial tracking. This involves working with colleagues across various teams to track our month-spend against the forecasted amount.
I also help the NGCC Front Door team to maintain the demand management model which allows us to have a view of the team's resourcing. We can see who in our team has capacity to realign to another piece of work and whether there are roles we need to align more resources to.
This piece of work is particularly useful because it means I can see from a financial perspective how much money we're likely to spend on external resources. It also means we don't assign too much work to someone who hasn't got the capacity for it!
Overall my role is enjoyable for lots of reasons. But the main one has to be because of the network of colleagues I have here - both in my direct team and in other areas of DWP. Everyone I speak with on a day-to-day basis is as helpful as the next in making the whole place an inviting work environment.
Sound interesting?
If this sounds like your kind of place to work, have a look at our Digital Channels careers page to check out some of the current Digital Channels vacancies.