I blogged 6 months ago about my first week as a Business Analyst in Digital DWP. I thought I would take the time to look back over the past 6 months. It has gone so fast!
Business Analyst (BA) Community
I keep hearing the question 'What does a Business Analyst do?' Depending on who you ask, you can get very different responses.
We are doing quite a lot of work in this area to help raise the awareness of the BA role, form a common understanding across the department and promote the benefits a BA can bring to the team.
We've worked with a number of BAs to help define the vision and goals for the community.
Our vision and goals 
Our vision is to create a community for Business Analysts to enable them to engage, support and share working practices within a safe environment.
We want to:
Define the Business Analyst role and objectives
share knowledge, tools and techniques
connect with other Business Analysts
provide the opportunity to interact with a larger community in a safe environment
hold meaningful engagement events in a range of formats to meet the needs of the community
Working out loud
We arranged our first official get-together in Newcastle in April. The objective was to define the role and discuss standard objectives. We also looked at building on our capabilities and how we can learn from others and share our knowledge. It was a great opportunity to just get to know one another as well. We discussed elements of our role and one point which has stuck with me is that 'we are the glue of the team'.
We're planning our first conference in June. If you're a Business Analyst working in government and you'd like to join the community please get in touch.
Working on a digital project
My first project placement has been an interesting one, looking at alternative ways to connect customers with employers. Our research looked at what our customers need when searching for employment and what employers need to help them fill vacancies. The desired outcome is to allow both users to make more informed decisions that result in sustainable employment.
It's been great to go out and speak to users, observing how they search for employment or how they post a vacancy. We've analysed what we found to help identify the fundamental needs of our users.
Findings have suggested that there is no set standard for job postings and the information available doesn't always make it clear what the job involves. A member of our team published a blog "Setting a standard for job postings" which goes into more detail and how we hope this is taken forward.
Cross-government Digital Academy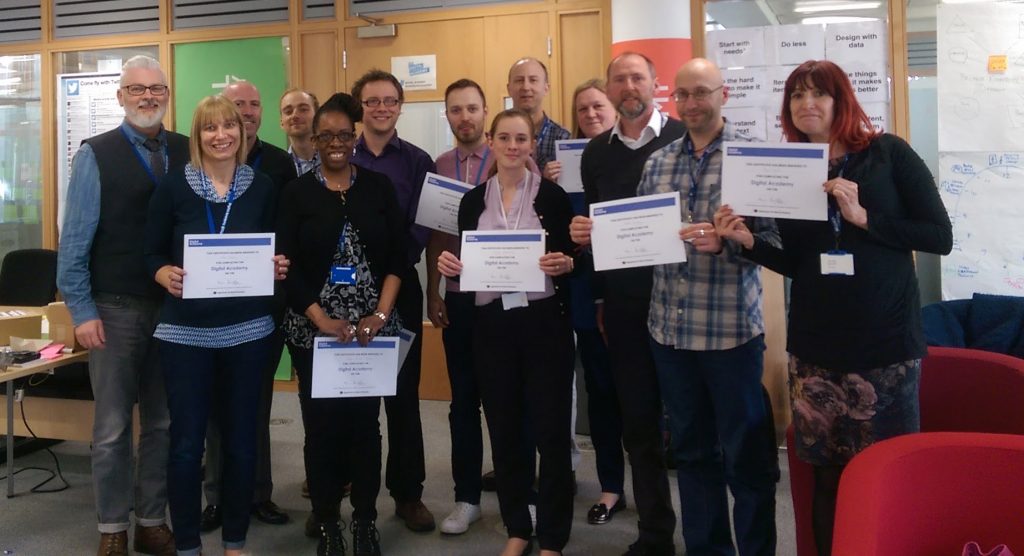 At the beginning of April I had the opportunity to attend the Digital Academy Foundation course, and I'd recommend this to anyone looking to work on a digital project.
The sessions have been really enjoyable and involve fun exercises to put learning into practice. The course contains so much, a few of my favourites were looking at sprint planning, user research, having a go at coding and actually working through a discovery and alpha sprint. Being a cross-government group we discussed how other departments are approaching their digital projects and from the contacts we've made we hope to keep in touch and share our learning going forward.
Having worked on a digital project for a short while before attending the Digital Academy, it was useful to be able to reflect on the work we have done and how I can take my learning and apply it.
I'm looking forward to the next 6 months!