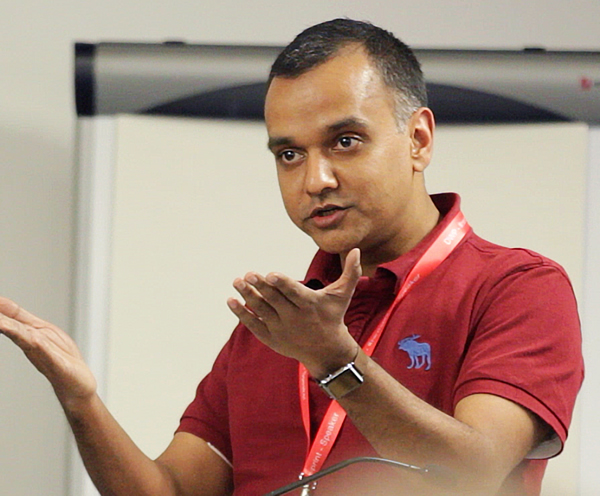 We had a fantastic day at the #nextsprint. 500 thought leaders, innovators, partners and prospective colleagues competed for 250 places to attend. We started and ended with a standing audience as the next generation of digital technologists explored service design, data science, platforms, and next generation networks.
#nextsprint reached over 6 million people online including a million unique viewers, and made the top 10 on Twitter. In the last year, more than a thousand digital specialists joined DWP, including leaders from Google, trainline.com, Lloyds, ASDA, Unilever, Tesco, BT and New Look. So why all this interest?
Our purpose sets us apart
At DWP, the opportunity to change the future of 22 million citizens means that we're relentlessly pursuing new ways to make our services simpler, faster, better, more efficient and easier-to-use. I have yet to find someone who is not touched by stories like Amanda's – of people who've turned their lives around with the support of colleagues. Some of the best professionals in our country are working across the Civil Service to make a real difference to society and to real people's lives.
Our strategy is to deliver
We have a proud tradition of transforming services with new technology, starting with Europe's largest computers recording pensions contributions in the early sixties. We have recently launched over a dozen digital services, including the Universal Credit, Carers and Pensions services. Last year, we delivered 7,229 iterations and changes into production. 70% of all paper correspondence is now digitised across DWP, including incoming post. Using data from HMRC's 'real time earnings' database improved accuracy of benefit payments, and reduced the potential for fraud by £275m. Downtime for key operational services fell by 42% last year. More than three thousand colleagues are now part of the UK's largest integrated Digital Workplace pilot. All this was done while saving £139 million for the taxpayer. We believe execution is the major job of every business leader.
Design puts real people first
Design is what links creativity and innovation. It shapes ideas into practical and attractive propositions for users or customers. We start with design thinking because better user experience trumps functionality every day. Design permeates everything we do, from iterative policy-making pioneered by Jeremy Moore's team, to the user research-led discovery phase; from the microservices design patterns we're implementing, to liberating the potential of open data with ONS's Heather Savory. We have re-designed our own organisation in favour of multi-disciplinary agile teams delivering iteratively in open, inclusive, modern workplaces. At DWP, business ownership of our digital future rests in collaboration between digital technology leaders and colleagues across the business: good ideas don't come from a predictable person, team or profession. Only when we come together do we serve our customers effectively. This is why FTSE100 executives are interested in learning from our experience of being design-led, open, iterative and collaborative.
Innovation is a necessity
Creativity is the generation of new ideas. Innovation is the successful exploitation of new ideas. But in DWP, this goes further. The importance of our services to millions of people means that we have a responsibility to innovate boldly - completely rethinking what we do to make our services ever-more efficient, tailored and user-friendly. Inspiration on exploiting the potential of disruptive technology comes from partnerships with start-ups, multi-national industry leaders, and research work with leading institutions such as UCL and Oxford. Julian Harris, our Head of Innovation who joined DWP from Google, was inspired by the opportunity to make a meaningful difference. This hunger to find new and better ways of doing things increasingly puts us in the vanguard of innovation. We're exploring potential game-changers such as virtual reality for citizens in the autism spectrum, biometrics to reduce fraud, and data science and machine-learning to automate decisions
The secret ingredient is our emergent culture.
This is our DWP, and we're implementing our vision of a brilliant civil service. Our Permanent Secretary Sir Robert Devereux has overseen a double-digit percentage increase in employee engagement: a massive achievement for an organisation as big as ours. We encourage colleagues to ask why, as it reshapes how we approach our challenges. I work with many talented and committed people, inspired by the cause of public service. Colleagues care about the work they do. Our culture values expertise, creativity and outcomes over hierarchy. My workspace is the same as everyone else's. We value different perspectives and ways of working that accommodate evolving work and life priorities. We work hard and strive to have a life we enjoy outside work. We learn by doing and by being curious: learning is not just about the 20,000 hours of digital training we delivered last year. We often contribute to open source communities by sharing our learning in open forums. We support each other and celebrate our achievements, raising the bar each year to achieve more as we aspire to be the best at what we do.
We are off the normal scale
The scale at which we operate is unprecedented: with 800 locations and 85,000  colleagues, we're larger than most retail operations. We process more payments every day than several banks. That's why our systems run on 50 million lines of code, and we manage Europe's largest IP Contact Centre. At DWP do we do things that set the trend for across industries - like leading the way on industrial-scale cloud infrastructure, and building on the flexibility of virtual servers and storage with even more efficient and secure 'containers'. And, when we come together with other government departments and partners across industries, we rethink outcomes. Few other organisations provide the opportunity to innovate, design and implement the latest technologies on such a massive scale.
#DWProud
At #nextsprint, we surprised a few people with our progress. With innovation and creativity at the core of our culture, we're re-imagining our future. It's fantastic to see how many people share our excitement for this once-in-a-generation opportunity to design, deliver and run the UK's largest services. People who know their craft are joining our teams because we're combining design-thinking and digital technology with our social purpose to create exciting and innovative products and services which improve outcomes for 22 million people – that's one in every three people living in the UK.
Find out what tech opportunities there are in DWP Technology: Subscribe to this blog to find out more about what's happening in DWP Technology, follow us on Twitter @DWPTechnology and look at our LinkedIn page to see our latest jobs.