The TechLab team has a mantra - 'seeing is believing' - one we put to the test every day by researching, testing, proving and understanding new technologies, to find solutions to real problems at DWP.
New technology, new challenges
I joined DWP in January as a Technical Delivery Manager. I shape, lead, participate and facilitate projects. After spending ten years working for public sector higher education institutions on large-scale government and private research projects, typically around security and surveillance, I was ready for a new challenge. I wanted to stay in the public sector as, not only do I know I'm acting in the public interest, I also enjoy that drive for quality rather than profit.
In the TechLab, we're at the forefront of cutting-edge technology and it's an interesting place to be. Working with domain architects, we define TechLab projects based on real problems for the organisation. We look at what new technologies are available, whether they're suitable and whether they'll work for us and our systems (in terms of scale and security). We build proof-of-concepts to show how viable each of the different options are for solving the problem or taking advantage of the opportunity.
Finding solutions in the Tech Lab
At the moment, I'm working on a project looking at 'robotics', exploring how they can be used to automate low-cognitive tasks to simplify routine processes. For example, if one of our contact centre agents needs to open several applications to answer a standard set of questions, TechLab would like to find out how robotics could be used to automate those steps. It could potentially lead to an improved caller experience and free up the call handler to better serve the caller's needs. For the purposes of the TechLab investigation, I'll draw comparisons to alternatives such as traditional redevelopment or breaking up a larger system into micro-services.
Apprenticeship to software developer
Alice Montgomery is one of our junior software developers on the team. She joined us last year as part of her IT apprenticeship with DWP. She's currently working on multi-factor authentication, looking at voice biometrics to see how we could make phone calls with our customers faster and more secure. TechLab answers questions such as 'do accents make a difference?' and 'how does call quality affect the technology?' to understand if voice biometrics is a reliable tool to use as part of a multi-factor authentication approach.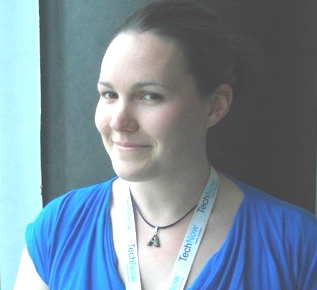 Alice said, "I've worked on a number of projects that have come to fruition as a result of our proof-of-concept work. A great example is the PIP Assessment Tool mobile App. It allows medical practitioners who are visiting patients to record information on the move; the App can be accessed from the office or a mobile device. It's really rewarding to see the idea I worked on initially come to life."
Alice is passionate about her role. DWP Technology has invested in her education and now she's helping others by helping to run a Code Club for colleagues and assisting others taking part in a 12-week Digital Academy course. As a young female in tech, Alice said, "We need to create awareness for young people about the opportunities in government technology. We need to show them that the possibilities are right here."
Proving by doing
Steve Moore, head of TechLab, is always encouraging the team to 'prove by doing.' Yet another example of where we've done just this is the Access Gateway. This solution is now being incorporated as a secure design by solution architects around the organisation.
We work though ideas with our domain architect colleagues and development team in sprints, iterating and adapting, to put in place blueprints that can be picked up by our technology teams looking for solutions to a particular challenge. Working together, we check that the technologies 'do-what-they-say-on-the-tin'. We'll highlight pros and cons for each solution so that project teams can understand the features of each option and what will work best. It's not a black and white choice, but we facilitate informed decisions.
Work on an industrial scale
The main difference working in DWP compared to other places is the sheer scale of the projects – nothing compares. When we're making decisions about new technologies, we have to keep in mind how it will play out on an industrial scale. This also means we get to work with the very latest cutting-edge technology. We are challenged to keep up with a rapidly changing landscape and, as a government department on the forefront of this, we also have to adhere to the latest standards that are out there to ensure value for money and security for the public.
We've got lots of exciting work coming-up. Find out what tech opportunities there are in DWP Technology: Subscribe to this blog to discover more about what's happening in DWP Technology, or follow us on Twitter @DWPTechnology and look at our LinkedIn page to see our latest jobs offers.