In DWP we're passionate about inspiring the next generation about technology skills and careers. So earlier this month we worked with pupils from Sacred Heart Primary school, Islington and Clwyd Primary school, Swansea to show how coding is child's play.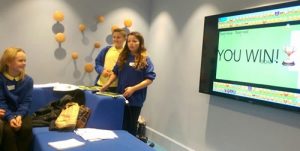 In partnership with telecommunications and internet provider Three, we delivered fun and interactive coding sessions in Three's Discovery Centres in Islington and Swansea. I supported the Swansea sessions and it was enjoyable to see the enthusiasm and creativity from all the children taking part.
During the sessions the children were tasked with bringing an initial design – drawn with paper and pens - to life using simple coding.
The children worked in pairs to invent a game with a sport theme; they had a planning session to design it, followed by a master class in coding. They then started to develop their own games using 'Hopscotch' – an intuitive and engaging game-building app.
There was a real buzz and air of excitement and the children were very competitive. Ten year old Tia-Larna, said, "I think today has been a success because I have learnt a lot about coding. It has been a fab day, thank you so much." And, Abbie, also ten said, "It was really cool and I can't wait to try it in school."
The sessions were really successful, the kids seemed to have an amazing time, and some incredible games were created.
Pearl Cox, Digital, was at the Islington event. She said, "The children split into three groups to work on their projects. The groups designed a football tennis game with football boot icons to hit balls back and forth over a net; a swimming game with three lanes for players to compete against each other; and a mosquito archery game where the characters had to navigate obstacles to earn points.
"It was inspiring to see the children quickly get to grips with software they'd never seen before, master the concepts and produce a finished product – all in one day!"
Inspiring the future workforce
These events aim to teach young people the fundamentals of IT programming, inspiring them to choose a career in technology or digital. Mayank Prakash, our Chief Digital and Information Officer, said, "I'm really excited about the future for the digital industry. Its relentless growth means it requires more talented, creative and inquisitive young people to fill future roles. I'm delighted that we are working to inspire children from all backgrounds to consider a career in digital technology."
Watch a video about the day: