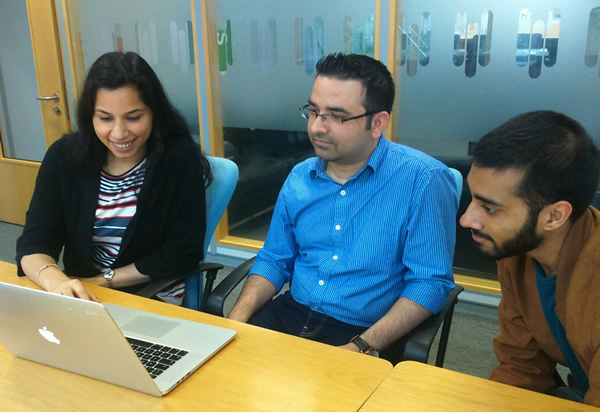 I wanted to move into the civil service as the work attracted me but I was also pleasantly surprised by the other benefits, such as the ability to work flexibly, when I joined 16 months ago.
Pooja Malhotra – senior software engineer
I was contracted to SkyGo before joining DWP as a senior software engineer. The government plan for digitalisation and the 2020 vision attracted me to the civil service.
As a senior member of the team I'm accountable for some of the more complex work. I also need to ensure that functionality is delivered on time, is secure, performing and meets the quality standards.
I've always had a love for programming, from being a child in school and I know that programming at age ten is what inspired me to go on and study computer engineering at university. It's fantastic to see the coding work DWP Digital has been doing with school children and Three. As the senior software engineer I'm keen to build capability within my team and have been involved in pair-programming with our more junior members as well as building the developer community in Leeds. I'm managing software and junior software engineers, which also involve mentoring and helping with their career progression.
I'm currently working on a project to enhance the Jobseekers service, each Jobcentre had its own way of measuring metrics and I am involved in developing one system that has rationalised the tracker metrics process for everyone. So far the Jobcentres are really happy with the new streamlined process and we plan to introduce it into DWP Business Centres next.
Umang Pethapuria – software engineer
I've been a software engineer in DWP Digital for 6 months now. I made the move from private to public sector because the job profile ticked all the right boxes for me. It also meant I could move from Edinburgh to Leeds. With government technology so large scale there is a lot more flexibility with location and we have a network of software engineers across the country.
I previously worked for Rockstar Games on video game projects including the famous Grand Theft Auto, but after four years I was ready for a change and it was the new greenfield projects coming into DWP that attracted me. The opportunity to work in agile teams and potential chance to grow into DevOps along with core development also appealed to me.
Here in Leeds there is a growing network of support as our community builds, we have regular meetings to discuss key issues, we meet with software specialists from across all the digital hubs, have listening sessions with our Head of Profession Andy Ling and we use Slack (a cloud-based team collaboration tool) to stay in touch.
I'm currently working on a budgeting loans project that will help people to apply online rather than using a paper based form-filling system. We've introduced the service in twenty Jobcentres so far and have just received approval from GDS to move to a full public service. It's been great to be involved with full project lifecycles from design to development. Working with the test team, as well as DevOps to configure and deploy applications.
Jane Gleadall – junior software engineer
I started my IT career as a COBOL programmer about 33 years ago. I went through a variety of roles in all stages of the system life cycle including different technical and project management roles, such as; technical architect, data architect, project manager, and technical lead. I also moved into what were then called mini-computers and taught myself FORTRAN. But, the further I went into management roles, and away from technical roles, the less content I was in my working life. I was working in private industry at the time and decided I needed to change direction and get back into my first love – programming. Having only programming experience in older systems I knew I would need a lot of re-training. I took some desktop and network support courses and then applied for an IT support role in DWP. When a Java Developer training programme opportunity came along, I grabbed it with both hands. The programme of training was excellent and I am happier in my software engineering role than I've been in years of management and leadership roles. I'm back where I want to be, programming and creating application code… making computers do useful things.
Devarsh Barot – apprentice software engineer
As part of my software engineering apprenticeship in DWP Digital I'm studying for a City and Guilds level 4 Diploma for ICT Professionals (Systems and Principles), City and Guilds Level 4 Diploma in ICT Professional Competence (PROCOM) and a Level 4 NVQ.
I've been here for 16 months now, and am finding it's a great place to work. I'm currently working on front-end and back-end feature development for various projects. The training has been brilliant, every day is different and there is a lot to learn. For example, I've participated in pair-programming, which involves working in twos with a senior colleague to write code. It's a really useful way to learn from the other person's experience. The senior developers take care of the junior ones and pass on a depth of knowledge that can't be picked up in the classroom.
What stands out for me is that everyone really enjoys their work, and because of this people are relaxed, easy going and very supportive.
Find out what tech opportunities there are in DWP Digital: Subscribe to this blog to find out more about what's happening, follow us on Twitter @DWPDigital and look at our LinkedIn page to see our latest jobs.