I'm Chris Simmons, an infrastructure operations engineer in DWP Digital. I currently work on Activity Control, which is a part of the User eXperience Command Centre (UXCC). The UXCC is a 24/7 function, supporting our live IT service operations.
Operations analyst in the command and control centre
Command and Control Centre operations managers play an important role in supporting DWP's IT infrastructure and the applications that run on it.
We use some fantastic real-time tooling to make sure we have the latest view of our estate, providing proactive alerts that we can act on before the service to our users becomes impacted.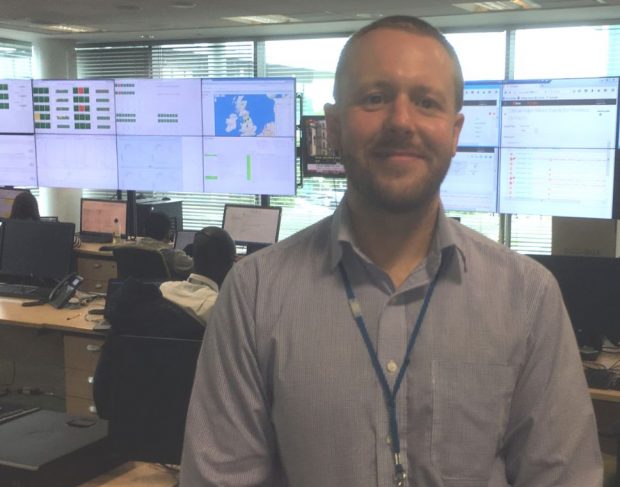 The main purpose of our role is to provide a holistic view of the DWP IT change programme. And, our out-of-hours service provides the 'eyes and ears' of DWP Digital as we're the initial point of contact for resolving any issues from major changes and releases.
Day-to-day support
Working on Activity Control provides plenty of variation and challenges. Luckily I'm part of a team with a wealth of experience in live service management. This makes us ideally placed to assist investigations and push any issues toward resolution.
My main day-to-day role is focused heavily on live service and the Change Programme monitoring changes and releases to our infrastructure.  Nothing gives me greater satisfaction than knowing my actions helped to keep a service on track. We have service level agreements so we have the important task of helping to prevent any breaches.
Part of the digital transformation
I've worked with - and then for - DWP for a number of years and have seen many changes in the way that we provide services and support our customers.  The scale of our digital transformation is huge and I'm proud to be part of it.  My background and experience is being put to good use as we deliver the government's transformation strategy.
I've also been able to learn a lot. The DWP are undergoing a programme of migrating live services to new in house data centres and coupled with the monitoring capabilities we're putting in place it has been a real eye opener - especially given our scope and complexity as the country's largest public service department.
Plus, it's great to be part of the team of people underpinning and delivering these changes. The department is investing in training and development to ensure it's a success and we're building our knowledge all the time.
A great place to work
There are plenty of opportunities to develop your skills set at DWP due to the nature of the change we are undertaking. Though just as importantly, it's a fun and friendly environment to work in. It's also good to be surrounded by colleagues who are genuinely enthusiastic about pulling together to achieve our goals.
We're at the start of an exciting journey in relation to infrastructure operations, especially as we have just started the data centre migrations.  There are challenging times ahead as we monitor these activities and work to keep our services running smoothly throughout, but I am confident that we will succeed.  We have a great team of people, and we're looking for other passionate people to join us.
If you're interested in joining us visit our DWP Digital Careers website. And, have a look at our LinkedIn page.
Find out more about what's happening in DWP Digital: Subscribe to this blog and follow us on Twitter @DWPDigital.