DWP Digital and NHS Digital are working together to build a service that notifies DWP when a patient is terminally ill. It recently entered public beta for healthcare professionals who have NHS smartcard access in England.

In this blog post, DWP product owner Sally Shaw and NHS Digital business analyst Steve Bowring talk about the user research and collaboration at the heart of developing the service.
Moving paper forms online to fast-track applications
Sally Shaw, DWP: The DS1500 form is used by GPs, consultants and Macmillan nurses to help people with less than six months to live apply to DWP for certain benefits under special rules. It helps them fast-track the process of getting these patients the support they need at a very distressing time. It also means that the claim is treated as a high priority.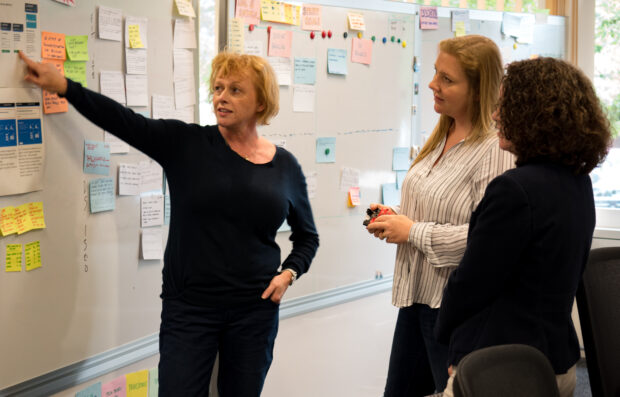 Currently, a DS1500 form is sent to DWP via post. Our user research revealed that this process can take up to 10 days. There was clearly a need to reduce the worry these patients and their families have about quickly getting financial support at a difficult time.
So, our challenge was to build a digital service that allows healthcare professionals to submit the form online, so that DWP could process it straight away.
We wanted to work with the team from NHS Digital to make it happen.
Understanding the needs of all users
Steve Bowring, NHS Digital: The collaboration came about following a technology event in Leeds where teams from NHS Digital and DWP Digital shared ideas of how we could work together better to help transform government services.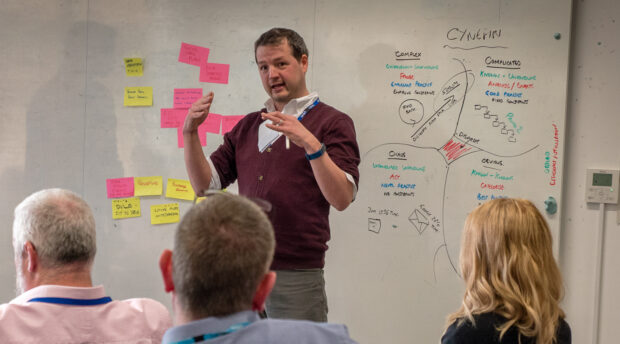 Although introducing the online form sounds like a simple enough idea, there was a lot of complexity involved. We worked closely with DWP colleagues to come up with a technical solution that was both simple and usable.
We explored a number of options and hit on an answer that addressed a number of different user needs.
Sally: User research was at the core of developing the service.
Throughout the project, we were focused on the user needs of the terminally ill patients, and the GPs, consultants and Macmillan nurses who complete DS1500 forms on behalf of patients.
For patients, the user need was simple – to receive vital payments as quickly as possible.
For Macmillan nurses, it was really important not to have to learn to use a whole new IT system. They were also keen on making the process as quick and easy as possible.
This two-minute video explains the service from the perspective of Macmillan nurses Claire and Sharon, who have been using it.
Using existing tools to make the service simple and secure
Steve: The NHS smartcard platform is an identity management and access platform used by 1.3 million NHS professionals.
Allowing GPs, consultants and Macmillan nurses to use their smartcards to securely access the DS1500 digital service was a vital part of making the service simple and usable for them, and secure for everyone.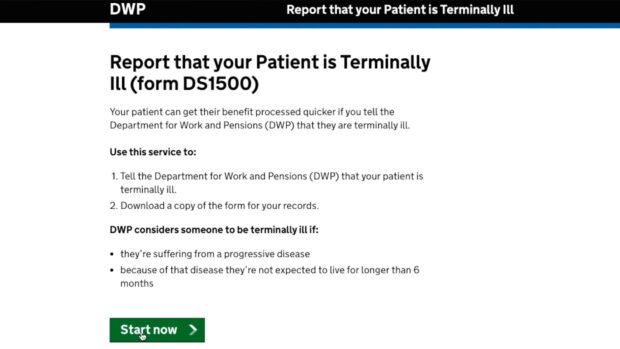 When the NHS user clicks on the URL for the DS1500 form, the software allows DWP's systems to instantly check and confirm the user's identity and credentials. The user can then access, complete and securely submit the form online.
This removes potentially lengthy delays and eliminates the risk of the paper form going missing in the post.
Also, because the information is not handwritten, it makes it easier for Operations colleagues in DWP to process the form, which in turn helps terminally ill patients get their payments faster.
Collaborating across departments
Sally: Having NHS Digital colleagues as part of the development team was essential. It meant that we were able to take the insights from GPs, consultants and Macmillan nurses and together come up with the solutions.
It emphasised to me again that delivering a digital service isn't just about technology – it's more about people.
Steve: Any barriers that may have existed initially from two different departments' ways of working quickly came down.
Now that the service is in public beta, we're continuing to work together on iterating it to make sure we have a service that works for all our users.
There's still much work to do, but it's good to be involved in developing a service that will make a real difference for terminally ill patients and their families.
Sally: We're really pleased that we've worked together to build something that's been shaped by the people who are using the service. Seeing the GPs and Macmillan nurses who we've worked with from really early on use the service and talk about its value shows that all the work has been worthwhile.