I'm Dan Tanham, a Deputy Director at DWP Digital. Two weeks ago I had the privilege of hosting our #HackTheNorth event in Manchester.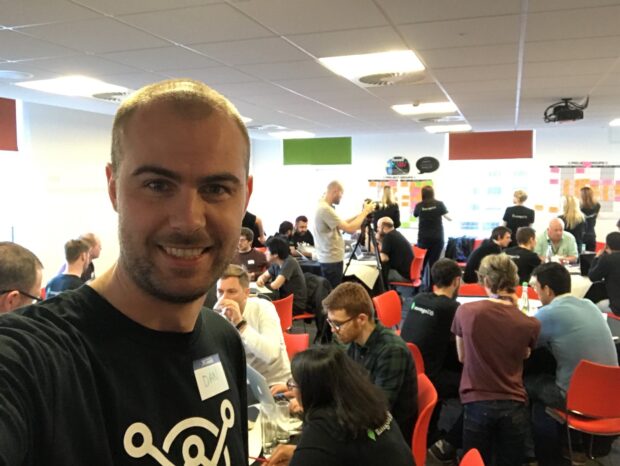 The aim of the hack was to come up with solutions to help address the unemployment challenges in the city. And although we didn't expect to completely solve the problem, I think everyone who was there would agree that some fantastic ideas were generated that have the potential to make a real impact.
Check out our Twitter moment to watch the action unfold social media style.
Setting the scene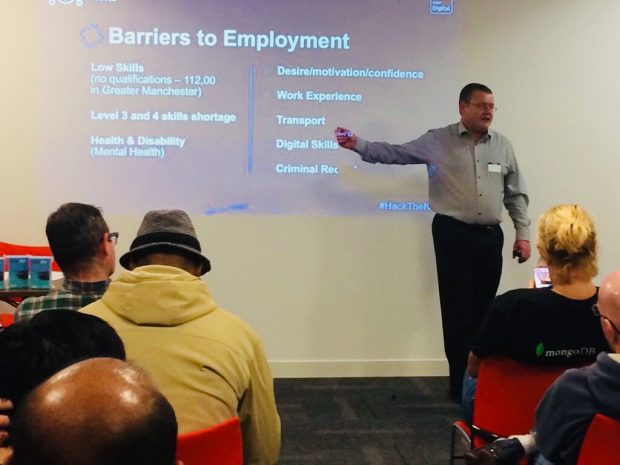 The event started on Thursday afternoon with quick-fire presentations from Manchester Digital's Katie Gallagher, some of DWP's data science colleagues and Joe Drumgoole from MongoDB – the event's lead sponsor. Joe explained the pitch process, saying, "The most important thing is to learn something, have fun and try to do some good."
Tim Haworth from DWP Work Services did a great job setting the scene of the unemployment situation in Manchester. He was keen that everyone in the room understood the barriers to employment including skills gaps, transport, criminal records and lack of experience. We also had the opportunity to hear from John, one of our claimants who we'd recently helped into work.
On to the questions...
The question and answer session gave attendees the chance to pose their questions to our speakers. And this was when the room really came to life!
Almost all of the questions (and there were many!) were directed at our Work Services colleagues and demonstrated the audience's real interest and concern for the cause.
After a bit of networking and time digesting what we'd all heard, it was time for the pitches. And just like the questions, I didn't think they'd ever stop coming.
Ideas spanned a huge range of innovations from the gamification of job applications to using data visualisation to display jobs suited to people with different health conditions.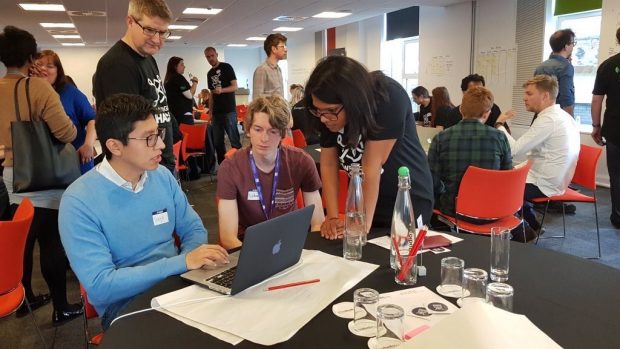 There was so much genuine enthusiasm about solving Manchester's unemployment challenges; I knew from this point on that we were going to witness some fantastic ideas.
Coding commences
When I arrived at the venue on Friday morning, I was amazed to see that many teams were already there putting their ideas into action.  The buzz in the room was contagious and continued throughout the day, as teams worked together using their digital skills to address the challenge.
I was so impressed with the energy and enthusiasm on display. When speaking to the teams, they said they'd been inspired by the cause and the presentations the previous day.
Ellis, a freelance experience designer who took on a project lead role at the hack, was genuinely surprised by way we work in DWP Digital saying, "As a government department I'd expected DWP to be quite corporate, but the people I've met here really want to make a difference to the world."
The judging
On Friday afternoon it was time for the presentations and judging. Joe and Tim joined me on the judging panel, which also included Vimla Appadoo, one of our services designers at DWP Digital.
Each team took turns to show what they'd managed to build over the course of the day. We got to see live demonstrations which included:
an Alexa skill that uses voice recognition to help people search for jobs
A Twitter bot built on top of MongoDB to match employer and employee requirements on social media
'Nicola' – a messaging bot which makes applying for jobs easier
an app that uses data to assess which type of roles and employers are best for people with certain health conditions
an app that turned the job hunting journey into a game
The standard of all the presentations was first­-class and the judges were blown away with what the teams had managed to achieve in such a short space of time.  What was very interesting was seeing the amount of overlap between the teams and their complete focus on making things easier for the customer.
It's cliché to say, but all teams were winners in my eyes. However we had to pick one! And that was UpSkill – a team made up of two software developers, a data scientist and a colleague from a Cheshire Jobcentre. Their app uses data to match people's skills to the skills required by employers, and has an API to allow people to access resources to boost their skills.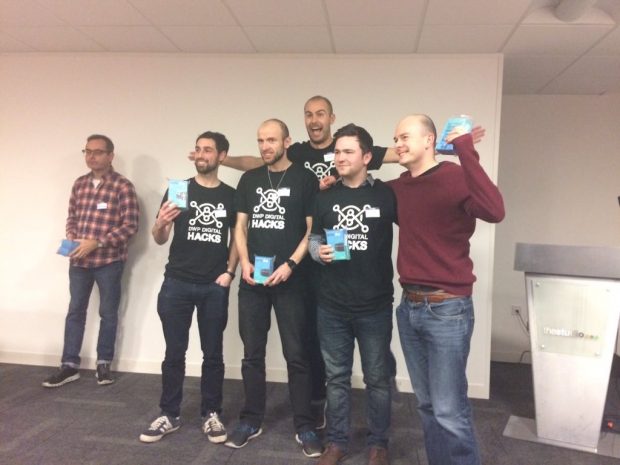 Innovation is the key
At DWP Digital we have a responsibility to our customers to innovate. This hack has helped us generate some brilliant ideas that we can look at taking forward.
It also enabled us to start establishing DWP Digital within the Manchester tech community ahead of our digital hub opening in the city early next year.  I'm originally from Bolton, so it made me proud to witness first-hand the innovation and creativity of some of region's tech talent.
We're hoping to continue the success of this hack with further events next year – keep up to date by following us on Twitter @DWPDigital.