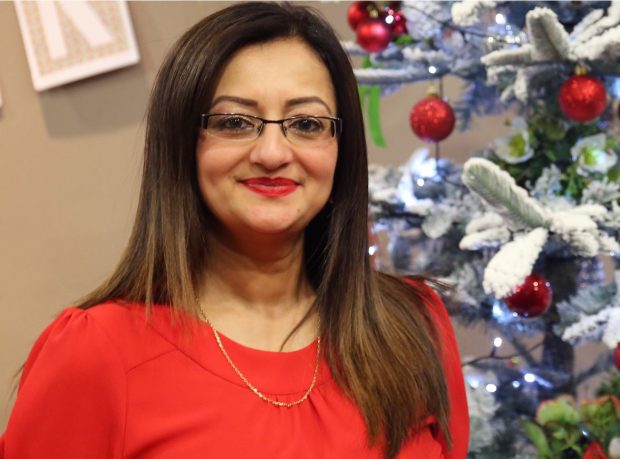 I'm Ozma, DWP's Diversity and Inclusion Gender Lead. My role is to support Mayank Prakash - our Chief Digital and Information Officer and DWP's Gender Champion - on all things gender-related.
It's been a really busy year for us. Last month I organised the first DWP Gender Diversity conference; its aim was to make a tangible difference to the gender balance in DWP.
Most inclusive employer
As the largest government employer of women, DWP is committed to bringing about real change. Mayank has signed us up to the Business in the Community gender campaign, and is ensuring that we work closely with other Civil Service departments as well as private industry so that we can learn from others.
By bringing together senior leaders at our Gender Diversity conference, and getting their commitment to make a difference and orchestrate change, we can move towards our goal of becoming the UK's most inclusive employer.
The theme for the day was 'changing perceptions and culture in order to achieve gender parity in DWP'. But, we're not only focusing on gender, we're also considering intersectionality, because it's important that we are representative of the general population and the people we are building services for.
I don't think it's as clear cut as male or female, straight or gay, black or white etc. We also need to consider people's advantages and disadvantages that make up who they are.
Sharing experience
Sue Griffin, chair of DWP's Women in Technology group opened the event together with Mark Janes, DWP HR. Sue said:
"We're here to commit to making a difference and give people the opportunity to pursue their dreams."
In her role Sue champions opportunities for females in a male-dominated environment, particularly young females and encourages more women into technology and digital roles.
A range of speakers gave presentations about how we can change perceptions.
Kylie Havelock from the Ministry of Justice gave an insightful presentation on this and how being more attuned to people's advantages and disadvantages can help us to be inclusive. For example I'm able-bodied, mentally well and have a good job; but I'm also female, from an ethnic minority and a working class family. So it's important to consider each and every individual and their characteristics, look at bias and listen across differences.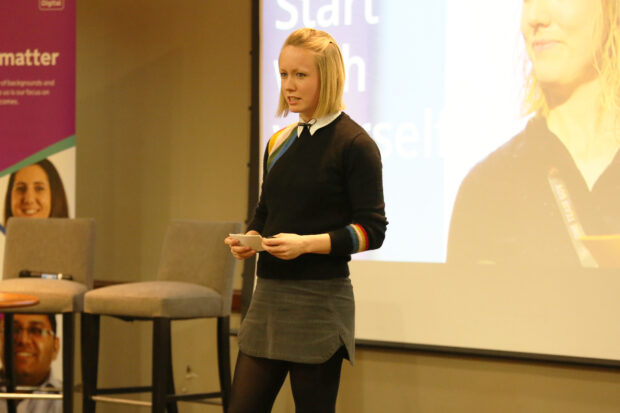 Loraine Martins, director of diversity and inclusion at Network Rail spoke about authentic leadership, telling us we should have the courage to be authentic. We all notice difference; the challenge is how we manage that difference and allow people to be themselves. Mayank asked:
"If you're not feeling comfortable, are you able to be yourself?"
He wants us working in teams that are conscious of the people around them and aware of giving people a good experience. After all, we spend the majority of our life working, so it's important to make the environment enjoyable.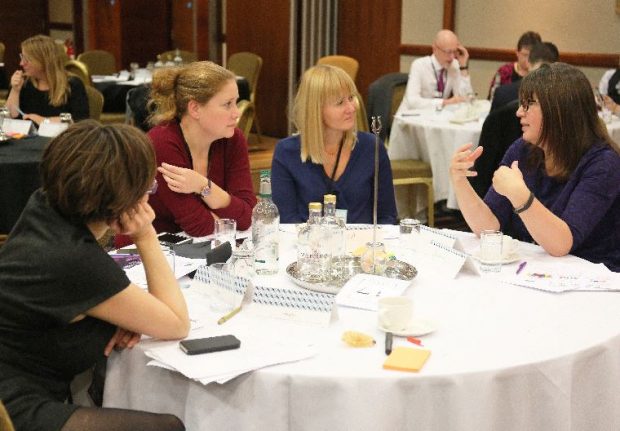 "I can be me"
Shelley Hardman, shortlisted for the Civil Service Diversity and Inclusion award for championing LGBTI inclusion, spoke passionately about the importance of raising awareness of the issues minority groups can face. Shelley is a great example of one of our female role models here in DWP, somebody willing to speak up and share their personal stories to make a difference to others. Talking about the shortlisting, Shelley said:
"It was a huge achievement if you consider that only 35 nominations were shortlisted over the seven categories, out of 166 nominations and over 400,000 civil servants."
Value driven
We are value driven in DWP. Our values underpin our commitment to putting customers first, and focus not only on what we deliver but how we do it. Respecting people is one of our main values; this means treating people with respect and welcoming diversity to recognise individual needs. So I'm proud to be part of the team that encourages us all to think about whether our behaviour is fully inclusive.
A difference in perspective helps to anchor decisions and underlines the need to encourage people who are different from the norm to join us. By changing perceptions we'll make cultural changes that give everyone a fair chance to shine and be the best they can be. And by doing this we'll naturally evolve to a normal that includes gender parity.
As we fast approach the New Year I'd like to wish you all a prosperous and happy 2018. May it be a year where we can all make a difference to those around us and have the courage to be authentic and really embrace who we are.
You can find out more about what's happening in DWP Digital by subscribing to this blog and following us on Twitter @DWPDigital. Visit our DWP Digital Careers website and have a look at our LinkedIn page.