Every year at Christmas time I collect thousands of chocolate oranges to donate to medical staff and children who have to spend the holiday in hospital, in memory of my son Elliott. 
I'm Chris and I work in the DWP Digital Engagement team.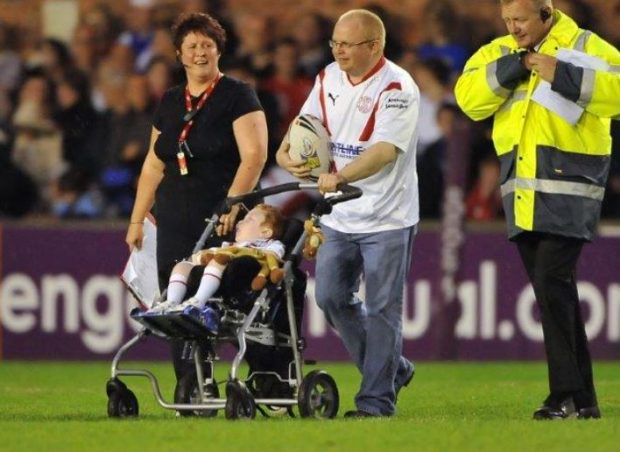 Elliott suffered from a condition called Congenital Cytomeglavirus. He spent a lot of his life in hospital. When Elliott was in hospital over Christmas in 2008, with pneumonia, I bought one of the physiotherapists a chocolate orange as a thank you gift.
Word soon got around, so I bought more and more to thank the medical staff caring for Elliott and others. When I told people what I'd done they started buying them too, giving them to me to pass on.
I never wanted to celebrate Christmas again when Elliott passed away just before Christmas in 2010 aged 4. But then I decided I wanted to do something positive to cherish his memory. Elliott never gave up despite all that was thrown at him from the day he was born. He completely changed my life and made me focus on the important things, caring for others, kindness and being thankful for every day. So I started an appeal for chocolate oranges to collect as many as possible for the following Christmas in Elliott's memory. I wanted to say thank you to those who care and for the incredible work they do for all our loved ones.
In the first year, I collected 145, since then together with all the people who have joined my appeal, I've collected over 23,000 chocolate oranges.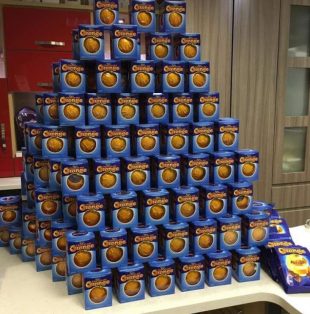 Caring colleagues
The DWP has been fantastic in supporting me, and the challenge has grown year on year. Across the country, you'll see pyramids of chocolate oranges in DWP offices as colleagues get into the Christmas spirit and donate in Elliott's memory.
It's a difficult time of year for many people and I feel that we all need some hope in life. By doing this challenge every year I've managed to touch the hearts of many, help people who have suffered their own loss and spread a bit of cheer at Christmas.
Make a difference Friday
On Friday 15 December, I'll try to get as many of the chocolate oranges delivered as possible. I do this on a Friday just before Christmas each year and it's turned into a mad dash to get as many delivered as physically possible, with me and my supporters racing all over the country!
I've had so much help in doing this as the story of my challenge spread. I even have a special chocolate orange lorry to help me with the deliveries, Lancashire DAF have donated a driver and lorry for the last couple of years, which they logo up especially for delivery day.
Last year I appeared on the local BBC North West Tonight news and 'Made in Liverpool' TV Channel to speak about the appeal and this year I was invited to take part in the St Helen's Christmas lights switch on.
An orange glow
Now I'm planning on lighting the UK orange!
I'm excited that my local seaside town of Blackpool will light the tower orange on the 15th. In Newcastle, St Mary's Lighthouse in Whitley Bay will also go orange and I'm working on the St John's Tower in Liverpool. We may even get the new Mersey Gateway Bridge to change its colours, which would be awesome.
In my hometown of St Helen's, I've arranged an event at the Town Hall. I've invited local charities for a celebration event with choirs and singers from our borough, including some local schools.
And in Manchester, 'The Steve Prescott Foundation' along with middle-weight professional boxer Martin Murray, will visit patients in Manchester Hospitals with the special deliveries.
Support
The level of support from colleagues has been astounding and I just want to call out a few examples.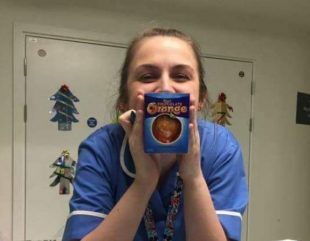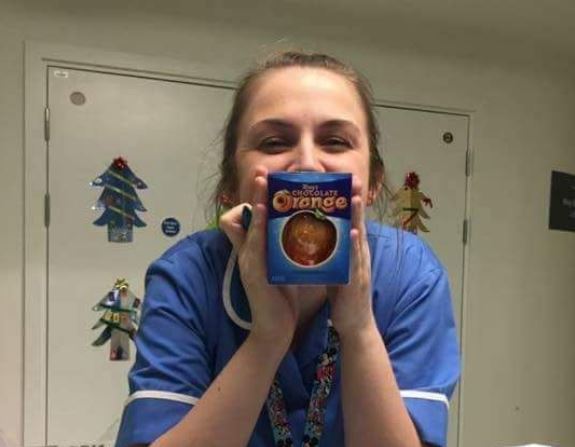 In the North East a whole team of colleagues has been supporting me for the last few years, donating to charities, foundations, hospitals and hospices who've supported loved ones. Particularly close to my heart, and where Elliott spent time are Zoe's Place for babies and infants, Alder Hey and Whiston hospital.
Colleagues in Blackpool also collect for Brian House children's hospice, Derian House children's hospice in Chorley and St Rocco's hospice in Warrington.
In Leeds, colleagues have regularly collected and donated to local children's wards in Leeds, Bradford and Sheffield. And in Newcastle colleagues have collected around 800 chocolate oranges already.
In our London hub colleagues collected over 500 chocolate oranges last year, which were donated to the nurses in Evelina House, the Children's hospital linked to St. Thomas's hospital. The collection for this year is well underway and we're hoping to deliver even more this time.
Thank you
When I look back at what we've achieved together over the last 8 years I can't thank friends and colleagues enough. Elliott would have been 11 years old now and I'm so humbled and proud that the chocolate orange appeal is helping to keep his memory alive. It's simply amazing!