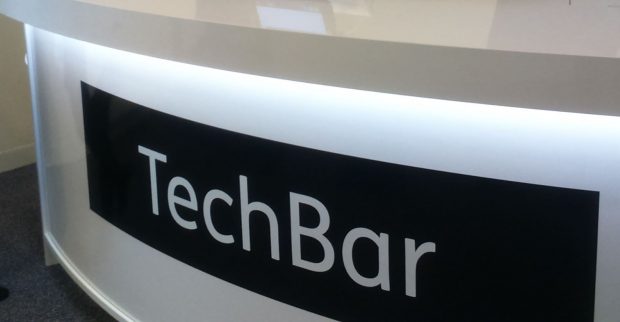 Isobel
My name's Isobel and I'm an associate end user computing engineer providing technical support for London and the Home Counties. I've been providing frontline support to our users since 2006.
Working in partnership with our IT suppliers we resolve tech issues for the department's 85,000 colleagues. We're the first port of call for employees and often we are able to fix the problem while they wait.
We also visit DWP offices to promote self-help and educate colleagues on how to resolve some issues themselves. I'm currently involved in a project that aims to empower colleagues to improve their existing skills and promote a user-centric culture for our organisation.
It's rewarding knowing that my role in improving and keeping our IT working ensures DWP can continue to look after the most vulnerable in our society.
Since working at DWP Digital I've been given genuine opportunities to develop myself; there's a real commitment to investing in people. Recently I've been able to complete my COMPTIA training and certification and I can't wait to put the skills I've learnt into practice.
The rate of change in DWP is phenomenal and that keeps it exciting. There are so many different teams that the opportunities to move around and interact are plenty, which is great for building networks and developing knowledge. It's a pivotal time for digital development so if you're motivated and self-driven there are numerous opportunities to get involved in.
Omar
I'm Omar, an end user computing engineer based in Sheffield. I currently manage a team of 12 colleagues who look after our IT service channels. These include a service management tool where incidents and tasks are logged, an instant messaging chat service and our telephony. We are part of a larger, regional team of around 60 Associate End User Computing engineers in the North East of England providing support to our DWP colleagues.
A key part of the role is ensuring we deliver our normal business to a very high standard. We also spend a lot of time with our frontline colleagues, for example in jobcentres, helping users to resolve their IT issues. And we assist them to up-skill themselves by teaching them how to get the best out of their IT.
It's exciting to be part of the biggest digital transformation in Europe. The recent roll out of new kit including Surface Pros and iPhones has been a welcome challenge, giving us the opportunity to learn more about the new technology and efficiencies it brings.
At DWP Digital, we truly care about our people. If you want to develop your career the opportunities are here to be taken. Over the last 18 months I've had lots of development. Our digital transformation has also opened up exciting new career paths, for example colleagues joining our Digital Academy have the chance to retrain as coders or developers.
Employees in government departments are graded by the level at which they work. This often causes misconceptions of an antiquated hierarchical Civil Service, but I've found the opposite to be true in DWP Digital. If you're doing a good job and have good ideas, you get recognised and are quickly positioned to take on new responsibilities and challenges. My senior managers are approachable and interested in my views and it's great to have relationships like that at work.
My latest challenge is bringing together three regions to unify our ways of working and share skills. It's been an amazing chance to really challenge existing practices and make changes for the better. I'm relishing the role I have in the group and having the full support of my senior colleagues behind me.
Louise
My name's Louise. I've worked in DWP Digital since 2008 and I'm an associate end user computing engineer based in one of our Jobcentres.
I'm currently working with a team to help streamline our live chat facility, producing quick responses to our most commonly asked questions. We're hoping this development will not only speed up response times but also provide more continuity in responses across the regions. I've enjoyed the chance to be part of this project, the inclusivity and the opportunity to help shape the future of our digital services. It will also be rewarding to see the outcome.
In DWP Digital the make-up of colleagues is diverse and varied and we have a lot to learn from each other. Having the opportunity to network with different people and share experiences is an important part of future growth.
The last 18 months have been particularly challenging as we've introduced new ways-of-working and new technologies. The change has been fast paced and it's been testing at times to keep up with everything as it's evolved. But if you're driven and committed, the opportunities for progression are there. We are currently being offered industry-recognised training opportunities and the chance to tap into a valuable network of contacts.
We're currently recruiting end user computing engineers. To find out more visit our DWP Digital Careers website and have a look at our LinkedIn page. You can also subscribe to this blog and following us on Twitter @DWPDigital.