Hi, I'm Sarah, a performance analyst in DWP Digital. The start of December marked my 10 year anniversary of working in DWP.
This got me thinking about my time here and what I can do to get more involved with the wider community and challenge myself at work.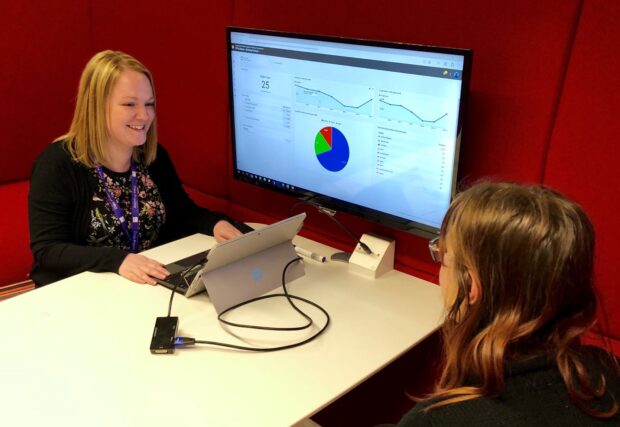 Looking back
Looking back at my career, I've been lucky enough to have several different roles I have enjoyed, from publishing statistics to policy analysis.
DWP analysts are encouraged to change roles every few years, which is a brilliant opportunity to try something completely different. So this is what I did earlier this year when I started working in my current role.
A new opportunity
The performance analyst role is very different to what I've done previously. Throughout my career so far I've focused on the same analytical software; I enjoyed it, but I was excited about learning new tools.
The other thing that pleased me was being co-located with my colleagues. I'm used to working with teams spread across lots of locations so it's nice to be in the same room.
In DWP Digital there are always opportunities to stretch yourself, move out of your comfort zone and develop. This is probably why my current role has been my favourite so far. Everyone here is really passionate about what they do and we're encouraged to work out in the open. This has been a change for me; I'm not used to other non-analysts being excited by numbers and wanting to hear what's going on! I often share my work with small groups in the office. I'm getting more comfortable doing this but feel I can do more, so…
Getting out of the comfort zone
I decided I needed to push myself out of my comfort zone. My first step was to volunteer to speak at a product owner conference in Leeds earlier this month. It was only a 10 minute slot as part of a wider session about data, but it was a start.
There were 3 of us talking about how product owners could make better use of data. I was very nervous about doing this, partly because I'm not used to talking in front of large groups but also because I was speaking last and the other 2 presenters seemed really comfortable on the stage. I was worried that in comparison I'd come across as a nervous wreck!
In my session I spoke about the role of a performance analyst and the importance of measuring the correct things throughout the lifecycle of a service. The timing of the talk was perfect as GDS had just published new guidance on performance metrics that I could touch upon. In the end it went by in a bit of a blur (which probably means I was talking too fast) but it wasn't as scary as I thought it would be. Lots of people came up to talk to me afterwards, which I felt was a good sign that I was well received.
No stopping
I'm not going to stop here. I'm going to continue to push myself out of my comfort zone, and as I'm more used to working with numbers rather than words, writing this blog is step 2.
Who knows what my next 10 years will bring? For the time-being I am looking forward to 2018, seeing what will happen within DWP Digital, the services we provide and how our team of performance analysts can support them.
We're currently recruiting technology specialists. To find out more visit our DWP Digital Careers website and have a look at our LinkedIn page. You can also subscribe to this blog and following us on Twitter @DWPDigital.