It's not who you are, but what you've done that gets you invited to a Royal Garden Party!
I'm Dennis, part of the Data Science team in DWP Digital and I was humbled to be nominated by one of my colleagues to receive a British Empire Medal (BEM) award in the Queen's Birthday Honours list. I was also invited to attend one of the Queen's garden parties in recognition for the work I do as a volunteer for the British Legion.
At DWP, nominating colleagues for an Honour is one of the ways we recognise people for their exceptional contributions. Working in the Civil Service, we are encouraged and supported to give our time to volunteering and community causes. The Queen's Birthday Honours List recognises this, and the achievements of a wide range of extraordinary people across the United Kingdom. So I was excited and felt absolutely privileged by this honour. When I first received the letter telling me I'd been awarded a BEM I was very surprised. I never imagined I'd receive something like this.
Throughout the country, a long established network of sponsors is used to invite guests, who include Lord-Lieutenants, Societies and Associations, Government Departments, Local Government, the Services, the Church and other Faiths.  They nominate guests for invitation to recognise the breadth of service given by people from all backgrounds.
The BEM was presented by The Lord Lieutenant for Tyne and Wear, at a local ceremony in South Shields last November, and on Thursday 31 May, my wife Sandra and I were lucky enough to attend one of the Queen's garden parties. It was quite an exciting day! As I was walking around the gardens, I saw the Queen and Prince William as well as other members of the Royal Family, including Princess Eugenie and the Duke of Gloucester.
I enjoyed walking down the steps into the vast garden and being impressed by the sheer number of people milling about eating sandwiches and drinking the famous iced coffee. The sun shone and brass bands played as we took tea on the lawn, it was a lovely occasion. At 4pm the band played God Save the Queen, and the Royal family stepped out of the palace and talked to and congratulated as many of us as possible.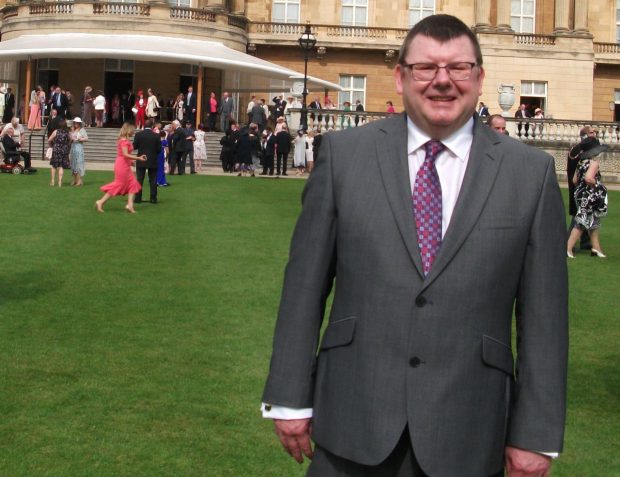 It was really nice to meet lots of people who had also received an award or had been nominated by someone within their community and it was a pleasure to share experiences and memories. I've been fundraising for for 35 years now, and in this time I'm delighted to have helped raise thousands of pounds for The Poppy Appeal. More recently I've widened my charitable work to a number of local causes and cancer charities. From all of the congratulations I received from my colleagues, I know that they genuinely pleased for me too.
It was such an amazing day and a memory I'll cherish forever.
You can  find out more about what's happening in DWP Digital by subscribing to this blog and following us on Twitter @DWPDigital and @DWPDigitalJobs.