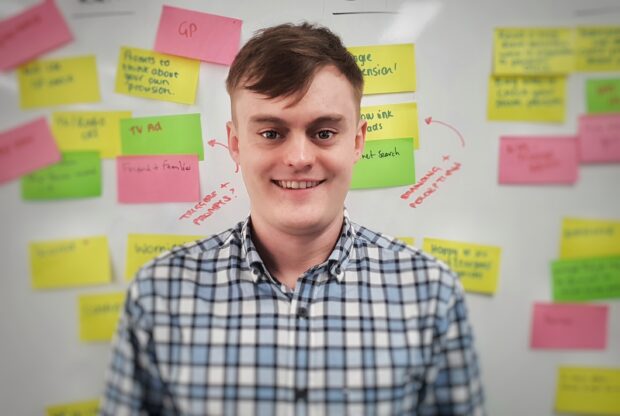 I'm one of the many developers who make up part of the Integrations Team based in our Manchester hub. I recently joined DWP Digital's software engineering team, as it felt like a great opportunity to build on my passion to help other people.
Developing microservices
One of my tasks is developing microservices, which help to manage data and the secure transition between the systems at DWP and across government. When new projects are developed, we work on the microservice to help them integrate to DWP legacy systems. Because of our role we often refer to our team as 'the jam' that helps to bind DWP systems together.
Bringing experience
Before joining, I was working in the private sector for a cloud hosting provider, building software that delivered and maintained servers and the applications hosted on them.
I have a degree in software engineering, and have worked on lots of different projects, delivering usable, cost-effective and reliable services. I'm able to bring both my previous work experience and academic knowledge to my new role.
Attracted to the social purpose
I've always had a passion for helping other people. In my spare time I'm a Scout Leader, and I volunteer in my community. So this felt like the right move. And I know that my work is contributing to improved systems, helping those in need to access valuable services, and ensuring they have access to the resources they deserve.
I felt reassured I'd made the right decision in my first week, when I attended a welcome event. Our Chief Digital and Information Officer spoke passionately about how the systems we develop help those in society that really needed them.
Technology to excite
Serverless is one of the biggest developments in technology since cloud computing, and something I'm really interested in. It takes the mundane tasks of setting up and configuring servers, and turns it into a simple process that can easily be automated.
Within our team we've been working on developing better continuous deployment pipelines. We're creating jobs within our pipeline which deploy code to testing environments, and eventually to live environments automatically. Amazon Web Services (AWS) and Microsoft Azure are taking serverless to the next level, with products which allow developers like me to deploy code within seconds. Being able to utilise products such as AWS and Azure is really helping us to progress.
Training and hacking
Since joining I've also been able to set aside time for personal development. In November I took part in DWP Digital's Hack the North 2.0. This was a great opportunity to meet colleagues in DWP, and people from the tech industry. The ideas generated at the event were invaluable, and I'm hoping to attend future hacks.
I'm really enjoying my new role. I even received an in-team award from my colleagues before Christmas for helping others. Growing my ability to help people - including my fellow software engineers - is one of my goals for the future. I'm also looking forward to seeing some of the microservices I've been involved with go live. I'll be helping to ensure they're tested, ready for deployment and working properly.
Be part of it!
We're recruiting now. Find out more about our software engineering community.

You can also find out what's happening in DWP Digital by subscribing to this blog, looking at our LinkedIn page and by following us on Twitter @DWPDigital and @DWPDigitalJobs.