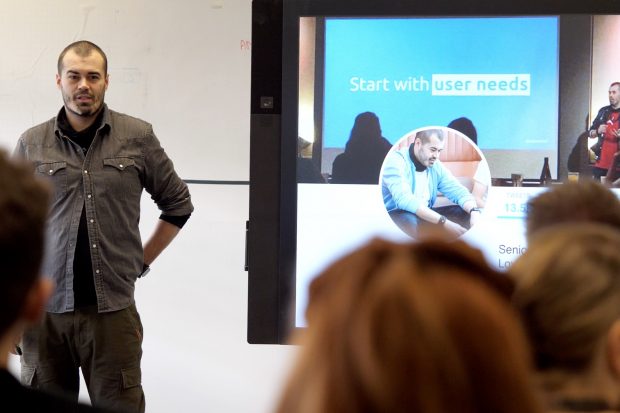 We're really excited to be holding a day of tech talks at this year's Leeds Digital Festival! If you're interested in how we're using design, data and technology to tackle some of the UK's biggest digital challenges, come along and find out more.
The tech talks take place on Wednesday 1 May at Hippo Digital, 24 – 26 Aire Street, and tickets are available on Eventbrite at the links below:
You can just come to 1 event or all 3 if you like – it's entirely up to you.
What to expect
The first tech talk kicks off 10am with a session from Euan Gillespie, Head of User Research. Euan will give an introduction to User Research in a government context, covering approaches, techniques, and common challenges - all framed around case studies from DWP projects. He'll also share his tips on developing a User Research community of practice.
Then it's over to data scientists Penny Pegman and Paul Ainsworth whose interactive session will demonstrate how we're using data visualisation to enable evidence-based decision making when developing and improving our digital services.
Finishing up the day is Senior Interaction Designer Craig Abbott, who will talk about how to design accessible services that don't disable people. He'll give examples of things that have tripped him up in the past as well as suggest tools to help test designs.
And in true Yorkshire style, there'll be time to have a brew and a chat with the presenters following each session!
Techin' it north!
We're really passionate about being part of the growing digital community in Leeds. Our buzzing digital hub in the city centre is full of digital professionals working together to make DWP's services simpler, faster and more user-friendly.
Over the next year we'll be recruiting over 130 digital specialists into our Leeds hub, so the day is also a good opportunity to find out more about the roles we have on offer.
Most of last year's sessions sold out really quickly, so make sure you register for your free tickets today.