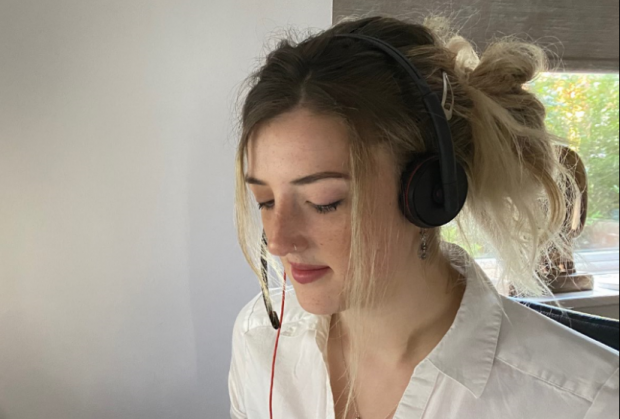 We've just launched our digital apprenticeships programme, with openings in software development and infrastructure engineering. This is a great opportunity to join DWP Digital and secure specialist skills to build a successful digital career.
The roles are based in our digital hubs in Blackpool, Manchester or Newcastle, with the flexibility to work remotely while social distancing.
As a digital apprentice, you'll be given a permanent job in the Civil Service, with a competitive starting salary of £27,565, full employee benefits including a Civil Service pension, generous annual leave, public holidays, and plenty of career prospects.
Lizy Gibson, one of our current apprentices working as an infrastructure engineer in DWP Digital said:
"I'd encourage anyone considering an apprenticeship to take the leap and apply. I've been able to gain work experience whilst studying and it has opened a lot of doors for me."
Tech with social purpose
In DWP Digital we're working to support some of society's most vulnerable people, putting their needs at the heart of our work. As an engineer, you'll design and build digital services that are used by more than 20 million customers every day.
You'll also be part of a diverse engineering community, where you'll be encouraged and empowered to develop your knowledge and skills, and try new things at the cutting-edge of your industry.
For example, you could develop technical skills in:
using big data and analytics
artificial intelligence
micro services
application programming interfaces (APIs)
hybrid cloud services
cyber security
network design
Learning in partnership
We combine this hands-on experience with virtual learning, delivered by our partner provider, including one-to-ones with tutors or mentors, lab tutorials and proper research projects. You'll work on a one-to-one basis with a dedicated skills coach and have weekly meetings with a tutor.
Own your career
Once you've completed your apprenticeship, you'll gain the skills required to move into a specialist role with an exciting career path such as front-end software developer, Java engineer or infrastructure engineer.
You'll also have the opportunity to continue with professional development and to explore opportunities in DWP Digital and other government departments.
Diversity matters
The work we do needs a diverse mix of cultures, perspectives, experience, skills and ideas. So we're looking for more people from underrepresented groups to join us such as BAME and LGBT+ individuals. We value and promote diversity, so people can be themselves at work.
Flexible working and home working means a healthier work-life balance for our colleagues and we welcome more applications from females to redress the gender balance in the tech industry.
Find out more
Read more from Lizy and some of our other apprentices, and find out how to apply on our careers website.