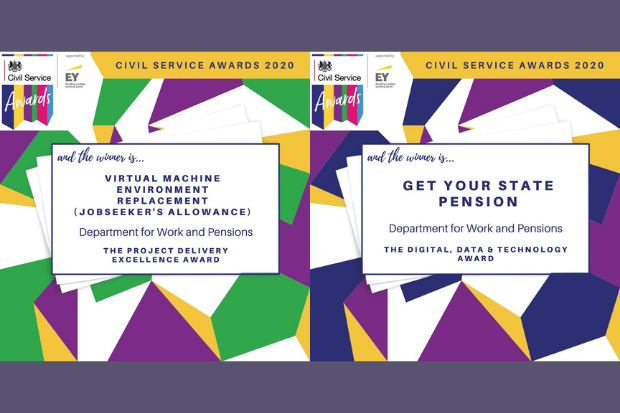 There was double cause for celebration last night after DWP Digital scooped two prestigious Civil Service Awards. This is the 16th year of the awards, which celebrate innovative projects from across the Civil Service.
During the online ceremony our Virtual Machine Environment – Replacement (VME-R) project was chosen for the Project Delivery Excellence Award, while the Get Your State Pension (GYSP) service was the winner of the Digital, Data and Technology award.
Get Your State Pension
The award for GYSP was in recognition of the service becoming the first 'straight-through processing' benefit, meaning that new online claims can be awarded and paid to the customer without any agent intervention. This automated service is now paying over 60% of customers in this way.
The benefits include an improved customer experience, a reduction in the need for agent intervention, cheaper maintenance costs and the ability to make future changes quickly.
Speaking about the recognition for GYSP, product owner Vicky Coatesworth said: "The team will be really proud to receive this award. The project has had its difficulties and challenges to overcome, but it's been a very rewarding experience too."
VME-R
There were also celebrations for those working on the VME-R project, which replaces DWP's benefit systems within the UK's National Critical Infrastructure. The project – the biggest of its kind in Europe – has seen the ageing legacy systems replaced with zero disruption to our benefit operations.
The award recognises the work done by the team on the Jobseeker's Allowance service. This was implemented over Easter 2020, when the entire team was working remotely due to the COVID-19 pandemic. It was achieved ahead of schedule, with no disruption to citizens or users.
Speaking about the award and the wider VME-R project, deputy director Mark Bell said: "This award is absolutely amazing. It's been a long project that's replaced 11 critical benefit systems. The success has come through exceptional collaboration with the Service Planning & Delivery Change Delivery team, our operational colleagues, our partner supplier Advanced and of course colleagues across Digital."
You can read more about the Civil Service Awards on their website.
Want to work on award-winning projects that make a difference?
Take a look at the latest vacancies on our Careers website.