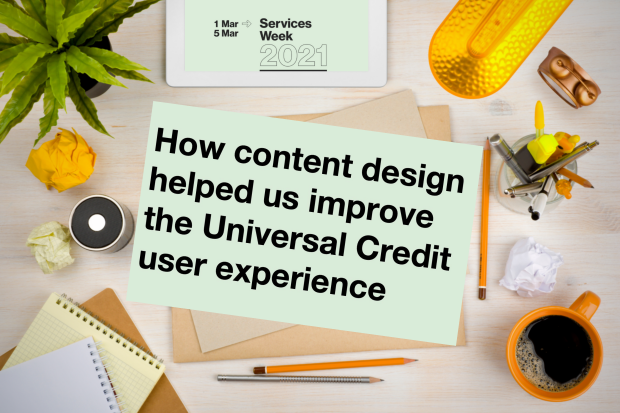 I'm a content designer working on Universal Credit (UC), the main benefit for people who are unemployed or on a low income. I work in a team that deals specifically with payments and debt: we make sure we pay claimants the right amount on time.
I often get asked what content design is and my answer is always "giving someone the best user experience possible". In this blog post I'll demonstrate how we try and do this through content design by using a real-life example.
Who should I contact about money taken off my UC Payment?
This is one of the most-asked questions by people claiming UC and the answer can vary depending on the reason for the debt.
If a claimant has debt it will likely be repaid back to government through their monthly UC payment. Debts are often entwined between UC and DWP's Debt Management team.
For example, if a claimant is struggling with repayments of an advance, they will talk to the UC team. However, when they want to make a repayment they will be directed to speak with Debt Management. Research has found that some claimants are unclear on who they need to speak to about what debt and why. As a result, we were finding that UC and Debt Management teams were receiving a high volume of calls meant for each other.
A look at the information given to claimants revealed what we considered to be part of the problem. As you can see below, when it is presented as flat content it can be difficult to understand. The table of different types of deductions which tried to explain our internal structures and systems around debt, could be confusing for someone not familiar with the terminology or thinking behind it. So, we knew that we had to change it.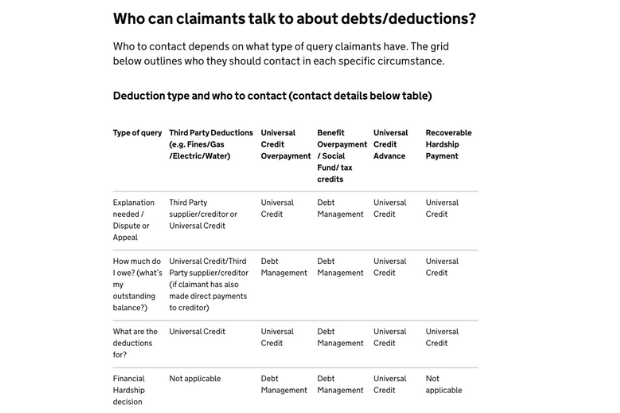 Using 'smart answers' to make things better
It's not up to the claimants to work out how the Department for Work and Pensions' internal systems work. Debt is stressful, and we shouldn't be adding to that stress.
My job was to convert this table into something easy to understand that helped claimants reach the right place, first time - content design.
To unpick the problem, I started a discovery phase working with a Business Analyst. This included looking internally to see where both teams were experiencing high call volumes. We also spoke to policy experts to find out the correct place for claimants to be directed to and started to work out the logic.
To find out more about claimant behaviour, I looked at feedback from gov.uk, analytics and claimant chat forums. This allowed me to get a full picture of experiences, and vitally the language people were using to talk about them.
Looking at all the research, I decided to use something called smart answers to help me fix this problem. Smart answers is basically a tool which enables us to present complex information in a quick and simple way.
This means instead of asking claimants to interpret a complex table of information, they are asked a series of questions which guide them to the information they need.
For example, if the claimant has a question about an advance payment, they choose from a list of plain English options to help them:
• How much I owe in total
• How much I pay every month
• I want to make a one-off payment
• I want to pause repayments
When it came to the content, it was really important to adapt DWP's language for the claimant. I did not want to force them to work any harder than they needed to. For example, internally we use the word 'deduction' but from the research we know claimants use the language 'money taken off'.
The result – a simple and easy to use service
Find out who to contact about money taken off your Universal Credit is now a simple and easy to use service that only ever takes a person to the place they need to be. We're constantly iterating the service but informal feedback from users shows us that people think it's a really useful tool and it's been used by lots of claimants.
The work the team did to help claimants understand about money taken off their UC Payment perfectly illustrates Sarah Richards' definition of content design: 'Content design is answering a user need in the best way for the user to consume it.'