On Wednesday (02/04/14) Adrian and I started the next part of our journey and joined the project at Carers Allowance in Preston.
We arrived in time to join in the daily morning stand up. This is a short meeting for each person to let the team know where they are up to on their work and any issues they've got. We were impressed with how quickly the Scrum Master got through all 15 people (11 minutes!). We introduced ourselves and were given a very warm welcome.
We were invited to attend a User Feedback presentation by Ben Holliday. This was a very interesting session to see how the work the project is viewed by the end users (customers). All their feedback is considered and any amendments built in to future Sprints.
Following this we were invited to join in the planning session for the next Sprint. This gave us a really good insight into how Sprints are built up and why releases are done in small parts.
After lunch we set about making a plan for the objectives we have been set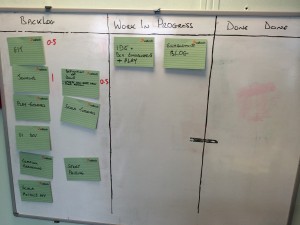 Check back for updates on how we are getting on.................