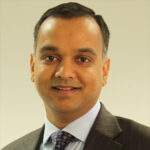 Hello. My name is Mayank Prakash and I'm the Director General, Digital Technology at the Department for Work and Pensions.
I started at DWP back in November, and so far it's been a hugely exciting introduction to the world of government technology. I've spent a lot of time meeting people and learning, and getting to grips with how it all fits together.
DWP is the country's biggest public service department. It handles pensions and benefits - its work affects the lives of millions of people every day.
We're looking for a Chief Technology Architect. This is the first in a series of new appointments I want to make, the first step towards building a new team of talented people to complement the existing expertise. We believe that technology is integral to business delivery; we're here to deliver public services to millions of citizens, and we can use technology to make those services better.
We want to replace our critical systems with newer digital services we've already started to build, using modern technologies such as Node.js, MongoDB and Hadoop. This is big, serious, heavy-duty technical change, an exciting challenge for the right architect.
We will be implementing GDS Design Principles, and I'm looking forward to making big changes over the next five years. We'll be building new platforms and APIs based on open standards and open data. If that sounds like something you want to be part of, find out more about the Chief Technology Architect role in DWP Digital Technology.