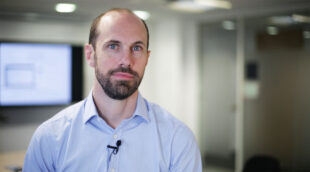 Whether you're aware of it or not, the phone in your pocket, the computer on your desk, and the increasing number of connected devices we take for granted, are busy generating more data than ever before.
I'm Charlie Boundy, Head of Data Science in DWP Digital Data, and you can read about what DWP is doing with data and analytics, why it's important, and why it's great to work here in my latest blog for Civil Service Quarterly.
I'm using data to tackle policy issues and influence the delivery of our citizen-facing services. The way data is being used is rapidly evolving. So while data may sound a bit dull to some, it's what makes the world go round right now.
Public expectations have gone way beyond just being able to access services online. Data is central to the next wave of digital transformation of public services, and that means getting the right data to the right place at the right time.
Applying data science in DWP
DWP is a large, complex public service organisation where there are thousands of unique daily decisions affecting millions of people. However, as with all things digital, it starts with the user.
By embedding analytics into apps or business processing, we're helping our users to understand which claimant groups need the most support, and customise our efforts accordingly. Good data science needs to combine with good design skills to hide all that complexity with a simple set of insights or options for the end user.
Transformational challenges
In ten years' time, you'll be hard pushed to find any systems in UK businesses that don't include some form of embedded analytics. Achieving this sort of embedded analytics will transform any department, however this brings challenges including; having trusted data, design and how we approach privacy and ethics.
The future of data-led services
Making better use of data is more achievable than ever before given the amount of free software, cloud storage and collaborative communities out there. Being truly transformative, though, means working closely with users to help them explore what data products they would find valuable and tackling specific questions, rather than trying to tackle them all.
Data science skills are in high demand across all industries, but few organisations have as meaningful a challenge as DWP. It's a chance to work with a rich set of data that will grow exponentially with digital services. And, working in government provides a real opportunity to make a difference to people's lives.
Find out what's happening in DWP Digital: Subscribe to this blog, follow us on Twitter @DWPDigital and look at our LinkedIn page to see our latest jobs.