I'm Deborah Jamieson, Head of External Relations in the DWP Work and Health Unit. We work across government and other sectors to improve health and employment outcomes for working age people.

We published our Work, health and disability: improving lives consultation in October 2016, which aims to transform the employment prospects of disabled people and those with long-term health conditions.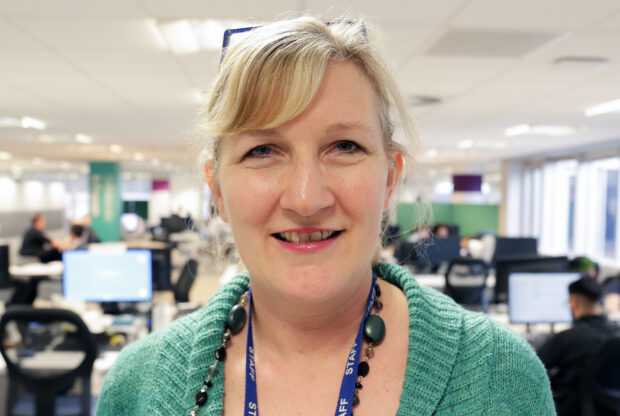 The consultation closed in February. We received hundreds of responses from individuals, disability charities, employers, health and care professionals, employability organisations, service commissioners and providers and others.
I'd like to explain how the pre-launch discovery work we did contributed to this.
Using discovery to improve engagement
We wanted to encourage as much online participation as possible – by members of the public as well as stakeholders and representative groups.  Our Digital Academy colleagues helped us achieve this by guiding us through a discovery phase to focus on user needs through agile ways of working.
User researchers helped us identify user groups, how to approach them and the questions we wanted to ask.
We held interactive workshops with users to test the questions we wanted to ask and understand their needs. Displaying feedback using post-it notes encouraged collaboration and prompted innovative responses. For example, we discovered:
how we could use schools to generate debate
that people really trust their hairdresser
that some people would like to see posters about work and health on the back of toilet doors
The discovery phase culminated in a show and tell meeting for colleagues from DWP and Department of Health. Colleagues reviewed the user research findings and voted to prioritise the recommendations.
How we used the discovery findings in the consultation
The discovery showed that we needed to be open and inclusive in the consultation and meet our users' needs. As such, we offered a range of communication channels to ensure that stakeholders and disabled people and people with long-term conditions could share their views during the consultation.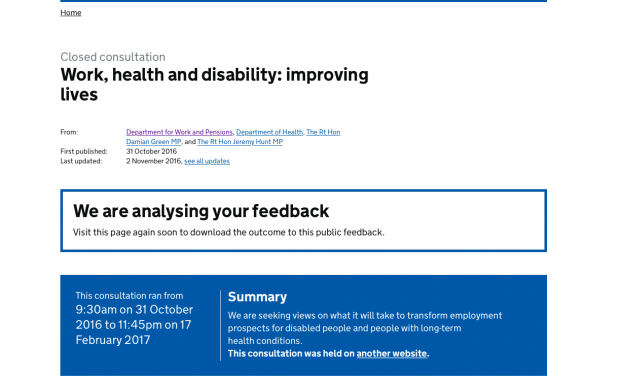 We hosted more than 120 events across England, Scotland and Wales over the consultation period. Our Commercial Directorate held an event with the department's suppliers too.
The open and collaborative approach we used during discovery was adopted in meetings with disability charities and other groups, with excellent feedback and responses.
We met service providers through the Institute for Employability Personnel and listened to their suggestions. The institute used online forums and articles in trade journals to raise awareness about the consultation.
We used an online platform (Department of Health's Citizen Space), for the online consultations and had over 23,000 views. Although used by many Government Departments this is the first time it has been used by DWP. We designed the consultation with a digital audience and digital responses in mind.
The benefits of an agile approach
The entire process of carefully gathering and listening to views and user needs throughout the discovery process made sure that users were at the heart of our thinking.  We were able to be open, inclusive and collaborative in our approach.
We found that agile ways of working promoted a flat operating structure where everyone's views are important, regardless of seniority or background.  This led to a more engaging working environment, resulting in a consultation approach more firmly centred around user needs which we believe lead to better outcomes for our users.
We worked collaboratively, with my team and the Strategic Communications Directorate working closely together to make the consultation a success.
And finally, we approached this discovery work without a clear solution in mind which meant that everyone was open to new ways to consult.
It's fair to say that the different way of working was a challenge too – some colleagues found it difficult to adapt until they got into the routine of sharing and discussing all the findings as we went through the discovery.
We definitely saw the benefits of a discovery and an agile approach to designing the consultation, and we'll be using this in our policy work in future.
Find out more about what's happening in DWP Digital: Subscribe to this blog, follow us on Twitter @DWPDigital and visit our LinkedIn page .