Hi I'm Priya Patel, and I've been a User Researcher in DWP Digital for around nine months.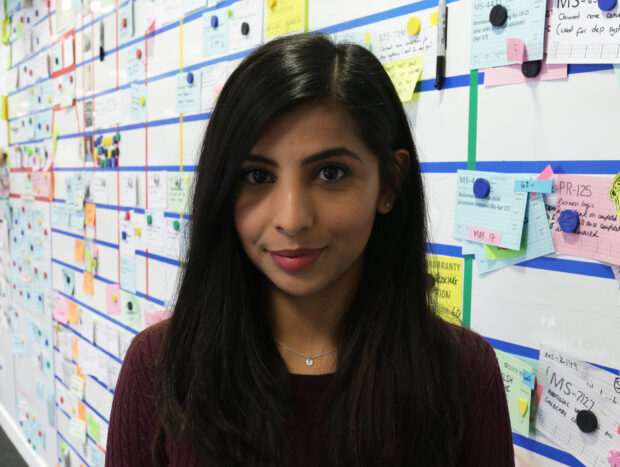 Before joining I worked as a research executive for a boutique market research agency specialising in pharmaceuticals. I've got a BSc in psychology and an Msc in Research Methods in psychology.
Achieving
Since joining I've already worked on some exciting assignments, my proudest achievement to date is working on a project to send out automatic appointment notifications by SMS and email to our claimants. This will help them to remember appointments and reduce phone calls to our service centres for reminders. The aim is to reduce the number of people forgetting to attend appointments, helping our customers to get the help they need faster. To date we've sent out over 130,000 emails and 39,000 SMS.
My current role is as a lead User Researcher within a multidisciplinary team of Business Analysts, Developers, Content and User Interaction designers. We're working on a project to improve the appointment booking system currently used within the Universal Credit Full Service programme. Our work will help to make the appointment booking journey fast and accurate.
Scale
As someone new to the civil service and DWP as a whole, understanding the way in which the department is organised has been quite a learning curve! DWP has multiple departments within itself that are involved in the implementation of our policies and our digital products. It can be bewildering sometimes but I'm relishing the challenge of working at such scale. My current role is part of a huge project to overhaul the department's appointment booking systems. It will improve the process for all our contact centres helping us to process over 25 million bookings each year. The scale of work is tremendous.
Environment
One of the things I'm enjoying about working here is the working environment which is fun and informal. We work together to discuss solutions and bounce off each other's ideas. It's a very friendly place to work with bright individuals.
My team has just moved to a purpose built floor in our London office which has been set-up with interactive working in mind. We've plenty of visual walls to share what we are working on, as well as various breakout areas. The whole team takes every opportunity to celebrate our successes and is lively to say the least!
Skills
So far, I've had plenty of opportunity to learn from across the department as well as across disciplines. I've also had the opportunity to talk to colleagues in GDS, the Consulate and Home Office. I've been lucky enough to attend a Government Digital Services training programme for agile methodology, which has proven to me how the DWP are investing in staff. There are multiple training and development activities on offer if you want to learn and build your capabilities. I've also been able to learn from colleagues, we have a culture of sharing knowledge. We have regular meetings and workshops to develop skills such as editing videos or data works usage.
It's also inspiring to see that we are doing well as an equal opportunities employer. Our Universal Credit Director is a woman, Lara Sampson and she's also head of product management for DWP. It's great to see lots of women in senior positions, and it's encouraging for my future.
We're recruiting all the time. Find out more about what's happening in DWP Digital: Subscribe to this blog, follow us on Twitter @DWPDigital visit our DWP Digital Careers site and look at our LinkedIn page to see our latest jobs.