Universal Credit is one of the most important and special things I've worked on in my career. I'm Lara Sampson and I'm the Product Owner for the Universal Credit Full Service (UCFS).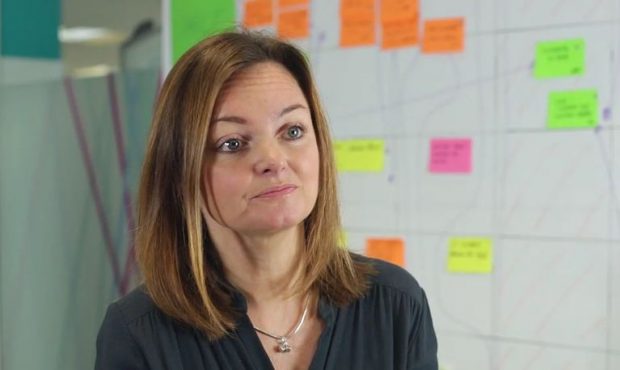 Fixing the welfare state
The purpose of UCFS, in a nutshell, is to fix the welfare state. At the moment our system is so complicated. People worry that they are taking a risk by moving into work; that perhaps it won't pay to do that, or that the amount in their pocket doesn't really make it worth it. Or if it didn't work out that they'd have to reapply for new benefits.
The purpose of UCFS is to redress that balance, replacing all the various benefits with one single monthly payment, the amount of which corresponds directly to the amount of money they are earning. We're doing that in a fully digital way.
Helping a range of people
UCFS is serving a vast range of people with different circumstances. From people who are in work but on a low income and need some support, to people who are unemployed and need help finding their way into work. It also support people who'd previously been claiming tax credits and people with mental or physical health conditions.
A unique challenge
It's quite hard to compare Universal Credit to anything else because it is so unique.
At a transactional level, where you are transacting money, it could be compared to a conglomeration of banks. You could also make comparisons to all sorts of services where human contact is important and is digitally enabled, such as online shopping sites.
But, because of what it's there to do and because it brings together these things at such an enormous scale, it stands alone in terms of what it's trying to achieve as well as its size.
As for developing a digital service and the range of scope that the team has to influence, it is almost certainly one of the biggest in Europe.
Once we're fully rolled out by the end of 2022, we'll be serving 7 million people across the UK. We'll be responsible for running what is effectively the whole welfare state, paying out billions of pounds each year. And, we're serving some of the most vulnerable people in society, people who are dependent on it for receiving money and support.
Making a difference
What we are doing is incredibly important and with that comes a responsibility which could weigh heavily on individuals – so it's vital that our teams are structured to ensure that people get on, feel empowered and have a good time at work. We're a multi-disciplinary team bringing together all sorts of people with different professional skills and a diversity of backgrounds. Our culture is relaxed and very engaging with colleagues who are entirely focused on the outcomes we are trying to achieve.
I'm pretty confident that, if asked, my colleagues here in DWP Digital will tell you they are here to:
get people into work and help them earn more
help people who are in vulnerable situations
reduce the amount of fraud and error in the system
and to make the service as efficient and as operable as possible for our staff.
So the culture we are building here, the culture we have, is focused on being a 'team'. What we are interested in is bringing people together so everyone feels connected to the same goal. Here in DWP Digital we trust in individuals and we're empowering colleagues to make their own choices. Delivering their work in a way they can see the real difference they're making within weeks of them doing it. And that generates a feeling of responsibility for their own progress and a greater sense of commitment.
Best place to work
Working on Universal Credit for me is undoubtedly the most important thing I've done in my career – I've worked in a lot of change programmes, across government and in the private sector, and nothing comes close to working on Universal Credit.  There are three reasons for that.
The first is because of the social importance and the direct connection that as a member of this team I feel I am making a difference to society.
The second is the team itself. This is as hard as it's rewarding, but it's also enormously fun and very supportive. I look forward to coming in every day and we are all very proud of each other. The third is the sheer scale of the challenge, and it's being surrounded by that kind of scale that makes it exciting working here.
If you are interested in joining us visit our Spotlight: Focus on Universal Credit page on our DWP Digital Careers website.
Also, have a look at our LinkedIn page.
Find out more about what's happening in DWP Digital: Subscribe to this blog and follow us on Twitter @DWPDigital.