Next week is Digital Leaders Week, and at DWP Digital we've got some exciting things planned to celebrate digital transformation in the UK.
Take a look at what's in store!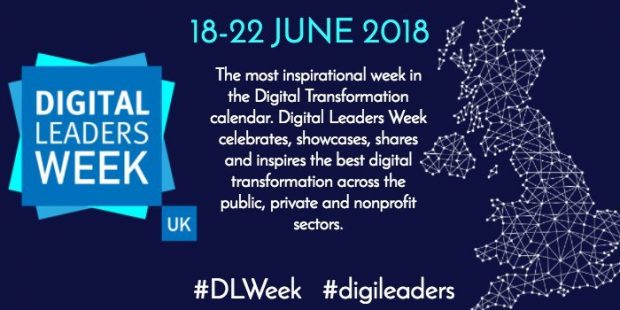 Inspiring women into digital
You may have seen Sue Griffin's most recent post about our Women in Digital event in Leeds on Wednesday 20 June. The event aims to explore in-depth what we can do to make digital an attractive place to work for women. Our line-up of speakers includes Sumit Mistry, Director at Salesforce, Amanda Neylon from NHS Digital and James Brooke from Northcoders.
Let us know if you'd like to come along and join us.
Rewiring the UK's biggest government department
Also on Wednesday 20 June, members of our Newcastle Data Science community will be demonstrating some of the innovative ways we're using data to solve the UK's biggest digital challenges.
Tickets are still available for this series of short tech talks from our data experts.
Topics discussed will include how we are:
• Developing data products that are revolutionising decision making in government
• Embedding alerts into their front-line digital services
• Using Natural Language Processing to listen to their colleagues and customers
National Digital Conference
On Thursday it's the National Digital Conference 2018. The event brings together digital leaders, politicians, policy makers, innovators and inspirational speakers to identify, debate and brainstorm the key actions needed by leaders from all sectors to digitally transform the UK into a global leader.
DWP Digital's Kit Collingwood-Richardson will be at the conference taking part in a panel discussion about 'Driving Innovation in Organisations'.
The DL100 awards
Thursday evening marks the announcement of the winners of the prestigious DL100 awards. We're lucky to have made the shortlist in two categories:
• Sue Griffin is shortlisted for Digital Leader of the Year
• Send your fit note is shortlisted for Digital Public Service Innovation of the Year
Make sure you keep an eye on our @DWPDigital Twitter account to find out how we've done!
Voice-first systems
To round up the week, on Friday 22 June software engineer Aswini Dasika is running a workshop in Newcastle on the next big thing in technology; voice-first platforms. He'll be discussing the benefits, limitation and pitfalls and how this technology can help mainstream and vulnerable users access internet applications.
There'll also be the opportunity to ask questions, play some Alexa games and try out some Alexa skills. There's still time to get your ticket.
Keep up with the action!
If you're unable to make it to an event, we'll be sharing all the highlights on our social media channels. Follow us on Twitter @DWPDigital or on our DWP Digital LinkedIn account.