DWP Digital's Send your fit note service aims to make it easier for users to send DWP information about when they are unable to work.

A fit note is a document issued by a GP, Doctor or health professional which explains a patient has an illness or health condition which means they can't work. DWP receives 4.5 million fit notes each year.

People claiming Employment Support Allowance (ESA) must send DWP a fit note as evidence to support their claim. Instead of sending these in by post or delivering them by hand to a Jobcentre, the Send your fit note digital service lets claimants take a photograph of their fit note, upload it and submit it securely online in real time from a mobile device, such as a smartphone or tablet.

This is easier and faster for claimants, eliminating any postal delays and helps DWP make ESA payments much faster, reducing stress and anxiety for people who really need support.

In this blog, members of the Send your fit note team talk about how they collaborated with users and DWP colleagues to develop the service.
We involved Jobcentre staff right from the beginning
Alison Baines, business analyst: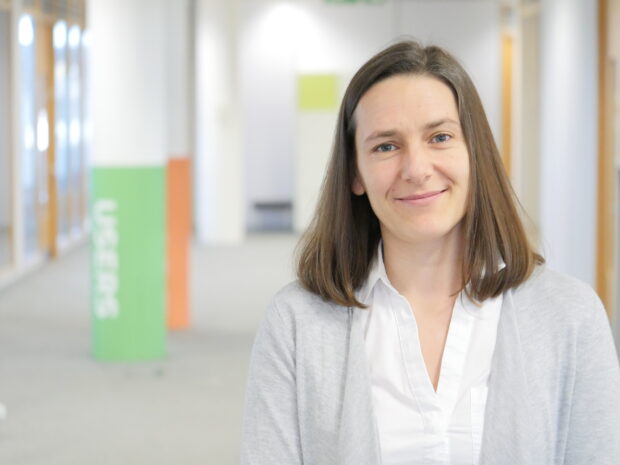 "We ran the first trial of the service in October 2016 with ESA claimants in 9 Jobcentres and we continued to work closely with both users and colleagues in Jobcentres to iterate and improve the service.
We really worked at getting Jobcentre staff involved right from the beginning. We wanted to collaborate rather than give them a list of instructions. We also had sites volunteer to take part in the trials which was really encouraging and positive from the outset."
Dave Lennie, business analyst:
"It really wasn't hard to get our Jobcentre colleagues on board after we'd explained and showed them the service. Because users could now send the fit notes in from their phone or tablet, it meant fewer people visiting the Jobcentre just to hand them in, which in turn freed up staff time.
They understood the benefits this would provide and were genuinely excited to get the trial started. They were so receptive and proactive in promoting the service to our users."
Watch a short two minute video below to hear about the impact the Send your fit note service has had on three DWP work coaches and users of the service.
User research was key to improving the service
Matt Blackwell, content designer:
"Observing ESA claimants in jobcentres using the Send your fit note service in a real situation was critical to designing and improving it.
"I was impressed by the desire and enthusiasm of staff to encourage people to use the service, and to understand and feedback any difficulties they had. By doing this they helped us design something that really meets users' needs."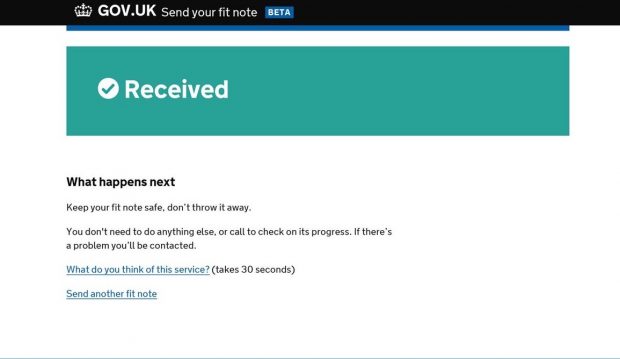 Andrea Feltell-Dack, user researcher:
"At first, our Jobcentre colleagues felt that some users may be sceptical about the service and that others may not have the technology to access. This helped us shape the messaging in the service, more specifically around using someone else's device. Our fears were soon forgotten once they realised the benefits and their feedback continues to be glowing.
"Some of my most valuable research came through visiting the Foxton centre in Preston, where I spoke in-depth with and captured so much from our most vulnerable user group. This really helped shape our thinking behind the introduction of the desktop service."
Developing the service helped the team develop too
Mark Bailey, delivery manager:
"The team really pulled together and integrated for the greater good. We had developers out in the Jobcentre meeting users and our researchers at the heart of conversations around robotics. This not only expanded our own skillset, it also ensured we kept the users at the heart of everything we did.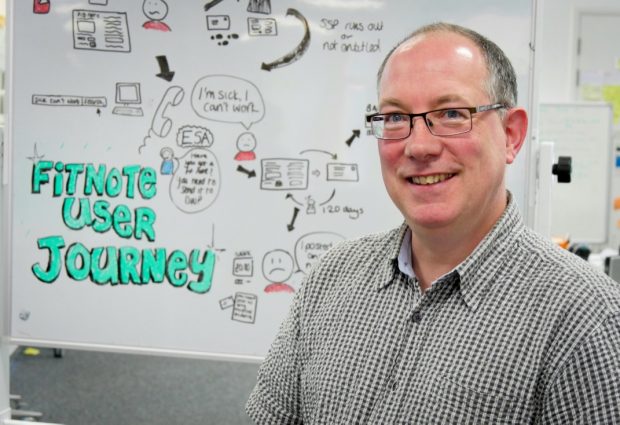 Everyone involved really embraced their role and showed real commitment to the service.
This way of working was also adopted by our Jobcentre colleagues with staff utilising their own experience to up skill fellow staff members on everything from using a mobile phone to creating posters and flyers."
Dave Lennie:
"Working on the Send your fit note service has given me an increased appreciation of how the BA role changes through the agile lifecycle and I feel I have gained valuable experience that I can take into future roles."
Andrea Feltell-Dack:
 "As a relatively new user researcher, working on the Send your fit note service delivered plenty of challenges but also gave me a wealth of experience and really helped me build my confidence."
We learned from the metrics
Jim Montgomery, digital performance analyst:
"Through the collaborative working relationship we developed with the trial Jobcentres, we managed to create a solid, statistically robust trial to uncover the percentage of users who would take up the new digital service. We found that, if encouraged by their JCP, 57% of ESA claimants would opt for the digital service to send their fit notes."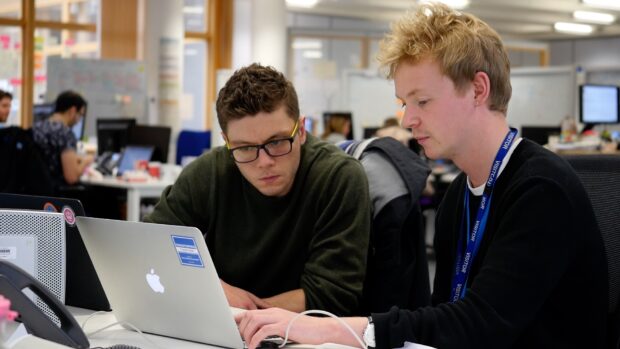 "In our work we used Google Analytics, a piece of software which monitored how our users interacted with the digital service. This helped us uncover user needs via a rich data source of every user who interacted with the digital service.
Through various iterations of the service, we made significant changes to functionality on the site which scans the user's fit note and managed to increase the percentage of users completing the service from 48% to 61%. We also increased the percentage of users only needing to upload one photo from 46% to 59%. This analysis and insight helped to drive the work the team produced firmly from the needs of the users."
What's next?
Mark Bailey:
"The service has just moved into the beta stage, which means we can roll it out across the UK to more Jobcentres. Feedback from users so far has been really positive but support from colleagues in Jobcentres has also been really important too. Their passion and drive for the service was brilliant and we're looking forward to working with more of them in beta."
Alison Baines:
"I have a friend working in operations who is forever asking me when the service is going to land with them. She faces first hand the problem we are trying to solve and realises the impact it will have on her customers. It genuinely makes me feel extremely proud to be a part of what we are doing."