As a product owner at DWP, I'm used to working collaboratively using agile ways of working to build and iterate quickly, and most importantly of all, being user-centric and understanding people's needs.
GovJam operates in exactly the same way, so when I heard there was a GovJam event happening in Leeds, I was keen to attend.
What is GovJam?
In case you don't know what GovJam is, it's a global event which aims to 'rock the public sector in 48 hours'. It gives people the chance from across central and local government the opportunity to work together on innovative ideas to help solve problems around service delivery in the public sector.
Getting started
On the first evening we were met by the volunteer group that organised the event and after creating our wooden avatars and having a coffee we took our seats. We kicked off with a quick ice-breaker, using the agile essential of Post it notes. This really helped to get everyone talking and soon the room was up on our feet and energised. Then it was time to get down to work.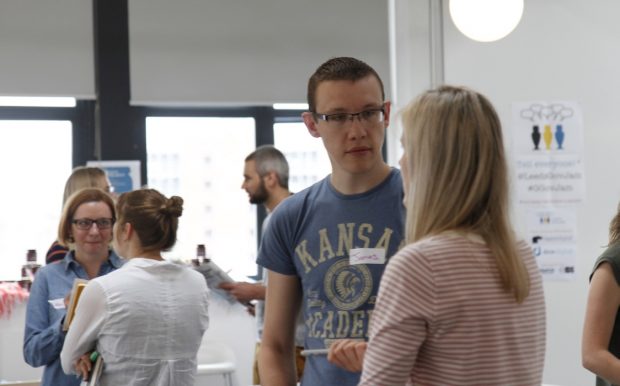 The secret theme
Every GovJam has a 'secret theme'. Usually this theme is a word or a topic, such as homelessness, that teams collaborate on. This time around it was different, we got a sound. Now they say that a picture can paint a thousand words. Well, a sound can paint a thousand pictures! The sounds we heard were cogs, construction, clockwork, springs, laughter, joy and clapping.
On our tables we quickly took to the Post-it notes again, scribbling down anything that came to mind before putting everyone's ideas onto a wall and trying to make groups from the chaos. This is a brilliant way of making sure that everyone's ideas are heard at an equal level. It doesn't matter if you are the shy person at the back or always the first to rush in – your idea will be on that wall and sorted with the others.
After a quick sort we had five groups, ranging from games to machinery to simplification to mental health. I chose to work on the machinery group, to help turn that into something that could help people and the public sector. We managed to come up with some great ideas in our smaller groups and fed back to the rest of the room before calling it a night.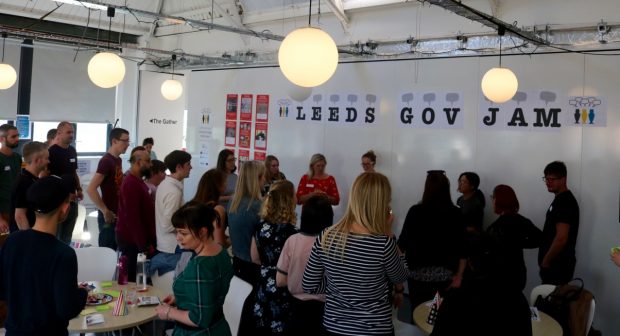 Meeting users to build on our idea
Although we'd come up with a really interesting idea to explore in the machinery group, an idea from another group fitted perfectly with my home life and I knew I could really help them out so the next day I changed team. GovJams are really flexible in the way that you work. If you don't feel like you're in the right place or team then you can move to another.
I joined the Events team, who wanted to help people with accessibility needs access entertainment venues around Leeds. Having a young son in a wheelchair and who needed a hoist to be changed, I was only too familiar with the problems that steps and poor toilet facilities brought to a day out.
After a quick bit of guidance on user research we hit the streets to talk to people about their leisure time in Leeds. We broke into pairs as not to intimidate users by approaching them as a group of six and were also careful to make sure that in each pair we had someone that was comfortable talking to people and one taking notes. It was difficult to get people to talk to us, most had a bus to catch or were late for an appointment, and some went the other way and told us their life stories but all of it gave us useful insight into user's needs.
My advice for anyone else doing this is to keep at it, keep approaching people and if you're not comfortable talking to people start with the note taking and try talking if you feel comfortable later on. There is no pressure to do things a certain way.
Turning the user research into a prototype
When we got back we started to pull together all our user research over some lunch and straight away we could start to see commonalities but our scope seemed to be growing all the time. Paul, one of the volunteers, helped us to draw us some user personas which is a representation of a type of user we spoke to and is used to highlight important characteristics. We'd just got these together when we were told we had two hours until we had to demonstrate our service to the room – we had nothing to show but an unrefined idea.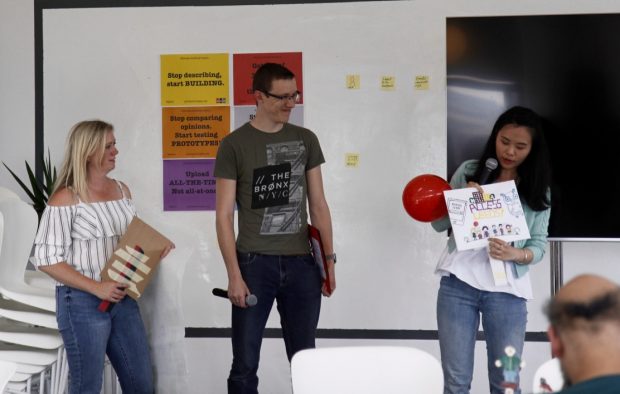 We quickly got to create our first prototype knowing that it wouldn't be completely right for the users as we'd not spoken to enough of them, though when you're building in this way it is much better to build quickly and iterate along the way. We met the deadline and role-played the product back to everyone, with me playing the role of a father of a disabled child looking for somewhere to go in Leeds. It went well though I was conscious that I had been taking the lead too much so made a mental note to step back and give the quieter people in the team an opportunity too. We got good feedback from the room and used those to make the next iteration of the prototype.
Iterate, iterate, iterate!
The final day was all about iterations. We were in a constant cycle of build, test and learn until what we'd build met the needs of the users we were talking to. From our research we also found that it was also really important that our solution wasn't just a digital one.
People wanted posters at the venues advertising their accessibility and a phone line to ask for help, which I suggested could be staffed by volunteers or charities. They also wanted us to expand the service to other cities and add supermarkets and transport guides. We hadn't thought of any of this in the beginning, which really showed the power of talking to users. We wrapped up GovJam with a second 'show not tell' demo of what we'd built and the journey we'd been on and were really proud to win the award for the most number of iterations of a service.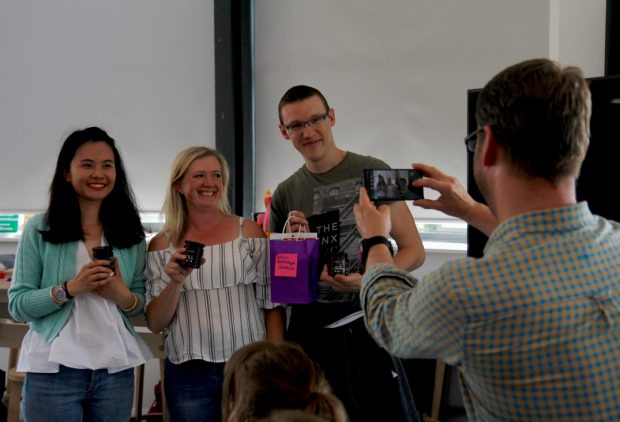 I would recommend attending a GovJam to everyone. It was great to use the same agile techniques and user centric approach we use at DWP Digital to come up with solutions with a really varied mix of people. We had mostly non-digital people on our team - people from policy, admin and operations teams and they were all awesome.
GovJams are hard work and fast-paced but you get so much out of them from learning about user-centric design to talking to people to team work and presenting. GovJam will take you out of your comfort zone and help you grow as a result.
See you at the next one!