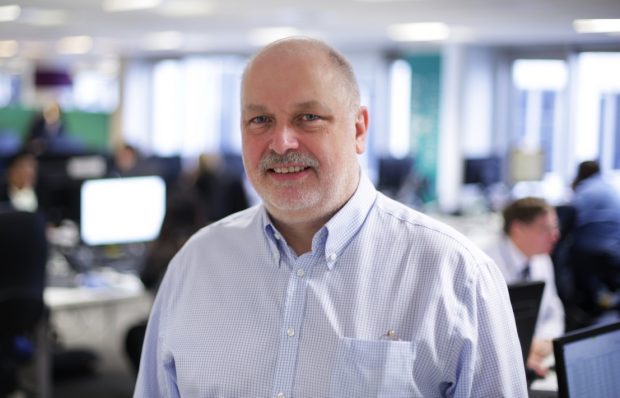 As Mayank Prakash departs DWP Digital after 4 years of leading our digital transformation, I'm delighted to be taking up the reins as interim Chief Digital and Information Officer.
For those who don't know me, I'm Simon McKinnon and I previously headed up the digital delivery of Children, Health and Pensions Services. This is the team which has built a number of digital services including Check your State Pension, Carer's Allowance and Send Your Fit Note. For example, more than 10 million State Pension forecasts have been checked online by people thinking about their retirement. We're making it simpler, easier and faster for them.
Looking to the future
It's a really exciting time for digital in government as we accelerate our use of technology to improve the services we provide for the people who need them most.
And in DWP Digital we've got all the necessary foundations in place to successfully deliver our digital transformation ambitions.
For me, the number one component to this success is the skills, commitment and enthusiasm of our colleagues. I'm inspired every day by watching great teams work together to solve problems creatively, truly motivated by the important underlying cause of their work.
Backed up by our world-class service management, cutting-edge technology, and amazing data and information resources, we have a proven ability to deliver.
A legacy to build on
Under Mayank's leadership, we fundamentally changed our ambition, our ways of working and our capabilities in DWP Digital – a legacy I'm grateful for.
Previously most of our technology services were provided by third party suppliers within tightly constrained contracts which made it very difficult for us to meet our users' needs.  The accountability for these services has now been brought back into the department enabling us to reduce our costs and make necessary investments to reduce technical debt, improve existing services and deliver new digital ones.
We've invested in our people's capability by launching communities of practice where colleagues can share knowledge and learn from each other.
And we've adopted agile methods to meet user needs, design thinking to make us more innovative and a DevOps culture to enable us to break down traditional organisation barriers within technology functions.
We now need to continue to improve the services we provide, build closer relationships with our colleagues across the department, and drive through the digitisation of DWP's services.
A busy year ahead
Each of our functions in the organisation have some amazing plans for the coming year.  At the moment, I'm particularly excited about the work we're doing on Trust and assuring someone's digital identity. This isn't solely about one-time verification of credentials. It is about proportionality. It is about continuous authentication. It is about building a holistic understanding of digital personas and intelligent real-time decision-making for every transaction, based on context and behaviours and building Trust.
We're continuing to explore how we can use Artificial Intelligence in some exciting ways, and finding new ways to exploit our data to make things easier for our customers.
And we need to take advantage of the data that we hold in DWP and can access from other departments to build better solutions. In the last year, we have worked with colleagues from NHS Digital, HMRC, Home Office, MoJ and others in building better user experiences.
There's so much happening, and it's set to be a busy year!
Simon will be speaking at the Government ICT Conference on 22 January. Register here for your ticket: https://government-ict.co.uk/registration/

If you're interested in joining us and using your digital skills to make a real difference, check out what roles we currently have available on our careers site.