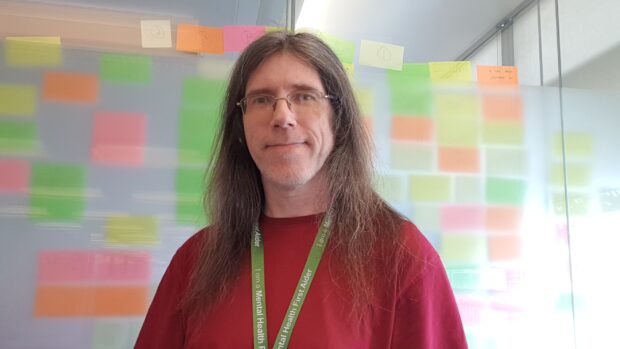 This year's Mental Health Awareness Week marks the 8th anniversary of meeting my best friend and co-author Fran Houston. Fran lives in Maine on the east coast of the United States. She lives with bipolar disorder, chronic fatigue syndrome, and fibromyalgia. Despite being 3,000 miles apart I am her primary support and lifeline.
Meeting Fran online in May 2011 was the start not only of a terrific friendship but also a personal journey that has led to where I am today: an author and advocate, a Mental Health First Aider, and a member of the BPDTS Mental Health team.
Almost exactly a year ago my boss Judith Trotter suggested I contribute something to our company's blog for Mental Health Awareness Week. My article received a very positive response from colleagues and led to me joining the Mental Health team and getting involved in the company's mental health initiatives.
It's not my main job — I lead a team responsible for supporting a number of business applications — but the opportunity to bring my skills and experience into the workplace has been amazing.
A highlight of the year was pitching the Time to Change Employer Pledge Scheme to our Executive Team, where it received unanimous approval. Our formal submission went in at the start of April and as Pledge Lead I'm looking forward to BPDTS achieving Pledge status in the very near future.
Wellbeing at work
The responsibility for a healthy workplace lies with all of us regardless of grade or position within the organisation. That said, Mental Health First Aiders play a vital role.
At the end of March I attended the first DWP Mental Health First Aid Conference in Leeds with colleagues from our Mental Health team and Mental Health First Aiders from across DWP. I left feeling part of a family of like-hearted people connected by a desire to contribute to a culture in which all can thrive, free from stigma and discrimination, supported effectively according to our needs.
Empathy is key
Supporting someone who lives with a mental health condition is not all 'sunshine and rainbows', but there's no need to imagine things are always going to be hard. Early in our friendship I told Fran:
"It might get scary sometimes but I am not afraid."
That's as true today as it was 8 years ago.
Our friendship works so well because we respect and support each other through whatever comes up. In our book High Tide, Low Tide: The Caring Friend's Guide to Bipolar Disorder  we share the ingredients for a successful caring relationship.
In short, it comes down to being honest with each other and keeping the channels of communication open. I was chatting recently with a friend of mine, fellow mental health blogger Charlotte Underwood. She recalled a time when she needed support but no one was there for her. I asked what she'd most needed. She replied:
"Honestly, to show empathy."
There are times when someone might want advice and information — an important part of the Mental Health First Aider role is knowing when to signpost to relevant sources of information or support — but what people often need is a safe space in which to share what they're going through without feeling judged or bombarded with 'fixes'. Good listening skills and healthy boundaries are important, as is a preparedness to set aside what you believe you know. A good starting point is to remember the person you're talking to knows more about their condition, symptoms, and situation than you ever will. This is especially true if, like me, you do not have relevant lived experience.
#MHAW19
The topic of this year's Mental Health Awareness Week - body image - is a good example. Before I met Fran I naively imagined all it took to lose weight was some discipline around food and drink. I'd struggled for years to keep my weight within healthy limits and I didn't think it was easy, but I believed it was straightforward.
I've learned a lot since then, from Fran and others. I've learned how complex the relationship can be between our emotional and physical wellbeing, especially when you factor in such things as trauma and abuse, eating disorders, body dysmorphic disorder, and the fact many psychiatric medications increase body weight.
Self-harm is another topic I knew little about until I talked with people for who it's part of their lived experience. I'm grateful to everyone who has shared their stories with me.
And that's really what Mental Health Awareness Week is all about. Sharing our stories and listening to those of others. If we can do that, 'awareness' can be more than a buzzword. It can change lives, as mine has been changed. It can save lives.
You can follow us @DWPDigital and @DWPDigital Jobs.

If you're interested in working with us check out the latest vacancies on our careers site.