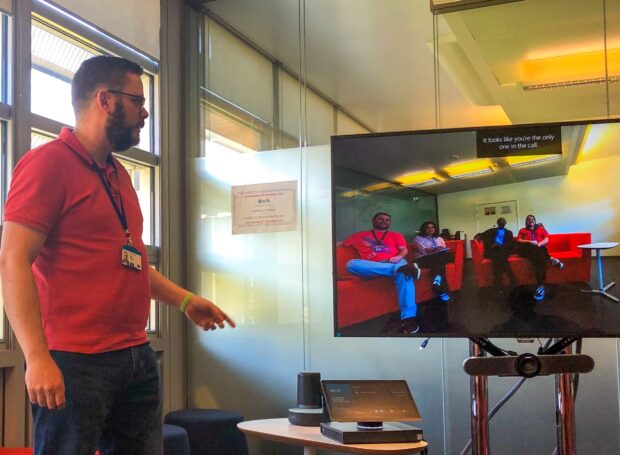 User focus
As a relative newcomer to DWP Digital it is clear that there has been a fair amount of technology-led thinking historically, which hasn't always had the user need at its core. But this has changed and in Digital Workplace the user comes first; Until we talk to users, and observe how they work on a day-to-day basis, do we fully understand what we should be delivering. What we do must lead to an improvement of or, at a minimum, no degradation to the user experience.
Our user centred approach is allowing us to prioritise our deliveries in order to have the greatest positive impact on the users.
User focus also allows us break free from dependencies on external suppliers who have previously managed some of our key systems. Bringing the expertise and support in house means that we will be much more flexible in terms of what we can do, and how quickly we can respond to demand.
Our team spends time visiting operational sites and listening to users, so we fully understand what actually happens at the point of delivery. This not only gives us an insight into how our colleagues work, but also reminds those of us not on the front line who we are providing products and services for.
The challenges faced here are manifold, largely due to the complexity and scale of the organisation, the legacy processes and the amount of technical debt. There are multiple streams of work going on to address these issues, but no-one is under the illusion that there are quick, easy solutions. But there are real tangible results coming from our work.
What I do
I lead the Unified Communications team, who are responsible for the Desktop and Meeting Room communications experience. Our key Product is Skype for Business (SfB), which is part of the Microsoft Office suite.
At the moment we are delivering some fundamental infrastructure capability, which will enable a much broader and improved User Experience in the comings months and years.
There are 2 main streams of work:
Migrating the desktop users from the legacy Lync 2010 backend to the new O365 Cloud
Replacing legacy in-room Video-Conferencing units with new Skype Room Systems (one of the biggest SRS deliveries in Britain, at approximately 280 rooms!) and ensuring the meeting booking process is improved and standardised
The longer-term aspiration is for the use of the Unified Communications tools to help transform the way that the department works, improving collaboration and, very importantly, reducing the cost and carbon-footprint of excessive travel. The key functionality we will introduce to enable that is:
Collaboration with external partners (Other Government Departments, Suppliers, Local Authorities etc.)
Enabling telephone dial-in to SfB meetings, so there is a single experience for all participants – with or without access to Skype
Getting SfB on a mobile device to allow full collaboration functionality remotely
Introducing 'Webinar' capability, to allow senior leaders to communicate with a significantly larger audience than is currently possible
All notionally impressive and theoretically of benefit. But you can never be sure that you're doing the right thing until you engage with the wider user base.
User benefits
It's been enlightening to see colleagues using SfB in innovative ways that might never have been envisaged when it was being delivered, such as opening an active team chat to collectively troubleshoot individual problems or messaging colleagues for advice in real-time whilst dealing with a claimant face-to-face.
One Proof of Concept that we have done that has delivered tangible benefit is the provision of Video-Conferencing kit in the north of Scotland, so that claimants can hold a video call with a Work Coach from Local Authority premises. This has meant that round trips of sometimes over 3 hours have been avoided. If that was delivered at scale, the time and cost savings to individual claimants could be huge.
It's when you see stuff like this, which has a real positive impact, that you are driven on to deliver more of this technology, as it is evident what can be achieved, and what the benefits can be.
Focussing on the successes gives us the motivation to constantly make progress. The big picture is the win; the small frustrating stuff is how you get there.
Ultimately we're providing products and services to enable our colleagues to deliver vital support and guidance to some of society's most vulnerable people, as well as ensuring an organisation with over 20 million customers at home and abroad has the right tech to function effectively and efficiently. That's what's important, and that's what motivates me.
We're recruiting now
Check out our Digital Workplace page on our Careers site. You can also find out more about what's happening in DWP Digital by subscribing to this blog and following us on Twitter @DWPDigital and @DWPDigitalJobs.