It's Carers Week, and this year's theme is 'getting carers connected'. So to recognise this significant date, I've written a blog-post about my work with the Business in the Community project, Apollo. It's helping 100 care leavers into employment and education.
A day demonstrating possibilities
I introduced the project to Civil Service Local and together with a team of people from 5 departments we hosted a day for young care leavers in our Sheffield digital hub. The event introduced them to the work of the Civil Service and what we do in DWP Digital. One of the facts about carers is that they are 7 times lonelier than the general public, so our event helped them to meet other people in their situation and people in the world of work, build confidence and provide some employability skills along the way.
It was an action packed day that started with an interactive introduction, passing an inflatable palm tree around followed by a short game of 'people' bingo. This set the tone for the rest of the day - that learning can be fun!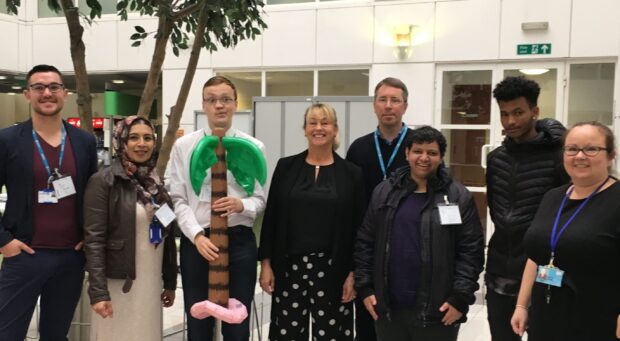 Activities included
A presentation showcasing how the Civil Service touches everyone's lives; this was supported by the Civil Service volunteers own job stories.
A session on employability skills where we asked attendees to consider what they felt the top 10 skills employers want are. We had a fastest finger first quiz and a good natured interview role play session where we played out 'good' and 'bad' techniques.
The Driver and Vehicle Standards Agency, Highways Agency and the police ran sessions, demonstrating the breadth of roles available in the Civil Service and public sector.
Competing with the excitement of the police was a tough ask but DWP Digital stepped up with our Accessibility Solutions team, Clare, Rob and David – especially when we introduced Rob who has a guide dog. The team explained their role and demonstrated a range of accessibility tools.
At our 'Tech Bar' – a walk up service for colleagues having IT issues – the manager Fred shared his story. Despite not doing any higher education he has gained his skills and qualifications on the job and now manages the Tech Bar. He talked about the variation in the work and some of the more amusing incidents they have dealt with.
The day wouldn't have been complete without a challenge – and so BPDTS colleagues, Rashmi, Marc and Dave, used Lego to demonstrate agile ways of working. They set a task with user specification, digital design and development in mind. They ran the challenge in a series of sprints with the teams tasked to build something that the Product Owner wanted. It wasn't always easy but everyone embraced the challenge with a little bit of healthy competition.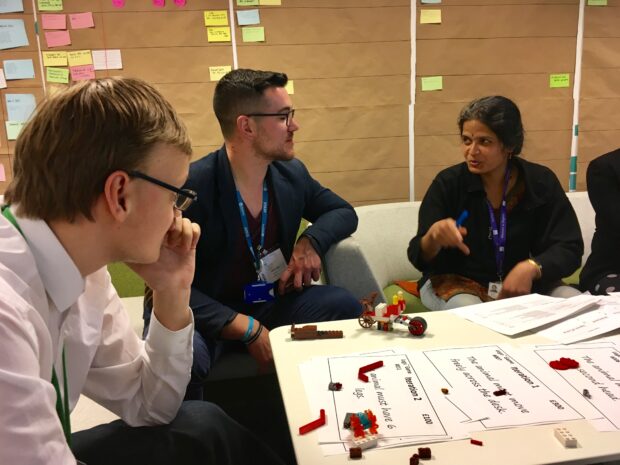 Going away inspired
The day ended with both attendees and volunteers full of enthusiasm. The feedback was brilliant with comments including:
"I feel more confident. And I feel I have more ability to achieve my goals."
And, inspired by Fred's session:
"Whatever your background you can have a successful career and make something of your life".
One of the attendees also remarked that having a job helping people is awesome.
Overall it was a really rewarding experience. I want to encourage more women and young people to join us, and to do this we need to foster relationships with schools, colleges and disadvantaged groups. The event was very much 'test and learn' to develop a blueprint for future visits and cross department collaboration and I'm looking forward to developing the project further and hosting further visits planned for the Autumn.
Work with impact
If you want to do meaningful work that makes a difference, this is the place to be. Have a look at our careers site for our latest vacancies. Keep up to date by following us on Twitter @DWPDigital and @DWPDigital Jobs.