DWP Digital's Digital Voices programme is helping women in the organisation build their confidence, learn digital skills and grow their networks.
In this blog post, three of the Digital Voices explain why they're taking part and what they're getting out of it so far.
Emma Murray, engagement manager, Blackpool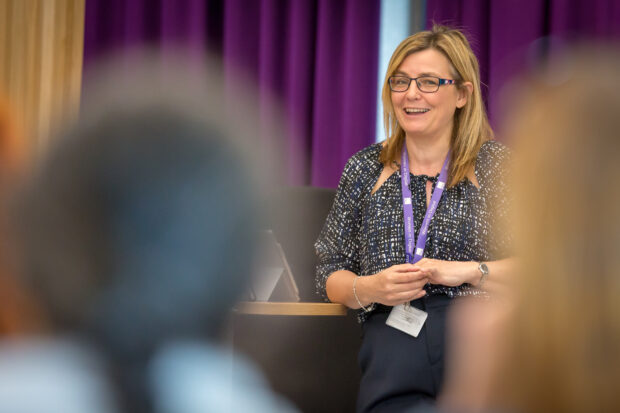 Overcoming my insecurities
A lack of confidence has been a barrier for me so I hoped being part of Digital Voices would provide me with development opportunities and new skills. I want to be an advocate for women and young girls to start digital careers, and the amount of opportunities I've had so far has been amazing.
Learning from inspirational women
We've had lots of talks with a varied range of women, as well as learning and development sessions.
Although I have enjoyed it all, the one I particularly identified with was from Sally Bogg, the Head of Service Management at Leeds Beckett University. She said that "networking is about giving as well as receiving" and that really struck a chord with me. It's something I also believe and to hear someone else also share that view really boosted my confidence.
I also enjoyed learning about doing video interviews and blogging. Getting practical help with things like this has been so important, it's helping us to find our voices.
Trying new things
Another highlight was supporting a Civil Service event which aimed to encourage high school girls into digital and tech jobs. It was brilliant to be part of that as I wouldn't have had the confidence to do it before. I'm also going to be speaking at Civil Service Live in Birmingham in June.
Being part of Digital Voices has taught me that there is a wealth of support within our grasp if we have the courage to reach for it. It's funny how wearing a small Digital Voices badge on my lanyard makes me feel stronger!
Hazel Norris, deployment lead, Southampton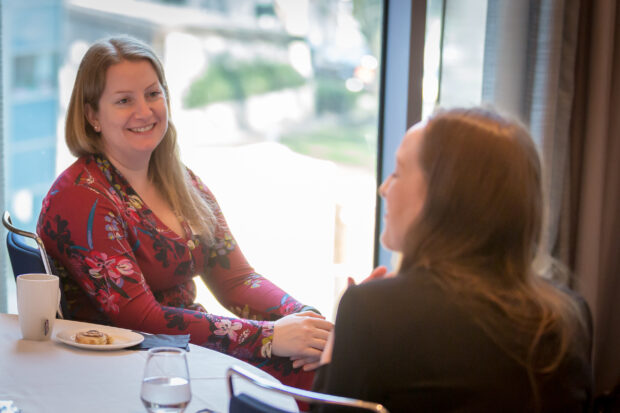 I applied because I wanted to take advantage of a unique opportunity to develop myself, and improve my confidence. The programme's not finished yet and I already think that's happened.
Straight away, when I met the rest of my cohort and heard about what the previous participants had achieved I was inspired. I knew that I was part of something special and was impressed by the support and encouragement that was being offered. I felt like someone believed in me, that I had potential to do more and that is an amazing feeling.
Writing my first blog
I have recently written my first blog; it took a while as I could not think of a subject that I felt would be interesting to other people. But, I talked over my ideas with my Digital Voices Friend and she gave me the encouragement to go ahead with my idea about my learning journey since joining DWP Digital.
I was so excited when I saw it published on the DWP.Gov.uk blog site because it was something that I could share with my friends and family. I am proud of what I have achieved during my first year at DWP and to be able to share my story, for anyone to read, gave me validation that actually I am not doing too badly.
Speaking at events
I am going to be running the Digital Voices breakout session at the Women in Digital event in Leeds with two fellow Voices. I am, in equal parts, looking forward to and petrified about it. A year ago I would not have even considered doing something like this.
It would have seemed far too scary and I would not have thought that I could do it justice. So the fact that I volunteered to get involved shows me how far I have come.
I am still working on my self-belief and have days when I think I must have got accepted into the programme by accident and that I am not up to the standard of the other amazing women in my cohort. But I now realise that everyone else has these wobbles too.
Having this network available helps me feel less isolated and reinforces the fact that I am not the only one who feels like this and it is so important to talk.
Collett Bellamy, delivery manager, Sheffield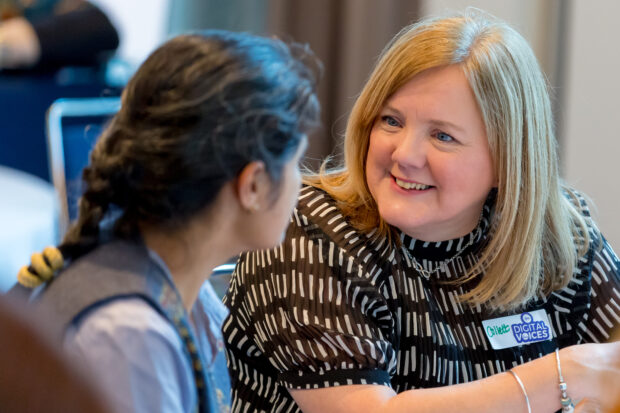 When I saw the advert for Digital Voices, it was like a great way to help me increase my skills and tell my story.
So far I have discovered and clarified my key strengths, built my confidence and I have great support from my Digital Friend Rita.
Building my networks
There's been so many highlights for me but I really enjoyed learning about social media. Being more confident with Twitter has been a real bonus – which I have gone on to share with others.
This has been great for helping me communicate about the great work DWP is doing in Sheffield in Identity and Trust. It has allowed me to build my networks in the wider digital community too.
I also loved the session with Avril Chester, CEO of Cancer Central, which was really inspiring. I took on board some advice on doing the Strengths Finder Assessment which really confirmed my core strengths and how best I can apply them - a real boost. I also loved the quote 'be yourself, everyone else is taken'.
Leading a community and stretching myself
Digital Voices has given me the confidence to set up and lead the first DWP Sheffield Women in Digital community, creating a supportive and collaborative environment.
My final challenge will be speaking as part of a panel discussion at Civil Service Live in London in July to over 600 people. I never thought I would do something like that. It just goes to show you don't know what you are capable of until you try!
Watch a short video featuring 4 of our Digital Voices' reflections on what they've learnt so far:
Like this blog? Why not subscribe for more blogs like this? Sign up for email updates whenever new content is posted!