The second DataJam North East event will be held in Newcastle on 16 & 17 September. Tickets are now available.

Like the first event last year DataJam aims to bring people together to use their data and service design skills and use open data to make things better for people in the region. It's a hack, unconference and workshops rolled into one, with three themes of Skills, Health and Environment.

In this blogpost, Stephen, Alex, Alyson and Ashleigh from DWP Digital explain why they enjoyed attending last year's event and what they got out of it.
"Everyone was passionate about making a difference in the region"
Stephen Southern, Data Platform Lead, DWP Digital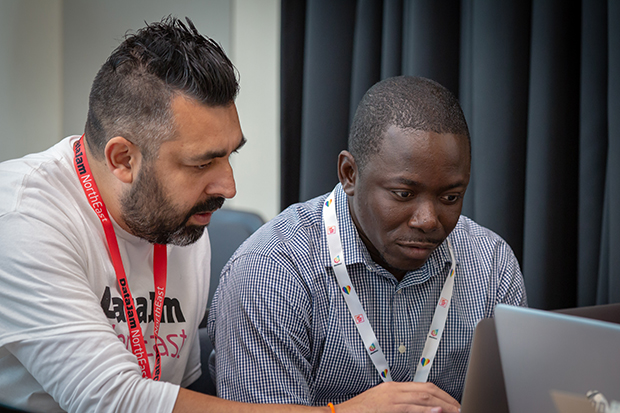 My role at DataJam North East was to work with the other public, private and academic partner organisations across the region to help plan the hack part of the event.
We wanted to use real datasets during DataJam, so working with a team of solution architects provided by Microsoft, we designed and built a platform that would allow the hack teams to access a central 'data lake' pre-filled with data on the main DataJam themes. This was provided by various councils, Nexus (who run the Tyne & Wear Metro) and ourselves at DWP.
It was a great feeling to get the hack up and running on day one and the collaboration between everyone was great to see. I attended some of the unconference sessions throughout the event too, and to hear the conversations around user needs and the focus on outcomes and making a difference, it was truly inspirational. Everyone was passionate about making a difference in the region.
Many of the attendees were strangers on the Monday morning but by Tuesday afternoon they were friends who had shared, collaborated and worked together to make DataJam North East such an amazing event.
"It was worthwhile to join the dots between data and design"
Alex Kean, head of product, DWP Digital
I'm passionate about the skills and talent in the north east and the opportunity to bring data and service design professionals from the region together in large numbers for the first time at DataJam was too good to miss.
The unconference was a great way to bring people together to work together on ideas and shared goals.
I spoke to a guy from Tyne and Wear Fire Service who was interested in getting data to help them be more efficient in getting fire engines to locations in emergencies. In the unconference he got talking to someone from the Urban Observatory in Newcastle and they realised they could collaborate on a project to use sensors from the Urban Observatory on Tyne and Wear fire engines to help with this.
It's these opportunities to join the dots in terms of data and design that made DataJam really worthwhile. Those conversations and rich networking opportunities, being able to solve problems through two or three different lenses, will really enable us to be able to make things better for the people who live here.
"I really enjoyed DataJam"
Alyson Atkinson, senior product owner, DWP Digital
At the heart of all the services I work on in DWP is data. I wanted to work with other people who were tussling with data problems too, so DataJam was a great chance to do just that.
There's more power if many of us are looking at a problem rather than a small core of people, so the community element of the event also appealed to me.
When you look at what data professionals and service designers are trying to achieve with both of those things, it's all about solving problems. DataJam showed that with data and service design together, you can make informed decisions for users.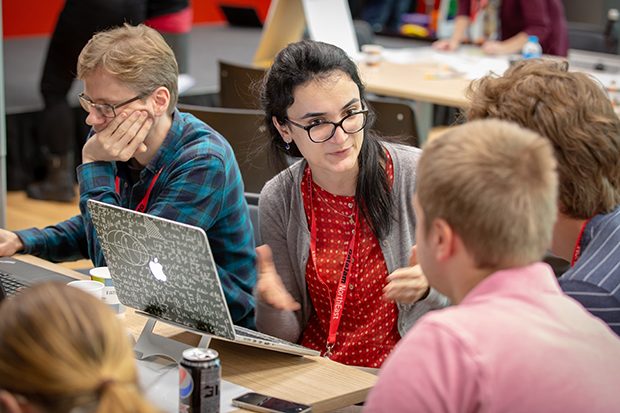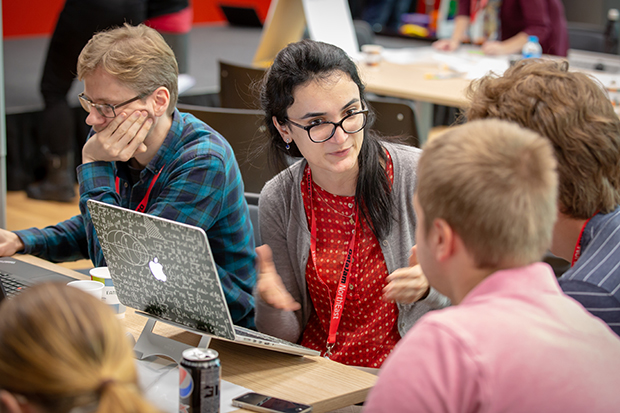 I spent most of my time in the hack rather than the unconference to help make sure there were people available with that service design thinking, rather than it all being about crunching data. Being a product owner I was able to bring that to the team, to help focus on what problem we're trying to solve.
I really enjoyed DataJam, it was the first time I've been involved in a hack, but everyone got stuck in and was passionate about making sure we worked together to unlock the power of data.
"It was a really good learning experience"
Ashleigh Wilson, interaction designer, DWP Digital
I'm not in a data role but the hack at DataJam really appealed to me. The organisers specifically wanted people from a non-technical, non-data background to join in with the hack to apply a design and user experience perspective.
I wasn't sure what to expect beforehand but it was fascinating to see how data and design work together in a hack environment.
Once we had agreed on a problem statement across our team, my main role was to be the voice of the user, and to help put together anything design-related such as user journeys and flows, concentrating on the users' input and experience.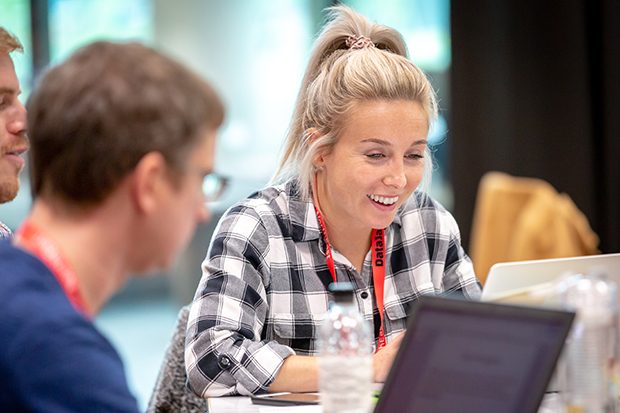 I enjoyed working alongside data experts and seeing how they analyse and sort the vast amount of numbers. We used a lot of data in our research and it was interesting to be introduced to new data software, and experiencing first-hand how it can be used. Hopefully, the other people in my team valued my design input just as much as I valued their technical skills.
It was a really good learning experience for me as a designer.
Interested? If you're a data professional, service designer, user researcher, product owner or business analyst and want to attend DataJam North East, register for your place at DataJam North East now.