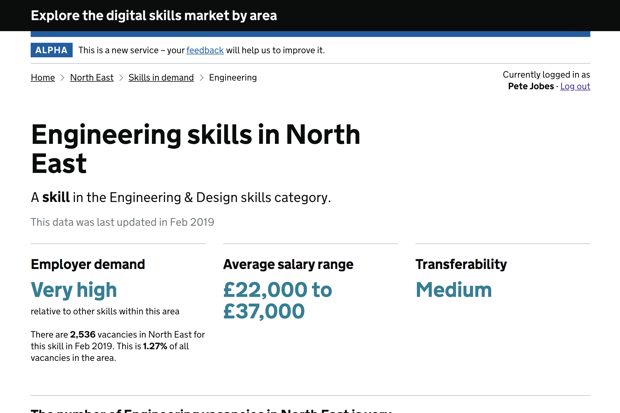 I'm a product owner in DWP Digital's Data Science team, working on the Examine a Place digital service.
This service aims to help advisors in Local Enterprise Partnerships (LEPs) and Mayoral Combined Authorities (MCAs) explore the employment market by area. It's all about using data to give a snapshot of skills and roles and a view of employer demand for areas across the country.
It's an exciting time for us in the team because we recently released the latest iteration of Examine a Place, and we've been given the funds and approval to develop the service further.
This is how the service has developed so far and how we plan to take it forward.
The starting point for Examine a Place
This project began in 2018 when The Department for Culture Media and Sport (DCMS) commissioned us to develop alpha Examine a Place. DCMS are responsible for Digital Skills Partnerships and this commission was inspired by some of our previous information services work.
The prototypes developed during the alpha phase, use online job vacancy data to help users explore:
skills with the highest employer demand
roles with the highest employer demand
changes in employer demand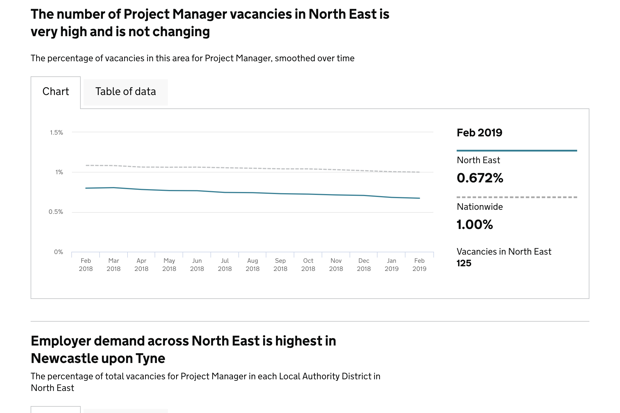 The starting point for the service was to help users understand digital skills requirements but it has now broadened out to cover all skills across the employment market. Department for Education (DfE) has also been a partner in the alpha phase of this project, due to links with its Skills Advisory Panels.
To do this we have been working with Adzuna online job advertisements. With tens of millions of job adverts containing up to 6,000 unique skills and job titles, this is big data.
A shared focus on skills and employment
DfE, DCMS and DWP have a shared interest in skills and employment policy, to support people into, as well as progress in, work. The development of local industrial strategies also requires clear information about job sectors, industries, employers and training providers to create long term plans for each area of the country.
The prototypes are designed to support the work of Local Enterprise Partnerships (LEPs) and Mayoral Combined Authorities (MCAs) who have an influential role in local skills provision.
Our research helped us change the focus
Based on the results of the workshops that we have been running with LEPs and MCAs throughout the summer, we've identified the need for a much broader service using more data sets.
Later this month we will resume our workshops with LEPs and MCAs as we are keen to test what has been built so far and iterate the service as we respond to feedback.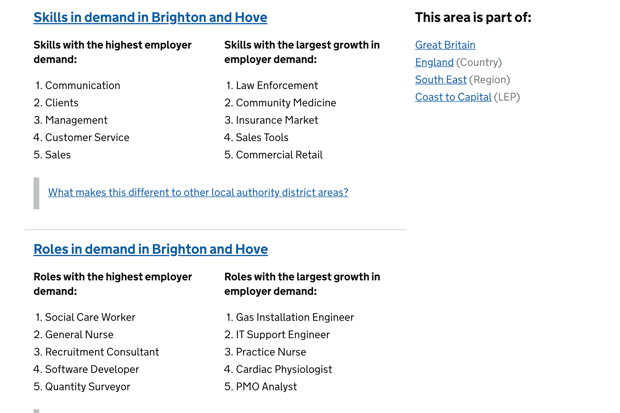 There are also plans to begin user testing sessions with Jobcentre Plus colleagues later this month as we test the scope of this service.
We're starting to share our work and expand the potential of the service. We're working in the last weeks of the alpha phase of our initial development and preparing for private beta.
Developing the service further
Building Examine a Place is not without its challenges. The logistics and governance involved in bringing existing commercial and other government department data together, gaps in data available to help users make decisions and the absence of government design systems for data are just some of the difficulties we are working to overcome.
We have lots to do, so we'll provide further updates, focusing on specific areas of the project, in future blogposts.
The prototype is not open to view publically but for more information about Examine a Place, please email me or leave a comment below.