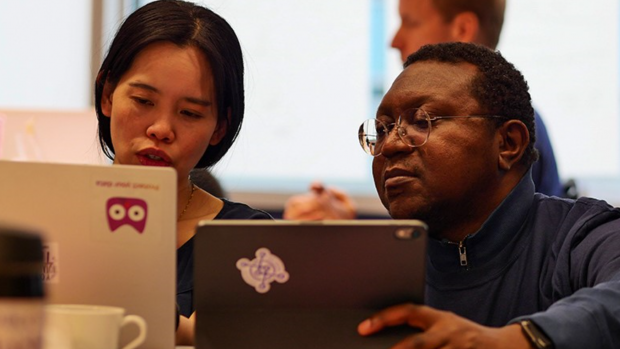 At last week's hack the North 4.0 we were in Manchester exploring the issue of financial inclusion.
Watch the round-up video on our @DWPDigital Twitter account:
http://twitter.com/DWPDigital/status/1228363270542778369/video/1
Every day our frontline teams support the most vulnerable people in society and see first-hand the barriers that people face, particularly those people who are unable to obtain services that we take for granted like a bank account, access to the internet or even a phone. Research shows: around 25 million people have financial difficulties. 13 million people in the UK are living with financial difficulties with no 'rainy day' savings, 12 million people are struggling with finances and 1.23 million people don't have a bank account.
Our Hack the North 4.0 event brought digital and operations colleagues, and external specialist and industry professionals together, to explore potential solutions to some of these issues.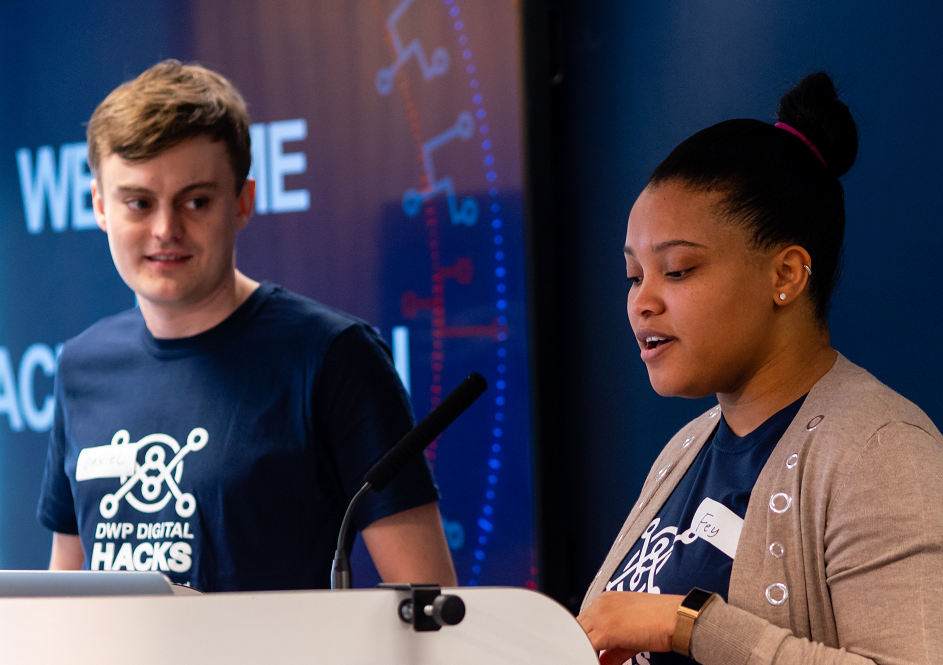 Host, Daniel Pomfret, said:
"I attended the very first Hack the North and was blown away by the enthusiasm in the room. It was great to be invited to be the host for this event. I hope that I helped to present the problem statement in a way that inspired our hackers. I think it's really good that we're opening the doors to DWP to collaborate across the industry and show the outside world how we're creating user-centric innovative solutions to support vulnerable people."
An insight into the problem
The hack started with an introduction to the problem statement and insights into the issues.
Richard Laycock, Deputy Director and lead for payment systems in Digital Delivery Shared Platforms spoke to the room about the need to look inwards at changing the financial journey experience - not only how we help the most vulnerable citizens by providing the benefits they're entitled to, but also how they manage it.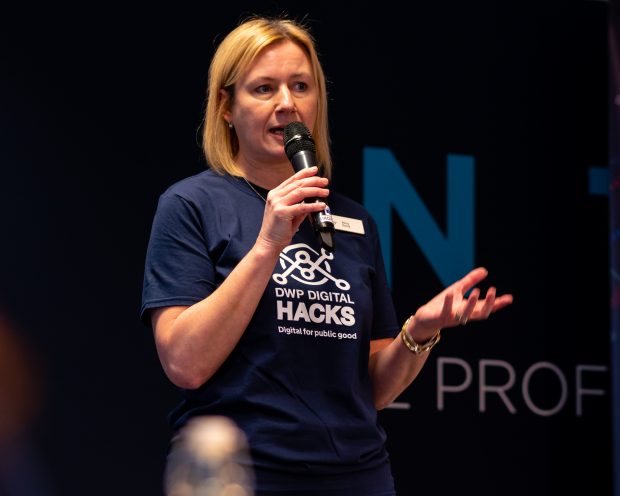 Colleagues Tim Haworth and Amy Pond from Greater Manchester operations told how financial difficulties often stem from a difficult life event such as a death, divorce or separation or redundancy. Many of our customers dealing with financial difficulties could be in emotional turmoil and dealing with one of the saddest times in their life. Customers like this are extremely vulnerable: figures show that 1 in 4 attempted suicides are as a result of from debt. Tim and Amy brought a team of representatives from across work services, including Universal Credit work coaches and debt management colleagues, to help hack teams stay focused on the user.
Tim said:
"We want to put emotion at the forefront of this and work collectively to come up with solutions that will really make a difference."
Ammer Malik from Charity Step Change, a debt charity who provide confidential, impartial, free advice, provided some useful insights into the behaviours of their service users.
They provide face to face, telephony and online services, and have recently seen an upward shift to 65% of people using their online services. People in this situation often feel embarrassed or ashamed by their changed situation and don't want to admit to having a problem, which can lead to spiralling financial problems. One of the biggest challenges for them is getting people to engage at an earlier stage before the debt becomes unmanageable.
Tackling the challenge
Nine ideas were pitched and teams were formed. Each team chose a mascot and their teams were named after these. The ideas included gamification to educate younger people about budgeting, a debt consolidation tool and an AI spending tracker.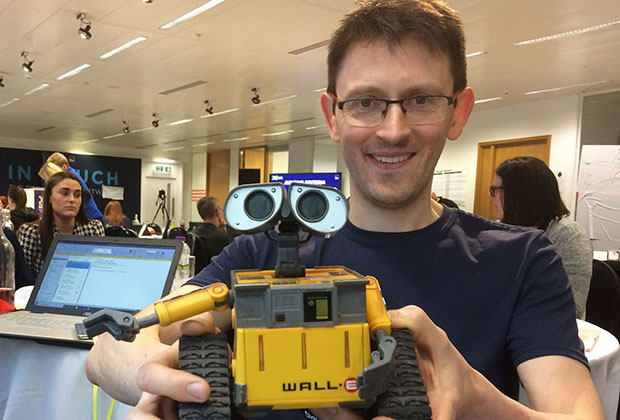 Andy Tyack, lead agile programme manager for Universal Credit, joined team 'Wall-E', who were hacking an app for at-risk Universal Credit claimants. The app will use the open banking API to track spending habits. Users will be asked about spending habits and aspirations, which could be something like paying their rent on time or it could be a future goal - for example to save for a child's birthday. Andy said:
"The presentations really made me think about how you can easily be one step away from financial difficulty. We wanted to build something based on awareness and early intervention."
Team 'Reindeer' decided to tackle one of the root causes of financial difficulties by building an online game targeted at school leavers who are ready to move to financial independence and help them to understand real costs. The game design includes a careers aspect, helping the players to understand the route into specific careers and associated costs from university debt to earnings potential.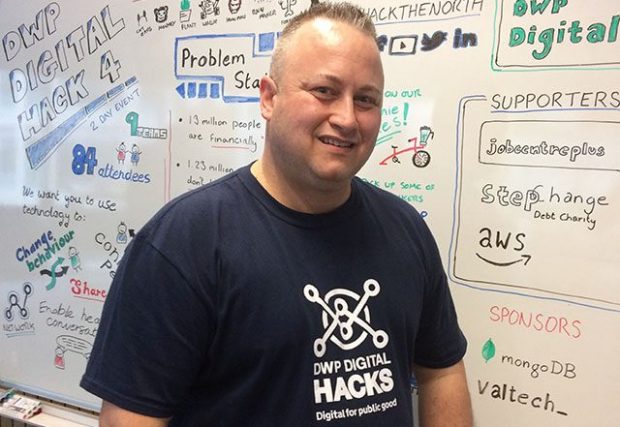 Team member Mike Watson, a work coach from Essex said:
"I see people in poverty every day. We wanted to design a solution that can help prevent young people from the ripple effect of living in a deprived area entering the downward spiral of issues like gangs, street crime, alcohol and drugs, by showing them a different path."
Muhammed Sultan and Zain Mamood, work coaches from Preston Service Centre, came to the hack to provide insights based on their experience of working with real customers. They joined team 'Iron Man' who designed a digital ID card to help the unbanked. For many people in the UK without a bank account, life can be a real struggle when accessing services. The idea was the card could act as a form of identity to drive users towards the right bank account solution for them.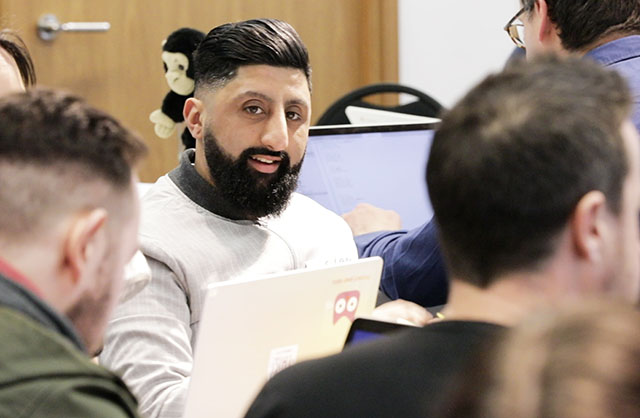 Muhammed said:
"When I read about the hack I wanted to get involved, I felt that I could add value and that the outcomes could have a positive impact on our work with customers."
Zain added:
"The atmosphere was really inclusive. It doesn't matter if you're really junior or a senior developer, each person was valued for their individual contribution."
And the winners were…
Team 'Forky', for their 'Financial Wellbeing' tool that could potentially be hosted on the GOV.UK website. The tool would allow users to input information about their income and how they're spending it. It would then draw the information into useful charts and tables providing a visual breakdown for the user on how they're spending their money. The prototype showcased a number of features including options to input personal details like how much a user spends on their energy, which the tool could use to provide useful tips for saving, for example on changing energy supplier.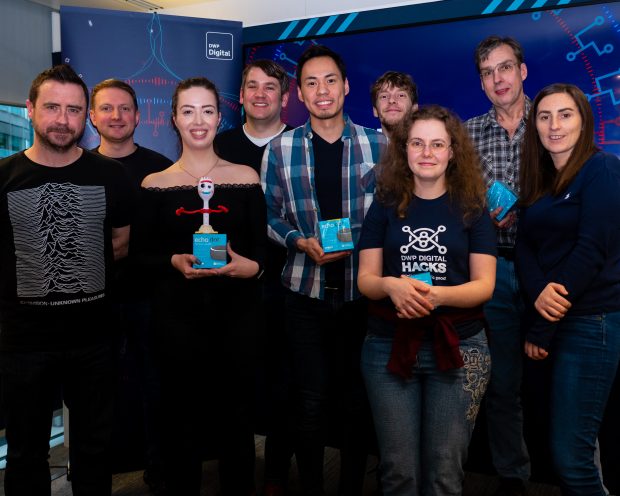 Kevin Murray, from software development company Zuhlke, was part of the winning team. He said:
"A few of us from Zuhlke went along to Hack the North together. It was the third time I've attended the event, and once again it was a very welcoming and well organised hackathon.
"There's a great digital community vibe, and we really enjoyed working as part of a team alongside experts in their field from Relative Marketing, NHS BSA, Google and of course the amazing frontline DWP Jobcentre staff, who provided the first hand insight.
"We were delighted to win amongst so many other great ideas, especially as financial wellbeing is such an important topic. We felt our idea could make a difference, particularly in helping vulnerable people."
Watch our Twitter video of Team Forky talking about their winning idea:
The variety of solutions were fantastic; our payment services teams will explore whether any feasible ideas can be taken forward into implementation. Well done to all the teams for their enthusiasm and creativity.
Watch our Twitter Moment to see all the hack action: