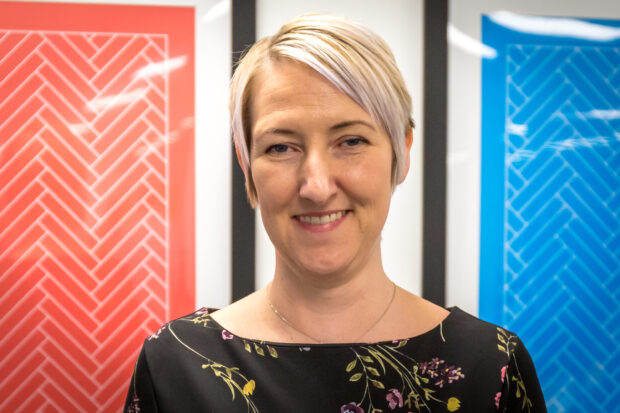 I think it's really important to talk about the things that sometimes hold women back. So I'm going to talk to you about my experience of returning to work, as a woman in a senior role, after a long period of time off. How I coped is something that I've been asked about a lot, so in the run-up to International Women's Day I wanted to share my story.
A little bit about me
I've been a civil servant for 20 years. As head of Identity & Trust in DWP, I still pinch myself that I am doing the job that I am. I started out at the most junior grade and never imagined I would be a Deputy Director one day.
I'm lucky to have a brilliant, boisterous son Adam and lovely husband James, who could be less annoying, but we can't have it all!
Three years ago I had a good life: a good job, a nice family - not all perfect - but nothing really to complain about, I'm pretty much a glass half full person anyway.
When everything changed
It was after a particularly gruelling wrestling match with my son that my chest started to hurt. I did what we all do, I prodded and poked and made it sore until a good friend insisted that I went to the doctor.
She saved my life. I found out that at the ripe age of just 36 I had breast cancer. It was stage 3, aggressive and had spread into my pectoral muscle. I was told I would have a fight on my hands.
I knew in that moment that I would fight, this was not going to take me away from my 5-year-old son, or a husband that couldn't figure out that butter and Nutella on the same sandwich was just gross!
So fight I did, hard. I endured almost a year of the most gruelling treatment and hospital stays. I had side effects galore, including a tango tan. I kid you not I went orange, it's called a chemo tan and is quite common. My brother referred to me as the oompa loompa, but I'm glad we were able to laugh about it.
Finally, the treatment finished and the signs were good, I had beaten it. So the day came that I could go back to work, yay!
Back to work
My son was scared of the wig I had to cover my hair loss with, so I wore a bandana. So when I returned to work most people didn't recognise me, or if they did were lovely, as you couldn't mistake what had happened to me.
All good I thought, I can do this. But, I'd been back a few months, and despite having loads of support I felt strange, like I didn't quite belong. I couldn't put my finger on it but everything seemed just a bit beyond my grasp, almost fuzzy. I was embarrassed because I still had chemo fog, even the simplest word would escape me. I felt like my tongue was too big for my mouth and that I made no sense. So as a coping mechanism I found myself only speaking when absolutely necessary. I ignored the niggle that I didn't belong. I told myself that I had beaten cancer and to pull myself together.
Then something happened. It was sudden and unexpected; I was on a call with a colleague when it did. I was literally winded with the realisation that I was frightened, really truly frightened that my life as I knew it, professionally, had gone. I sobbed, a massive rib hurting, gut wrenching sob, I felt like I'd been punched in the chest.
You see, with a long term absence your home life evolves with you. So that was fine, I didn't have those feelings at home. But work was different, things had moved on without me and I wasn't properly prepared. I struggled to understand how it had moved on, where I fit in now and honestly, whether I ever would again.
The chap I was on the phone to was a friend thankfully. He was brilliant and, although I couldn't speak, he told me that I was ok and to breathe. He really helped to calm me down and I'm so grateful to him for his empathy and compassion.
Not coping and coping
That was the turning point for me and in answer to the question, how did I cope? Not very well at all - in the beginning. But once I had calmed down, I started to do what I do best: plan.
It all happened just as I moved to a new director, so I told him how I was feeling. I explained that I didn't want wrapping in cotton wool but that I was struggling to find my place again. And together we found my place, I told him about my chemo-fog and we agreed some simple coping techniques, for example when he asked for group input he wouldn't come to me first, giving me time to think. He was also very good at empathy, telling me that he understood how hard it was for me and that helped me to accept that finding it tough was not a weakness.
I also told my team how I was feeling; that was hard for me because I was worried that they'd think they'd been short-changed having a flake for a senior leader. But do you know what? Nobody did and they made adjustments for me without making a fuss.
I also got myself back involved in my network, particularly Women in Digital. I recall feeling a bit overwhelmed at the first Digital event I went to, looking like a pirate in my bandana, in front of so many people! I nearly left, but then one of the nicest women I know, Joanne Rewcastle, bowled over and asked me if I needed a hug. I so needed that hug. It said more than a thousand words, it said, 'I've got you, you're ok,' and thanks to her, I was. I still get a hug at every event.
So where am I now?
Two years after returning to work, I'm back in a place where I feel comfortable and confident, I've still got a great family and it's expanded to include Dexter our dog. I've got a wonderful network at work, I speak up when I'm struggling, without fear of having to be seen as strong all the time. And I head for the warm people to recalibrate. I've grown as a senior leader by asking for help and not pretending everything is ok if it's not. I've found my place again and make a concerted effort to help others find theirs. It's something I didn't really consider before, but I do now.
Although my reason for being absent was illness many people who have also had a long term absence, for various reasons, have sought me out for advice. It's this:
Acknowledge to yourself that it is hard. It's not impossible though and you will get through it. As difficult as you may find it, speak up about how you are feeling. In DWP we're lucky to have a network of Mental Health First Aiders who can help.
Networks are really important, surround yourself with people that you can talk to and that can help you when you have a wobble - which you will - and that's ok. Be kind to yourself.
Find a good hugger - if that's your thing. If it's not find the thing that gives you energy and a boost when you need it most, whatever that may be.
Remember, you are awesome, whatever the reason that led to your absence, you are back and that takes courage.
For everyone else: be that warm person, be the person that acknowledges that it's hard. If someone seeks you out, feel blessed that they trust you, so step off of the treadmill and take the time to listen.
We're currently recruiting diverse, talented people. Visit our careers site to see our latest vacancies.