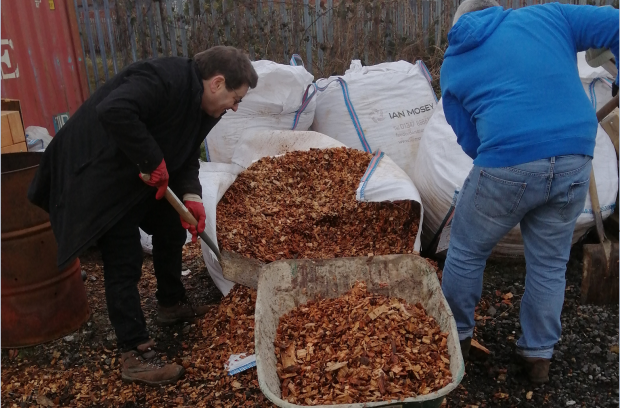 Community 10,000 is DWP's employer supported volunteering initiative. It gives colleagues the opportunity to help the communities we serve and helps us to have a better understanding of the resources available within those communities. The DWP Digital Engagement team recently volunteered at Hyde Park Source community garden, Leeds.
Look up Cross Green Hub on Google Earth and there's not much to see, apart from a few rusty-brown lorry containers and some old squat garages built more than 50 years ago. The Google Street View camera car is probably well overdue a visit to this part of Leeds as much has changed.
The long strip of land down by the Leeds-Selby train line is now a community garden. Where once there was scrubland and weeds, there are water pipes, greenhouses and plants. The transformation has been huge. But it's not complete yet.
So as part of the government Community 10,000 initiative, I volunteered there for a day, along with my colleagues in the Digital Engagement team. The community 10,000 initiative allows civil servants to give up their usual working day to do something which benefits the community. In our case, we swapped our keyboards for wheelbarrows, shovels, sledgehammers and a pick axe.
Our first task involved moving 8 tonnes of woodchip, shovelling the contents on to wheelbarrows and moving it to the other end of the gardens where it needed to be tipped and spread on to pathways.
When the chips are down, keep bashing…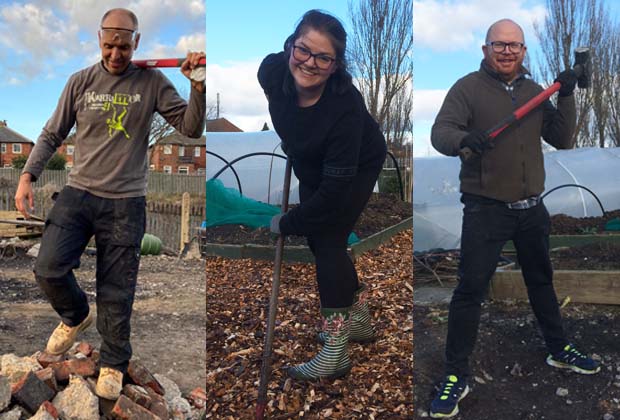 That wasn't all. There also was the small matter of breaking up the bases from the old garages. The instruments of destruction were a sledgehammer and some lethal looking picks. Soon half the team were bashing the concrete, amid shouts of 'hammer time', they made quick work of the first base and a half. The second base was a harder task.
With the sun shining and the team spirit good, the organisers found other tasks for us to do. One involved the instant recycling of the old garage base chunks, used as the ballast for a high raised planter box. It took three runs to a nearby flat to build the planter box, upcycled from wood, from Castle Howard.
Back on the main site, work was ongoing to break up the final garage base with the team working in a relay to apply as much strength to the task as possible. The problem was layers of brickwork underneath the final few square metres. As the afternoon slipped towards early evening, the team were reluctant to leave the job unfinished. Arrangements were made for us to stay a bit longer as we took turns to do the bashing. To keep us going we played music through a phone and that buoyed us on through the final hammer swings.
In the end, it was quite a sight to see. The garage bases were gone. And behind them where before there was only ground cover, there was an expanse of attractive wood chip pathways.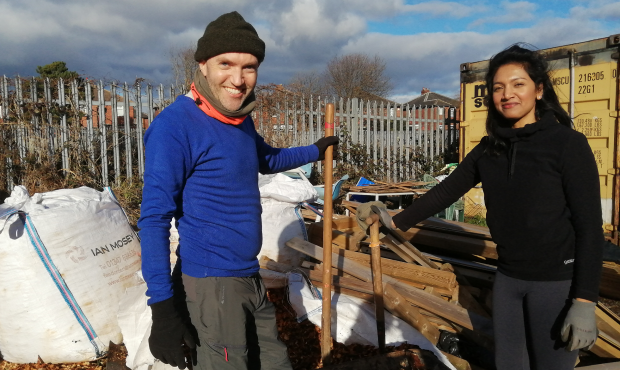 My colleague Oliver, who swapped his graphic design skills for a day of shovelling outside in the winter sunshine, said:
"One of the wonderful things about the day was everyone showing up in their gardening gear. I was greeted by one of our directors, Tamara, whom I didn't recognise in her wellies and woolly hat, we all just mucked in at the same level."
For those of us whose daily work mostly means lifting fingers to tap a keyboard, it was a surprising satisfying day. We worked as a team, got things done and it felt good. It was illuminating and humbling to get a glimpse into a different Leeds. One where a few committed volunteers were changing landscapes, perspectives - and probably lives.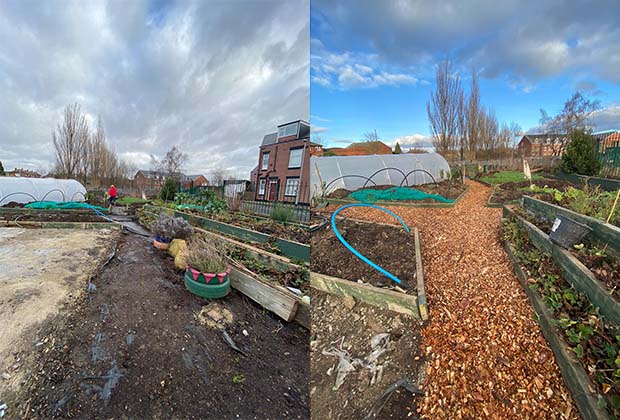 Final thoughts came from Oliver:
"I can definitely say that gardening is a great way to de-stress, while keeping you in great physical shape. The next day my body ached - but in a good way."
Find out more about life at DWP Digital by subscribing to our email newsletter.