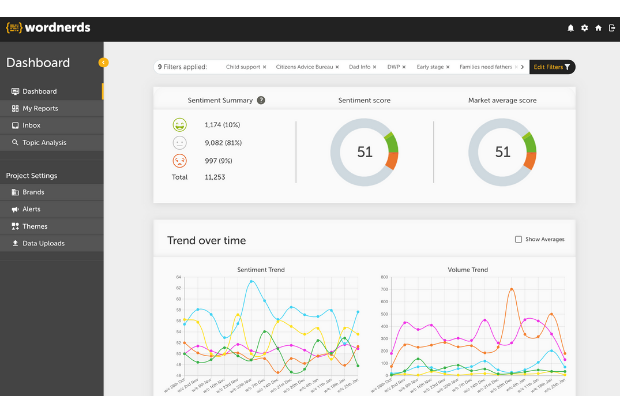 For any of our services, getting insights and feedback from customers is a vital part of how we can work to improve them.  
Surveys and face-to-face interviews are the most common methods of measuring how people feel about our services, but they both have their limitations.  
While they can be helpful for informing longer term initiatives, they're not quite so helpful when we're looking to move fast and make iterative changes to a service at pace.  
For our Child Maintenance Service, there was a particular need that the usual methods of user research couldn't help with. We were looking for evidence to show that applicants for the service were finding our telephone-based application process inconvenient and stressful.  
Supporting the usual methods of research, we also took this opportunity to work with Wordnerds, a company based in the north-east who had developed a cutting-edge Software as a Service (SaaS) platform.  
We originally came across the platform at the Thinking Digital conference 2019, where DWP sponsored the Start Up competition and I was a guest judge.  We picked Wordnerds out as the winner on that occasion.  
It's a great example of how engaging with the wider digital community can bring some real benefits to an organisation like ours.  
Insight from 
a
rtificial intelligence 
The Wordnerds platform analyses text with a linguistics-first approach, which means they balance a technical text analysis alongside an understanding of sentiment and context using artificial intelligence. It looks for insight based on key words, and the connections between them.  
We used their platform to examine comments and conversations about the application process for Child Maintenance Services on Twitter, where we believed people would be less guarded and more open in giving an emotional response.  
Alongside our other methods of user research, the insights gained through the work with Wordnerds helped us to secure the support required to move forward with a digital application service for Child Maintenance Service.  
Since launch, our digital application process has reduced timings from an average of 45 minutes to around 15 minutes online, and the amount of users choosing to apply digitally currently stands at around 80%.  
Helping us focus on the user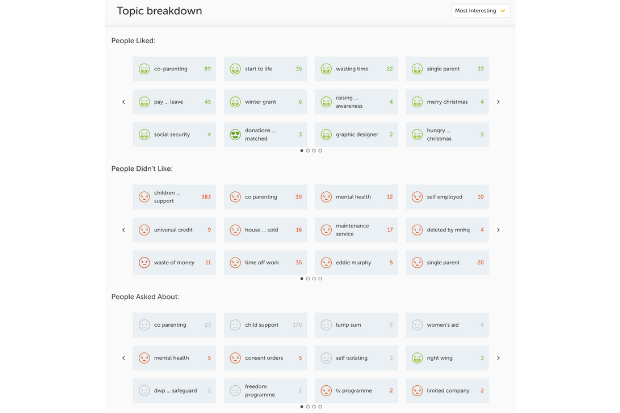 When lockdown began in March 2020, we used the Wordnerds platform again to analyse the real-time conversations on Twitter about our services and the concerns of our customers.  
We were able to get a response to our iterations at a really challenging time, which really helped us to prioritise any changes to the service.  
As we move forward, we're continuing to use the technology from Wordnerds as part of our insights platform. As we look to transform our services to be more user-focused and driven by their circumstances, that dynamic feedback will be more important than ever.  
Our partnership with Wordnerds was recognised at the Dynamite Awards in November 2020, where we won the Best Use of Data award. The awards celebrate all aspects of the tech sector across the north east, so it was a great way for everyone involved in the collaboration to celebrate what we've achieved so far.  
Want to work on innovative projects that make a difference? Check out the latest opportunities on our Careers site.