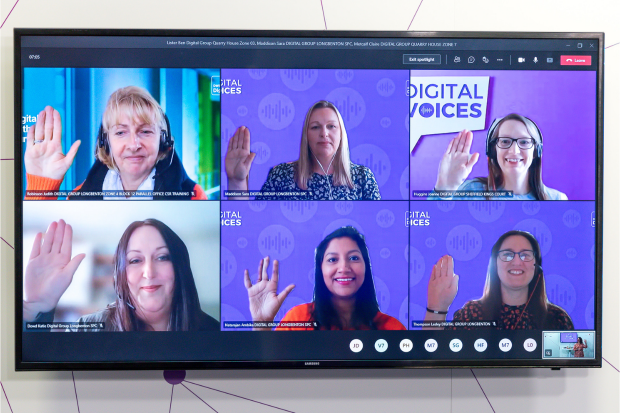 Last week the third cohort of our award-winning Digital Voices programme came together to mark the completion of their journey with a virtual event.
Digital Voices aims to equip women from across DWP Digital with the skills and confidence to tell their story and inspire others, and it was great to see the impact that the programme has had on our latest group.
Usually lasting for six months, like so many other aspects of work our latest cohort was impacted by the coronavirus pandemic. It was paused temporarily in March last year, before restarting with a series of online meetings and a digital day of learning in October.
The celebration event gave the group an opportunity to come together once again, and to share stories about the positive impact that Digital Voices has had for everyone involved.
Eight of the twelve Digital Voices cohort made short presentations talking about their personal achievements, while some of the group's line managers shared insights into the impact of the programme on the confidence of their colleagues.
Confidence and support during lockdown
Looking back on her involvement in the programme, senior digital project manager Ambika Natarajan said: "I applied for Digital Voices because I feel that I'm a natural introvert, and I really wanted to come out of my shell – working in a large organisation I think that it's really important to put your voice out there.
"As part of the programme we got to hear from some really great guest speakers, we worked on things like our presentation skills and how to present yourself in a virtual meeting, and it's just been a great additional place to go for support and advice over the past year. I'd definitely say that it's helped me to build my inner confidence, and it's given me a real sense of support over the last twelve months."
Many of the other speakers shared similar stories of how Digital Voices had helped their confidence during a challenging period.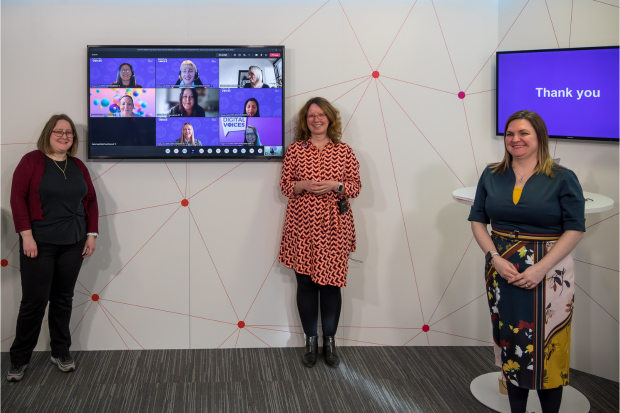 Helping during redeployment
Joanne Huggins, a Quality Assurance tester for DWP Place, talked about how Digital Voices had helped her when she was redeployed to work on Universal Credit (UC) at the start of lockdown.
"I applied for Digital Voices as I wasn't very confident about my place in a team or speaking out as part of a group," Joanne explained.
"Early on in the pandemic I was redeployed to UC claims management, which was such a big step out of my comfort zone. Having the new inner confidence that Digital Voices had given me really helped to do something I was really proud of."
As part of the celebration event, a survey of the participants showed that confidence in talking about their work and confidence in speaking to a group of people had risen from around 50% to 100%.
Although their time in the current Digital Voices programme has come to an end, it was clear during the event that the group would continue to support each other as they move forward.
A new cohort of Digital Voices will launch later this year, bringing together another group of women from across DWP Digital to support each other and challenge their own preconceptions of their place in work.