The second episode of the DWP Digital podcast is now available. In this episode, we hear from Simon King, Head of User Centred Design, and Shruti Kohli, Lead Data Scientist who talk about the work they're doing in DWP's Innovation Lab.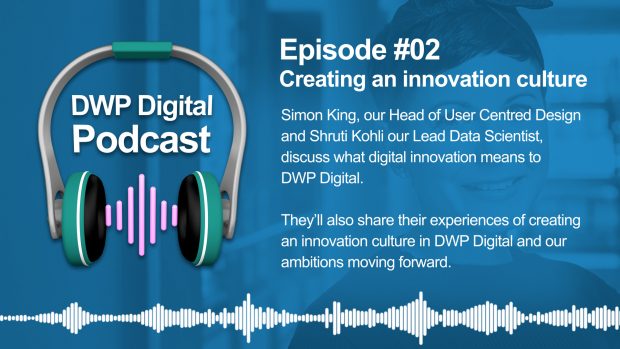 Historically, government organisations have a reputation for not being very innovative, but in DWP Digital we're proud to be really pushing boundaries and leading digital transformation in government.
In this podcast you'll find out about some of the innovations we're currently working on in the lab, more about the team and how we've accelerated things due to the impact of COVID-19.
We also find out more about the eBook Simon and Shruti put together about their eight principles of innovation, which can be downloaded on our careers website.
You can find a transcript for the podcast below.
Join us on our journey
Over the next few months we'll be speaking to more of our in-house digital experts and leaders about some of the exciting projects we're working on that are helping transform experiences for millions of people.
Make sure you don't miss an episode, by subscribing to the DWP Digital podcast on Apple Podcasts, Google Podcasts and Spotify and by following #DWPDigitalPodcasts.
And if like what you hear, don't forget to give us a 5-star rating.
Transcript
Stuart Money
Welcome everybody to another episode of DWP Digital's podcast. My name is Stuart and today we are talking about digital innovation. And don't forget, if you're interested in technology and the types of things we do, hit the subscribe button now to make sure you don't miss an episode.
So let's get started. Shruti, Simon, would you like to introduce yourselves?
Shruti Kohli
I'm Dr Shruti Kohli, Lead Data Scientist working as the Innovation Lead for the lab. In my current role, my key responsibilities are to do the horizon scanning and drive user data intake driven innovation within the lab.
Simon King
I'm Simon King. I'm the Head of User Centred Design at DWP. So that involves user research, service design, interaction design, and content design. And in addition to that, I'm also the head of DWP's Innovation Lab.
Stuart Money 
Just before we jump into today's topic, would you mind giving us an overview of your team and what they do within DWP Digital.
Shruti Kohli
Sure Stuart. Around two and a half years back, the senior leaders of DWP came up with a tech accelerator called Dojo, whose major functions was to challenge the perceived thinking of the users in the department and demonstrate the art of possible. Recently we branded ourselves to Innovation Lab as our responsibilities grew and we got more aligned to user driven innovations.
So exactly who we are. We are a rapid prototyping team, which is a blend of creative highly skilled, multi skilled people. As part of my role, I work on developing and delivering the user centric driven solutions. I have got a planner who is looking after the product management, we have got a senior user researcher, a senior business and an SRM to support business engagements across DWP.
Apart from the DWP squad, we have got our innovation partner who is a bunch of highly skilled technology scrum team that includes full stack developers, Scrum Master, product owner. And we work in a very rapid, fast environment developing and delivering the rapid prototypes in six to eight weeks. And not at last at least, I know some of you will agree. The dominant part of our team are our stakeholders who iteratively give feedback every week in an agile way that helps in developing the prototype.
Stuart Money
Great, thank you, Simon, anything to add?
Simon King  
I would say the key things about Innovation Lab are it's one of the sweeter things that the department does, to innovate. You know, there's innovation happening every day, I would say at DWP. Perhaps the thing that an innovation lab and DWP Innovation Lab are focused on particularly are looking at those cross cutting problems or opportunities that we can address with technology, and really doing that at pace, as Shruti said, and with a view to coming up with new and innovative solutions to those and making them real very quickly.
Stuart Money
We've all probably heard the term digital innovation at some point working within the tech sector. Can you explain what it means to us within DWP Digital?
Simon King
Shruti do you want me to have a crack at it, and then you can?
Shruti Kohli
I'm happy for you to go first.
Simon King
We have innovation happening across the board at DWP. And it takes the form of lots of different things. It can be the case where we're sort of innovating in a process. Or it can be the case where we're looking at new ways of doing things, or entirely new things that the department can do. An innovation lab and particularly DWP Innovation Lab really is focused on that outside horizon area, what's sometimes called the third horizon, that is when we're looking at new and innovative ways of tackling problems. And for us, really, what's central to that is applying what we describe as design thinking methodologies. And what they do for us – and this is central to our definition of innovation – is bring in a wide, diverse group of ideas and thinking to a problem. And that often takes the form of people from outside of the department. It's very easy for any large organisation, whether DWP or a  large commercial organisation to really be focusing on itself a little bit. And so one of the things that we aim to do is really to bring in lots of different diverse ideas. And secondly, to really focus on the problem at hand from the perspective of the user. And I can't stress that enough, it really is going through a really deep understanding of that problem.
And probably the final really key thing is making something real and doing it really quick. I think that allows us to create momentum behind things. And specifically what it allows us to do is demonstrate proof of concept and the art of the possible to the organisation very quickly. And in doing it very quickly, we're able to save money in getting rid of solutions that aren't going to work well, but also, in using that sort of diverse and heterogeneous group of ideas come up with perhaps a different way of doing it, that we may not have been able to do from other sources.
Stuart Money
Historically, government organisations have a reputation for not being very innovative. DWP Digital is putting a lot of effort and work behind being innovators. So how do we compare to the private sector when it comes to our technology stack? And the levels of innovation we can do?
Shruti Kohli
So thanks for asking this interesting question Stuart. I believe the existence of the Innovation Lab within the department showcases that, what is the mind-set of the senior leaders in the department, where they have created a capability for us to innovate, challenge the perceived thinking and go beyond - look for the art of possible to support our digital evolution. And historically, I would say the things would be a little different, but now there are more digital evaluation accessibility to take, have induced a plethora of opportunities to do tech driven innovations through which we can transform our services. And that's a great opportunity in the lab where you know, we are leveraging. And there is an African proverb, if you want to walk fast, walk alone, if you want to go far walk together. So in this journey, I would say and Simon will totally agree, we are not alone, we are really working on a vital ecosystem, with our external partners, industry startups, other cross government organisations, leveraging on their experiences and skill set, bringing them on board with us when we are innovating and developing the prototype.
Simon King
Yeah, I definitely agree with you there. And I think it's worth specifically taking that question of how we might compare DWP to other kinds of organisations. I think it's important to do that because often we're looking at similar kinds of problems. And often, it's really useful to look at the way other people do it. So certainly, having had experience of innovation labs at a large global financial organisation, and also one of the world's largest global online retailers, it's interesting, there are probably more similarities than differences. You know, the problems that an organisation like DWP face are probably those are as much of scale as they are of sector. And of course, in a government organisation, it's public money. So that needs to be one of our key things, is to spend taxpayers' money wisely.
But within that context, it really is a case that an innovation lab like DWP's Innovation Lab, really does have the ability to move quickly and react quickly. And that really is the value of having a sort of a separate lab construction, that it's able to move in slightly quicker ways by having a more nimble approach and nimble sort of structure. And probably, I think Shruti made a really important point there when we were at the start of the thing, really the necessary factor as opposed to just the sufficient and perhaps one of the key critical factors in achieving this, is having that sort of institutional buy-in to make this happen at a senior level. I'd say it's probably a key defining factor of success; that there's that strategic view that there's value in this kind of approach, which I'm glad to say is something that DWP does have.
Stuart Money
Recently you've both written an eBook about the eight principles of innovation, which people can download on our website, careers.dwp.gov.uk. Would you mind giving us a quick overview of the core principles we follow and explain how we drive innovation within the organisation?
Simon King
Shruti do you want me to kick off on this one?
Shruti Kohli
Yeah, sure, you could kick off. It's your prospect that started.
Simon King
So yeah, I'll start this one. So we put together this eBook, and I think we grandly call the eight principles of innovation. But really what we were wanting to do is to share some of our experiences that we've learned, where there might be some appropriate to other organisations who are thinking about this approach to innovation and the innovation lab approach, and really start a conversation, so that we can learn as well. So I won't go through all of the learnings that we have. But just to give you a flavour of them, I'll mention a few of them.
Perhaps the first one that that we point out was really the question, do you really want to innovate? And the point here really is, there's lots of really important things that you can be doing with your digital spend, and your digital time. And they can be about service improvement. But when we're talking about innovation, we really are talking about a longer time horizon, and looking at things which, by their very nature, they're not all going to succeed. If one really has everything succeeding 100%, right all the time, then it's probably the case that there really isn't that level of risk that you need to make sure that you're finding new, innovative and potentially disruptive solutions to problems. So really, that sort of corporate resolve to work in that way is important. And that's one of our first ones, just picking a couple of other ones slightly at random.
One of them was build a Trojan horse. And what we meant by that is something which I think we've discussed, which is avoiding becoming an echo chamber, which is a possibility for all large organisations. And our Trojan horse as a word is bringing in lots of different ideas and lots of different voices to change the debate, and change the discussion, which is really central to things.
And maybe another one, which I would just focus on is focusing on making something real. I think we call it 'make it real (fast)' in brackets. The point there is that prototyping is really central. And it's something that often can be the thing that people struggle with most. And that is the principle of always aiming to build something. Why is this important? Well, if you start with the objective always building something, it really changes the whole debate. It focuses minds on real solutions. It creates a language of actual artefacts that people can actually look at, pick up, reject, play with, change, and crucially, they can be tested and validated with potential users. And so that kind of creating an environment to build things, employing builders, and letting them build is absolutely central to that objective. And there are other principles, but those perhaps just give you a flavour, Stuart, of some of them.
Stuart Money
Thanks, Simon, that's really interesting.
What do you consider to be the most significant digital innovation within DWP Digital right now? Is there anything that stands out as a real game changer compared to other public or private services?
Simon King
There's a lot going on at DWP at the moment. Certainly, that's been accelerated also by the COVID emergency, which has meant that we've had to find new and innovative ways of doing things. And there's lots of proof of how we're seeing citizens moving over to the digital channels. But when we're looking at the overall strategy and the way that the department is moving, probably the first thing to mention is DWP's strategy and plans for the future in moving from a product oriented organisation to a more customer centric joined-up services oriented organisation. So technology and automation are really central to doing this and achieving this. We're in the process of building a set of reusable digital products. Each new end to end user or agent facing service journey will really be realised through real time, collaborative interaction of these reusable elements. And this is what we might describe as an event driven architecture. And the really crucial thing there is it allows components to detect and react to business events from anywhere else in DWP, often in near real time. Why is this important? Really it's a key enabler, to quickly and cost effectively design services around these kind of holistic and sometimes very complex needs of citizens, which often span multiple areas of benefits and ultimately provide a service that better supports their user needs. And this really is crucial from any government department that has a significant amount of legacy IT. But starting from this, what we call an application architecture, it really allows us to start realising some of those visions of joined-up services, things that are able to react quickly, and crucially, delivering those at lower cost for the taxpayer. So really, this architecture really is an enabler of lots of things that we want to do in terms of improved services.
Shruti Kohli
And I would add to this Simon, like, definitely, it's one of the biggest game changers in DWP. And what I have found is that there has been the recent trends and shifting to the digital space. There is an innovation culture that are involved with a department where there is more acceptance to the technologies, and looking forward for them to use in day to day use. It has grown in this particular remote working world. And within the lab, we have really explored a plethora of technologies and really found off the serverless architecture that we are using in most of our prototypes, and which is like a backbone of the CI, CD pipelines that we are developing. And other technologies like AR, VR sentiment analysis, use of Dockers, transport security, AWS, cloud chaining services - all of these we have experimented in the lab. And the colleagues have really liked the outcomes of this. So there is a very big change of evaluation of technology, where you know, people are accepting it and I really feel that's a very big game changer in innovation.
Stuart Money
You mentioned your team earlier and touched on the work they do. Can you tell us a little bit more about their work, their working practices, and how they differ from a development team embedded within a service?
Shruti Kohli
Thanks Stuart. As I mentioned before, how we could understand Innovation Lab. It is an unconstrained space to experiment with new ideas, concepts and technologies and I would say how this team has evolved. It is one of the perfect examples of Agile scrum team, where each team member is creative, pragmatic and ready to go beyond boundaries to deliver. Unlike other teams, our deliverables are the art possible that empowers our stakeholders, and support them into your day to day working and jobs. And that's the way we really differ from other teams who are more delivery focused and you know, who are more focused on solving the day problem.
Simon King
I'll probably add one, if I had a defining aspect of the DWP Innovation Team, it would probably be collaboration. As a team as individuals, that all of their work is predicated on collaborating, either with people within the department who perhaps if you like, own a problem. And it's certainly not the case ever, really, that there's this sort of group who sit in one corner, and then just come up with fantastic things all by themselves. That's kind of a misapprehension of what an innovation lab is for. It really is a catalyst, if you like, to two things to maybe coming up with some slightly different ways of approaching a problem with an existing service team. It might be just giving them the space to do that, and additional thinking and different diverse groups of people to do that. But you know, the space and the permission to do that is important. And then the other side, which is really important is just bringing in lots of interesting, different ways of attacking problems and thinking about them. And something of that nature that we've really been focused on over the past few months, is changing not just the number but the types of organisation with whom we innovate, and help us to solve the problems, the citizens' problems that DWP has identified. So that could be from, you know, small startups in the data space. It could be with academic institutions across the country who've got a different way of looking at things. And it could be with a range of corporate partners. And what's really been heartening, I think, over the past month, is really just the enthusiasm that people have got to get involved with assisting in solving some of these problems. And near the common ground we've had with people who are right at the cutting edge of these problems, and identifying the projects that we're working on as fellow travellers and people with whom they can work to advance their thinking, as well as our thinking. And I think, really that shows the importance of a government organisation like DWP, being an active member of the whole ecosystem of innovation and playing a part in that thing. And it's a great case in point of where the public sector really can be innovative, and doing things differently. And, you know, if there's something we've learned over the past six months, or eight months, probably at DWP, it's that as an organisation, there really is the capacity here to really engage in those problems and start rapidly coming up with some solutions that really makes some differences to citizens' lives.
 Shruti Kohli
Yeah, just to add to what Simon said, I want to just give a highlight to one of our PLC, we call it technology enhanced access, where we showcased how, by using the video tools, or toolings of Google. And by using our beacon technology, that a startup demonstrated right here, and how working together with Royal Institute of the Blind, seeing how they are using beacons to support their customers better. How we can club these technologies, how we can learn from the startup, how we can learn from the organisations like the Royal Institute to come up with a particular prototype like a tool which provides the user with a virtual experience of his visit to the jobcentre, so that his anxiety level could be handled. So that was the one great example. And in each and every prototype that we develop here, and still the occupational health, the other prototypes we are doing in the lab, our first view is to understand what is happening in the external ecosystem, which we can pick from there. So that we could leverage on their skills of them, collaborate with them, while we are developing this innovation piece,
Simon King
Good example, that makes a lot of sense. It's a really good one.
Shruti Kohli
I brought some examples previously, but I've missed telling them I thought I was going to look.
Simon King
I think they are really good. I think they're really useful.
Shruti Kohli
Yeah.
Stuart Money
What does it take to produce something for a service or help solve a problem a service may have? What steps do you follow?
Simon King
I think one thing about an innovation lab's approach that's worth considering is, it probably isn't the case that we start off with a clear brief that we then go away and do some work on. I mean, that does happen. But the whole sort of identification of the problem and investigating the problem is perhaps one of probably the crucial parts of the whole overall process.
So the first stage really for our innovation lab is getting to the heart of the problem. So we often start with part of the business who are scratching the head with a problem or an observation, or something that they want to do better. And part of the first thing is really just getting to the heart of what that problem is. It sometimes means that the thing that somebody first mentions or sends an email about, ends up not being the actual thing that we investigate and look at and work on. Because central to our design thinking approach is really getting to the very heart of the user's problem and understanding that in a profound way, that often has a bunch of different causes to the ones that maybe had first been considered.
And then from there, we've got quite a structured approach. And it's probably worth mentioning that part of the value of this kind of thing is the process itself. You know, really working the process allows the innovation to come out. It's often the case that we're not talking about, it's very much the case, we're not talking about individual people coming up with super creative things. That's always very welcome. But what we're doing here is that word collaboration, again, it's about people coming together with different approaches to identify a new thing that individually they may not have come up with. Shruti, do you want to talk a little bit more about some of the specific steps and specific areas that we work on.
Shruti Kohli
As you already mentioned, other processes. I would say that design thinking sessions are very popular in data flipping. Like many times it happens that it's not that the people come for the project like developing the whole prototype. But many times for some of our work coaches for our operation colleagues, we have done the design thinking session so that they could visualise their ideas and see them and take it to their leads. So what exactly are our design thinking sessions? As Simon mentioned, as we are starting many times  themselves our colleagues don't know what exactly is the exact problem because they have gotten the idea out of the day to day obstacles they are having. So what we do is we start working with them through the pre discovery design sessions. We take them to a blank canvas, spend a day with them trying to understand the problem, we do fantastic design thinking activities like abstraction ladder, creative matrix, where you know, they just forget about solutionising it or thinking about the way it is a problem. They see it as a story that goes over there, and you know many creative ideas come over there.
The second half of that particular workshop, we spend more on developing solutions together. That is a day well spent on ideation, doing that discovery piece, getting the ideas together, developing our 'how might we' statements, and then coming up with some kind of concept booster solution, which is totally tech agnostic. Although we are a tech heavy team, it's a tech agnostic posture that becomes our route, our base for us on which we work and iterate for six to eight weeks, keeping that as our starting point.
So once we develop our concept poster, and we get feedback from our stakeholders, they are happy with it, we start looking at our external ecosystem. Like what we can leverage from outside, from internally, what are the DWP assets that we could connect with them that are already there. And then in a rapid prototyping, we, every week, we give our demos and on the basis of feedback from our stakeholders, we kick off the project further. I will just give a brief outline of our project like, some bunch of Identity and Trust colleagues came up and spoke about the other website, how we could ease the journey of people who are in pain, but at the same time, we could keep the problems away.
So that was the starting of the whole bunch of discussions in the design thinking sessions. And what we came up with was a very good platform that was orchestration platforms, which had a set of authentication PANA trees, which on the basis of historical data we have of the claimants, and the kind of authentication. We have, for example, biometrics, OTP, and all, and what we can collect on the real time through their behaviour online. So on the basis of these PANA trees, and working with the startup, Classmates Security, we were able to come up with that platform through which we could measure the trust of a claimant, of a person online at real time, and on the basis of that increase or decrease the hurdle of the barriers. And that was one of the projects, which was well taken away. And you know, it's being worked on further by the Identity and Trust people, they are developing it further. So that was like, we always start from such a very simple, vague conversation and it's amazing to see how we, in six to eight week, deliver a prototype out of it.
Stuart Money
So just before we end, what are your ambitions and hopes for your teams moving forward?
Simon King
I would say it's a really, really interesting time to be looking at this area in DWP. There probably has never been a time where we could have seen a government department that's so focused on transformation and digital transformation. As far as the Innovation Lab's concerned, we probably just feel it's just getting going. And you know, what do we want to see in the future? Well, first of all, we want to see perhaps an increased cadence of projects, where we're seeing a number of different projects running, that are addressing a larger range of problems and opportunities for the department.
But I think probably if there was an overriding important ambition, it will be I thing I might describe as a virtual circle of innovation where we're starting to see that kind of approach, that kind of thinking, sort of disseminating, percolating through the organisation. And probably what's a hallmark of that is the ability and the space and the permission to make decisions quickly, take some controlled risks in terms of innovating solutions. And by taking those small prototype risks, ensuring that the feature is less risky. I think that kind of approach, rapidity, and sort of way of bringing in a range of voices are things that we're starting to see at the department. But really, I think those are the hallmarks of what success looks like for the Innovation Lab.
Stuart Money
So that ends our podcast for today. Hit the subscribe button if you want to make sure you don't miss our next episode. I'd like to thank Shruti and Simon for taking part today. I certainly found it interesting, and I hope you did too.
So thanks for tuning in and I'll see you next time.