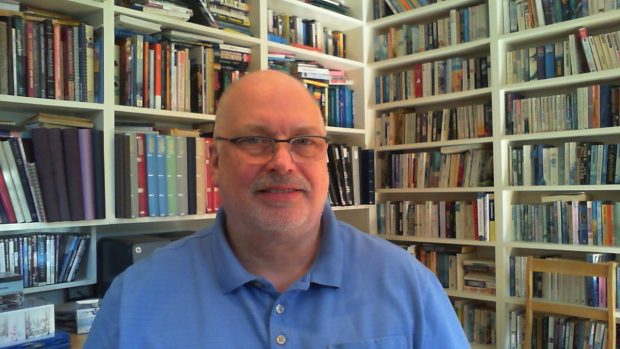 I've recently been setting out a vision for DWP Digital across the next year to our many colleagues at a series of virtual Digital With Purpose events. These opportunities to get together and share our thoughts on our direction for the future are really important to us, particularly given that most of us are still working from home.
I also wanted to share these goals here, so that as many people as possible can be aware of what we are aiming to achieve.
Over the last year, DWP Digital has come together in an incredible way to ensure that our department continues to provide services to the most vulnerable in our society. We have rolled out about 90,000 devices to get people working effectively from home, we have supported a huge increase in demand for some of our services like Universal Credit, we have built new digital services to free colleagues up for more critical activity and we are supporting a massive increase in our estate.
It is a year in which we have truly embarked on the digitalisation of the department, improved the quality of our services, and continued to recruit new colleagues and support the career development of existing ones.
Four goals to achieving Digital With Purpose
Looking forward, we now want to build on the progress of the last 12 months. We essentially have four goals – delivering great services, building new user-centred solutions, using new technologies and data to innovate, and building our capacity and capability. Let me elaborate on each of these goals and how we're looking to achieve them.
First of all, maximising the performance and stability of our digital services. We have come a long way in improving our services, and there is now a general recognition that our services are world class. We also have a mature framework for managing the technical debt in our infrastructure with planned refresh cycles, evergreen upgrade approaches and the increasing use of cloud services (and we want to move a lot more to the cloud next year). We also know that we need to do more on making our services accessible and making sure that we test the recoverability, resilience and security of our services.
There has been a lot of work in the last year to bring many of our critical platforms up to much better supported environments. For example, our Virtual Machine Environment Replacement (VME-R) project was a hugely successful programme that was recognised at the Civil Service Awards recently, and we also upgraded our Central Payment System (CPS) for the first time in many years. We have also been decommissioning many old technologies which are no longer needed, and we will do more of this work over the coming year.
But we want to focus more on the replacement rather than the repair of our application portfolio. Through this year, we have been making progress with a transformation through digitalisation agenda. In order to respond to the pandemic we invested in nearly 40 projects, many of which were to build new digital services.
Creating the architecture to build solutions
Our second goal for the next year is to accelerate the strategic transformation of our services. In order to build new user-centred solutions, we have also invested a lot of time in building our new reference architectures. We've created an application reference architecture, and new technical and data reference architectures too. These set out how we want to build solutions in the future, based on sharing life events between existing and new services, and sharing data across services so that we can better reduce error when we are managing new benefit applications.
For example, automating more changes of circumstances as part of a drive to more straight-through processing. And we want to build new shared components where it makes sense so that we don't build things multiple times and we don't build so much in silos.
Now, this has not been easy. We have been running all sorts of experiments to make sure we know how to do this. There are still more lessons to learn, but we are now sufficiently confident that we are committing to building all new solutions in this way and making sure that existing services share data and life events, and reuse shared components wherever this makes sense.
Shared components include things such as payment services, evidence and identity management, through to new channels such as video and web chat. We're making progress on all of them. One of the biggest challenges is that we have to get used to managing the complex dependencies and user needs of different benefit services through collaboration and partnerships across DWP and indeed government.
Driving straight-through processing
We are also building applications in new ways, focusing on user-centred journeys which make claiming benefits much easier. Making sure that we use existing data, or validating new data provided by citizens so that we minimise fraud and error at the point of application where we can. We then need to use this data, validated at source, to drive straight-through processing wherever we can. Our Get Your State Pension service is already achieving over 60% of new applications without any caseworker intervention. We can make our services better for those that use them, including our caseworkers who will be able to provide better services for those who have more complex needs, and reduce our costs at the same time.
Continuing to innovate
Our third goal is to continue to use new technologies and data to innovate. We have seen great progress in the use of data, including helping the government with the data interpretation of the pandemic statistics. We continue to look at new ways to verify users, to identify fraud using advanced data analytics and machine learning, to build conversational telephony services and new low code solutions. And we will continue to look for new technologies that will benefit DWP through our innovation centres.
Building capabilities and capacity
Finally, we have a clear goal to build our capabilities and capacity. We have made great progress with bringing together BPDTS and DWP Digital into one team, which I wrote about when it was announced last September. It is not easy to bring two organisations together, but we have already been working side by side for many years and I think we know each other reasonably well. We will merge on 1 July and from that point we will want to move forward as one organisation.
Going forward we will look to nurture and develop everyone across the organisation through a variety of learning opportunities. We already have some great initiatives around diversity, wellbeing and inclusion, and I want to make sure we continue and grow these so that we're making sure everyone in the department feels they are supported.
Overall, I genuinely think this will be a great and exciting year for us. We have made so much progress over recent years, our reputation has never been stronger and we have a 'once in a generation' opportunity to drive digitalisation through the department.