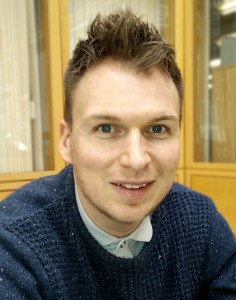 I'm Ryan Mallinson and I've been part of the DWP Digital Academy team for 18 months. I joined the team shortly before we welcomed the first Digital Academy in Leeds.
The aim of the Digital Academy is to grow digital skills within DWP. Once graduated, the Academy students go on to work and, in some parts, form the teams driving digital developments. This is the immediate impact of the Academy. We are growing our own capability and sending people straight into the real world!
We've had over 1000 people 'touched' by the Academy so far. Around 130 people have graduated from our Foundation course with the rest attending our 1-day 'Discover Digital' event.
We brought around 120 graduates of the Digital Academy together on Friday 13 February to kick-start our community agenda. We want to take what we're doing to a wider audience and collaborate with other government departments.
We had graduates from the very (noisy) first Academy cohort – people who had gone on to lead digital development as Product Managers and Delivery Managers, right through to some of our newest graduates – Sandra Berry and Sommer Croft who had graduated the day before!
Honest and thought-provoking
When planning the day, I really wanted to get the 'real ' picture of what life is like post-Academy. I gave each presenter their platform and they were a little surprised when I told them that it was theirs to do with as they please. From this we were presented with some very personal stories about what people had got out of the Digital Academy, and how it fit alongside their lives, whether that was a family bereavement or the arrival of a new child in the family. I couldn't have hoped for more engaging and honest stories.

People took to the stage and felt comfortable enough to not only talk about what worked well, but also the blockers they'd faced. It wasn't a surprise that this included:
Governance – the frustrations around getting approval and budget to run a Discovery
Delays – the difficulties caused when a multi-disciplinary agile team has to be stood down or paused while the governance wheels turn from discovery to alpha, or alpha to beta.
Using contractors to manage teams – the question of how people's performance is managed and improved when this is being done by contractors who might not be familiar with our people performance approach.
Dual reporting – in an agile team where stand-ups and show and tells are the way to find out what a team is doing, versus the need to fill in templates and progress reports to keep a wide and remote bunch of stakeholders up to date.
Digital Academy user needs and backlog
We had two interactive sessions where the graduates wrote the user needs and stories to improve the Digital Academy in future. Some of the themes were:
Translating Academy learning to agile projects can be challenging
IT and tools can be a blocker
Graduates need to have some support so they can hit the ground running
These themes came out again when we held a Q&A session with Kevin Cunnington, Sarah Cox and Annette Sweeney – with people asking how we can create a dynamic workforce of people with digital skills that can be deployed to discoveries or shared across different projects as and when priorities required.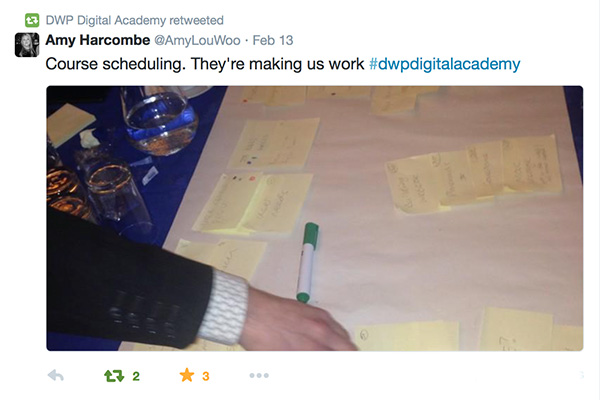 What next?
We're planning other blogs with first-hand accounts from our first cross-government Academy and we are only just dipping our toe into the cross-government digital community which is already starting to catch fire.
We hope to continue these events and will be asking you to tell us what you want them to include. This is 'Your Community, Your Voice' and we want to hear it.