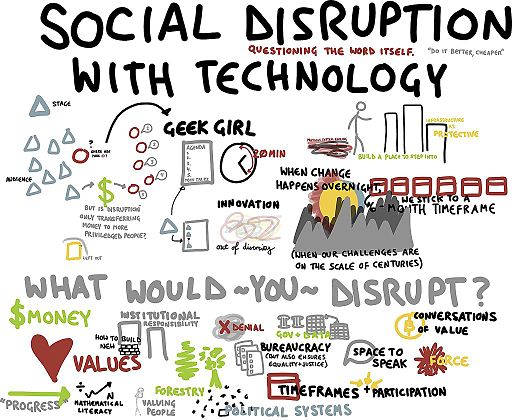 The internet continues to churn out disruptive technology at an ever-increasing pace. This presents both tremendous opportunities and serious challenges.
New technology throughout history has always spurred growth. Think of the impact of electricity, roads, railways, telephones, and most recently, the internet. As to the future, it could just be more websites and phones, or there could be something more fundamental happening. Will the internet of things or AI change our lives unrecognisably?
People have changed
There's a growing, digital native workforce with substantially different values and expectations.
Millennials (born between 1985-2004) bring a new philosophy - they care a lot about the world, society, and making a real difference . They want to do something more meaningful. They're looking for more in companies they work for. So principles like the triple bottom line (financial, social, environmental) and ethical computing  are essential to attract and retain these new thinkers.
Millennials have grown up with technology. They're highly skilled, easily distracted, and they're mobile first. They're also critical to reimagining the way that services in the future will be created.
The way they work is different too. Communication and collaboration is now often more than 50% of what people do. It's actually quite rare that anything of value is created by a single person - be it a spreadsheet, a piece of code, or a data analysis script.
Ways of working must also evolve
Businesses have responded variously with remote working, flexitime, multichannel access, and collaboration tools. Forward-thinking organisations acknowledge the importance of cross-functional working, integrating IT with all other business functions for organisation-wide collaboration.
But to achieve true transformation and collaboration requires more than technical tools. It demands substantial investment in professional development and training in communication and collaboration. This must be supported by funding and processes, and the necessary technical infrastructure established to enable it.
A recent Google survey showed that who is on a team matters less than how the team members interact, structure their work, and view their contributions. You don't need a team of rocket scientists to create high performance teams. Hire good, curious, thoughtful and collaborative people, give them the tools and access they need and you'll have top performance .
There are implications too for recruitment. Organisations need people with the necessary skills and competence to perform their role, and the soft, people skills to work in a collaborative, co-operative way.
IT as the transformational leader
The IT department is well placed to be the agent of change. It has the advantage of great visibility of all parts of the organisation, and owning the new 'disruptive' technologies.
At DWP, it's the Technology team that is leading transformation. They've created a dedicated collaboration services team, with a charter to build bridges between people, teams and functions. They've issued everyone with hybrid tablet laptops with HD video, enabled enterprise group chat, and walk-in technical service counters.
And they're using real time data to move from business and management information systems to data-driven analytics. It means faster, more accurate decisions, made by those in the organisation with the best perspective. And with the commodity infrastructure outsourced to the cloud the process is cheaper, more flexible, and offers more innovative methods of access and analysis.
The challenge of security
So, yes the opportunities are clear. And so are the threats. Some say we're in the middle of a new World War. There are daily announcements of cyberattacks and data security breaches, many are extremely advanced, persistent, and state sponsored.
The sophistication of trojans like Stuxnet - which presented a facade of normal centrifuge operation in a Plutonium purification lab until irrevocable failure - is a very real threat.
The dynamism created by cloud, cyberattacks and the ever-demanding mobile workforce calls for an updated security strategy. You can't just clamp down everything, as that will stifle the lifeblood of the organisation. Equally you can't ignore the threat of cyberattacks.
At the moment the best solution is 2 factor authentication, comprised of something you have and something you know. But looking further ahead, we may see the death of traditional "moat and castle" security, where the allocation of "internal" IP addresses are automatically given high levels of trust.
Security is our topmost priority, and an area in which we have continually invested heavily. We're looking at world-class network security, including lower-trust methods like perimeterless networking, popularised by Google's  BeyondCorp paper.
The future's bright
It's just one of the many exciting projects at DWP Technology, like the work we're doing with Oxford University and other partners on the future of technology. Subscribe to this blog to find out more about what's happening in DWP Technology, and look at our LinkedIn page to see our latest jobs.