The recent weather warnings over the Easter period reminded me of the 'Beast from the East' earlier in the year and how that impacted our services for our customers.
At Southern England Jobcentre Plus we've worked closely with the DWP Digital Social Media team over the last year to re-engineer how we use Twitter.
The new approach sees DWP's Southern England Social Media team managing the region's Jobcentre Plus Twitter accounts. This means that customers can expect to see high quality and professional local content from 8am to 11pm, 7 days a week, 365 days a year. The accounts share new job opportunities, local events, and help and advice to support the job search, in a consistent and standard way. Our service allows users to ask general enquiries like office opening times, and discuss the job vacancies and employment related advice that are shared on Twitter. It's not for questions requiring them to share personal data like National Insurance numbers, their date of birth or address.
In addition, the team handles Direct Message (DM) queries through our 'live and social' service hours of 9am to 5pm, Monday to Friday. The Twitter DM feature allows users to send their queries to us without sharing wider on the platform. It is very much user-led and typically found on other organisations' customer service accounts, so experienced Twitter users expect to find it. It's a feature we advertise as being available on our accounts and our Social Media team is trained to handle these within minutes and in a safe and secure way.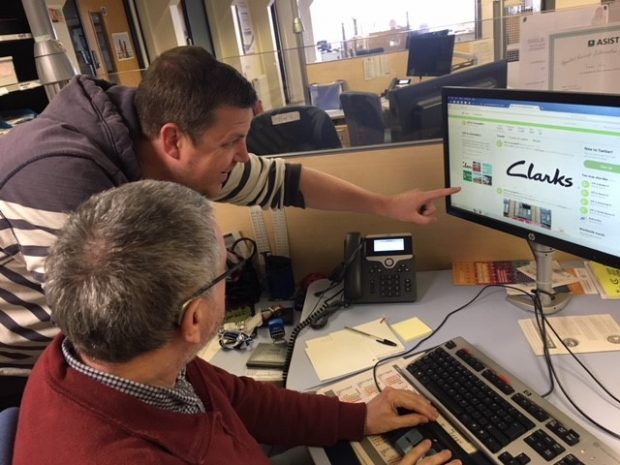 So what does this all have to do with the snow?!
The recent snowy weather really affected some of our sites and our ability to help and serve our customers. There are a number of rural communities in the area, which saw heavy levels of snowfall. From a social media perspective, what was particularly interesting was seeing the increased activity on our social media channels during this time. Customers were using these new services to get answers to queries, help and advice, just as they would normally use a regular channel like phoning or writing to us.
Our first DM arrived at 6:30am with: "I'm walking in from Brixton to Plymouth today for an appointment at 11am. Are you open for business?" As Brixton village to Plymouth is about a 16 mile round trip (nearly 2 hours each way on foot), we were able to quickly respond the latest position and advise that the local Plymouth office was closed due to the snow.
As the amber weather warning escalated to red and we carefully watched the weather forecasts, we were able to share and update the latest positions on all our accounts as the situation changed - including on the Isle of Wight where apparently it 'never' snows (so a colleague told me!). We were effectively providing 'real time' office updates.
A flurry in a flurry
Over the course of the snowy period, we received a flurry of about 50 DMs and mentions, with queries ranging from office closures, to whether payments would be affected and how to rearrange appointments. We were able to respond to queries in minutes.
The messages continued over the following days as customers wanted to get information on whether sites were still closed, or beginning to open and return to normal service.
This really made us realise that we were establishing a new level of service, much like many other organisations such as banks and travel firms who all use social media.
We have been using the Twitter DM facility to communicate with our customers for 12 months now, but this increased level of contact through the period of adverse weather gave us a chance to reflect on our service offer and think 'how can it be improved?'.
We want to ensure that all our customers are aware that they can drop us a message during business hours, and they will have a swift response. We now remind people of this service in our 'good morning' and 'goodbye' tweets each working day. And if a situation was to arise in the future, we will include the line 'Don't forget you can drop us a DM if you have any further questions' on any tweets about the change in service. We are also working on improving the awareness and capability for using Twitter this way with our colleagues, who in turn can assist their customers.
The cold weather illustrated the power of our Twitter network and the dedication of our Social Media teams to help our customers. We're keen to explore more ways we can provide a safe, co-ordinated and real time service through Twitter in our communities.