We're very proud that Sue Griffin, Head of User Support Services at DWP Digital, has made this year's Digital Leaders 100 list.  Find out more about her role and what motivates her.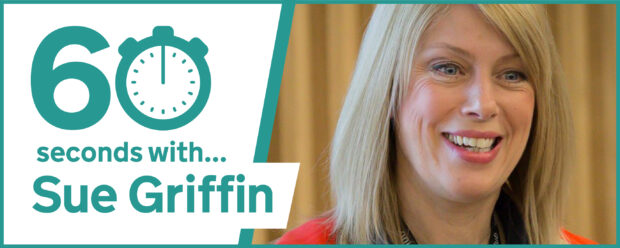 Tell us about the type of work that you do
I lead a team providing technical support to 84,000 colleagues across DWP; from helping them to get the best out of their digital products and services, to fixing any issues they may have.
What was your first job in technology?
I worked as part of a commercial team in outsourcing DWP's IT contracts.
What attracted you to DWP?
I started in 1987 straight after my A-Levels, on a 12 month temporary contract in a local benefit office before going to university.
However I never made it to university and 30 years later I'm still here! I loved the feeling of team work and there being a real purpose to what this department does.
What technology excites you most and why?
I'm fascinated by the work SpaceX is doing on re-useable rockets.
Tell us about a project you're working on
We're working on the automation of around 600k user administration tasks across multiple systems and products.
Our current systems require significant manual intervention to add, remove and change colleagues' information and accesses, or to reset passwords.
We're designing the new products and services to be self-service, meaning that this manual intervention can be avoided.
What problem does it aim to solve?
Colleagues across DWP will get access to the systems and services they need more quickly. It will also free up around 70 User Support employees to provide more tailored face-to-face support to users in offices across the country.
What is one surprising fact that people don't know about you?
I am naturally quite introverted.
Name one career goal you would like to achieve in the coming year
DWP Digital becoming more diverse and seeing more women join us.
Name someone living or dead who inspired you in your career
My favourite TED Talk (so far) is by Dame Stephanie Shirley – she's pretty amazing! I'd recommend checking it out - it's titled "Why do ambitious women have flat heads?"
How do you find the working culture and environment in DWP Digital?
DWP Digital is a collaborative, innovative, fast-paced and fun place to work. That said we've still got some way to go to improve diversity and to value all colleagues (both new and existing) for their expertise.
Digital Leader of the Year
You can vote for Sue in the Digital Leader of the Year category of this year's DL100 Awards. This award recognises an individual whose actions in the past year have made them standout as a Digital Leader in the transformation of their sector.