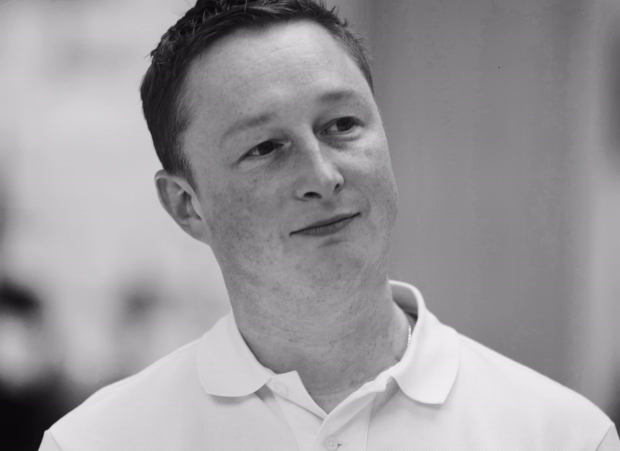 The hack's back
In DWP Digital, we're continually looking at how we collaborate across government, and beyond, to improve what we do for the benefit of the department, and the citizens who use our services.
Later this month, we're running a two-day hack event to look at how we can work with partners to address some of the challenges in connecting digital health services.
Hack the North 3.0 is an opportunity for us to expand on our collaborative approach, and learn from potential partners who have a vested interest in digital health services.
We'll get together at The Studio, Leeds on Friday 22 and Saturday 23 March. We're offering the option of an overnight for the dedicated problem-solvers, and we're providing an on-site crèche on both days for people who want to bring children. You can register for a place now.
It's the third major hack event we've organised. We're working in partnership with MongoDB, dxw and Northcoders to deliver it, and I'm really proud to host it.
Digital in government has changed. We've moved away from services which are focused on benefits, towards services which are focused on users and their needs. We're transforming services with new ways of working and cutting-edge technologies to make using services faster and easier for users.
We're already collaborating across government to join up health services. For example, we introduced the 'Send your fit note' digital service that lets claimants take a photograph of their fit note, upload it and submit it securely online in real time from a mobile device, such as a smartphone or tablet.
Hack the North 3.0 will be a great opportunity to build on this collaborative work, and generate new ideas for developing solutions. I'm looking forward to seeing how teams form across disciplines and industries, and work together to solve the problems and challenges that people in the Leeds City Region are facing.
Why should I attend?
Hacks are an opportunity to work with a diverse group of people on important social issues. You'll network with other digital experts from other industries, colleagues from Job Centre Plus, academics, and people from other teams in DWP Digital. We'll challenge you to find creative ways to help people with health issues get the right support, by bringing health-related services closer together, and designing something that puts users at the heart of those services.
You'll be part of a focused team where you can share ideas and drive innovation. You'll work to find a solution to an unfamiliar problem and show the potential of the solution you come up with. And it's the opportunity to really do something exciting, that could transform the lives of citizens.
You could investigate ways of using technology to connect people's communities of support, and join up the services that impact those living with health issues. Or identify ways of enhancing preventative care through digital tools and technology. Or maybe your team will look at challenges like the impact of health problems on people's access to work. There are so many testing topics you'll have plenty of opportunity to explore your ideas!
Structuring the hack
Our two-day event starts with registration and lunch, which is provided by our sponsors, MongoDB.
We're expecting people from central government, local government, universities, local charities and the private sector to join us from a range of specialisms, from software developers to people in front-line roles.
You'll form part of an agile, hands-on development team, and follow the OneTeamGov principles of openness, practical action and working across borders. You'll have the opportunity to use a range of open and licensed technologies and service design techniques to find answers to real problems, such as how to share data across service-providing organisations. We'll publish any code written during the hack under an open source licence.
Due to popular demand at our last hack, we'll be keeping the venue open overnight on the Friday for anyone who wants to get stuck straight in to the challenge. But if you don't fancy an all-nighter, that's fine.
The second day will start with a short recap, and then teams will work together on their solution before a 'show and tell' session, shortly followed by judging.
A crèche will be available for people who want to bring their children, provided by Kids at Heart, and funded by dxw and Northcoders. Food and refreshments will be provided by our sponsors. And, like all good hack events, there'll be a prize for the best solution!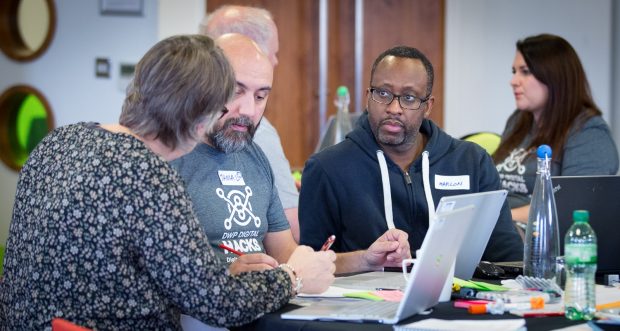 Don't just take our word for it
Hear what some of the attendees had to say from Hack the North 2.0, which focused on how support services offered by organisations in and around Manchester could be brought together most effectively for the benefit of people in the region.
Agz, dxw digital, said:
"I love taking part in hackathons, especially if they are dedicated to social good and solving important problems.

We looked at the Disability Living Allowance claim process after hearing a real user story from within our team. We decided to look at how we could improve the user journey from diagnosis, exploring a potential new service that could share data by consent with other public services.

It was great team work, tackling problems for social good with people for people."
Lin, DWP Digital (BPDTS), said:
"Hack the North 2.0 caught my eye on the DWP Digital blog before I even joined BPDTS.  I loved the idea of getting together to solve problems and help forge solutions that make a positive difference to people's lives.

The event ran from Friday afternoon, right through to Saturday evening, which meant there was no clashing with work. So we could just focus on listening to users' experiences and begin building a picture of problems, requirements and how we could use technology to create solutions. The room was buzzing with energy and passion!

It makes me proud to think that I work with people who are willing to donate their free time and expertise to improve services for our community. I'm looking forward to the next hack.
Adam, UX, said:
"I'd heard that great progress in UX is being made in DWP Digital so I was keen to get involved. The hack exceeded my expectation; DWP is really pushing ahead in digital and I feel it would be a great place to work."
What are you waiting for?
You can also have a look at our LinkedIn page, and find out more about what's happening in DWP Digital by subscribing to this blog and following us on Twitter @DWPDigital and @DWPDigitalJobs.