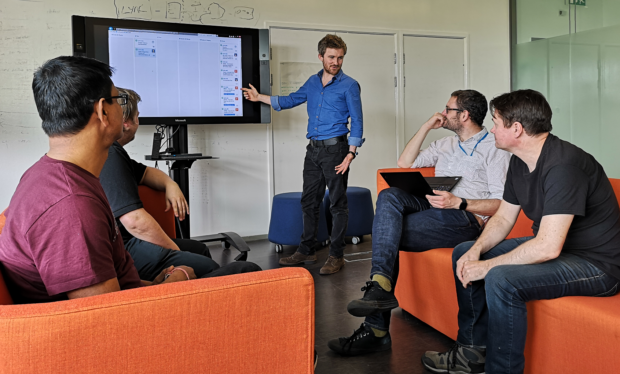 The latest chapter of my career in project and product delivery began in December 2018 when I joined DWP Digital, employed by BPDTS, as an agile delivery manager in our Newcastle hub.
The excitement to start this job was unlike any other… and it wasn't just because it was nearly Christmas. I was intrigued to find out what happens in the mysterious site I'd passed by as a local for so many years. I was also interested in finding out how agile is being implemented in such a vast and varied place.
I confess that until recently I'd been a traditional/waterfall project manager by experience. I'd only recently ventured into the world of agile joining DWP Digital with a year of hands-on practice. So I brought my new found enlightenment, and buckets of enthusiasm for learning more to my new role. And that was one of, if not the main driver, for me taking this job: the ability to learn and develop.
A sense of community
Lots of my peers and colleagues had joined before me, and the feedback filtering through had a common theme: community. The North East is already a fantastic hub of like-minded people sharing best practice and experiences. I'd usually venture out to join groups the likes of Agile North East and share ideas over a beer and a slice of pizza. But at DWP Digital the sizeable community of agile folk readily convening in their own work space was eye opening! Within days of starting I was sat with the community in vibrant spaces with whiteboards and post-its talking facilitation, coaching, delivery, user needs, retrospectives and much more.
The buzz about the place and other people's willingness to help has been phenomenal. Colleagues from our hubs dotted all over the country gather and talk, share and nurture each other. I honestly feel like I've learned more in the last 3 months than in the entire previous year working in agile.
Part of being an agile delivery manager is teaching and coaching your team to self-organise and deliver the best value early and often. Another big part is helping to promote agile as a methodology to the wider organisation.
Trying to steer a government department towards modern ideologies is a challenge – especially the biggest one! I won't sugar coat things, it is, and very much will be, a huge challenge for us to help shape our future agile landscape, but that's another reason why I joined. I wanted to be able to challenge myself on a daily basis and really try to make a difference to as many people as possible.
Helping people
The people whose lives our work has the potential to benefit is two-fold.
For our colleagues - we can help improve the DWP environment by forging an agile culture where modern, continuous development flourishes and value to the end user is realised frequently and easily.
If we can do that well, then for our customers - the massive numbers in society who rely on the work of the DWP - we can provide better digital services that are much easier and quicker to apply for.
Supportive colleagues
Our exposure to communities, people and services is not just restricted DWP. We have 'unconferences' (Google it!) with agile specialists from other government departments. So I've been sharing with, and learning from, those in the NHS and HMRC as well as DWP. Opportunities like these are incredible for advancing knowledge, and finding out how others have tackled their various challenges.
As someone who has worked solely in the private sector until now it's been a steep learning curve. However, days like the unconference showed me what a fascinating mix of experienced and talented people we have in government helping each other.
There are people who have been with DWP for 40 years – and have witnessed the progress of technology from the beginning - they are invaluable in helping newcomers like me negotiate our processes and understand what is and isn't immediately achievable. Then there are the people who are new to the public sector who've joined to help us on our journey to modernise approaches and challenge the status quo. But we are all working to the same goal: delivering value to our users.
That's what agile is all about really. Constantly moving and adapting; learning and teaching; experimenting and adapting through empirical experiences. What's more, we are actively encouraged and supported to work in this way, which makes everything so much more natural and enjoyable.
Being part of this positive experience on government services, not just DWP, is really exciting.
I'm only 4 months in but it has flown by and I'm definitely not regretting the decision to join. If anything I should have done it sooner…
Be part of it!
We're recruiting digital specialists right now.
Check out our vacancies on our Careers site. You can also find out more about what's happening in DWP Digital by subscribing to this blog and following us on Twitter @DWPDigital and @DWPDigitalJobs.