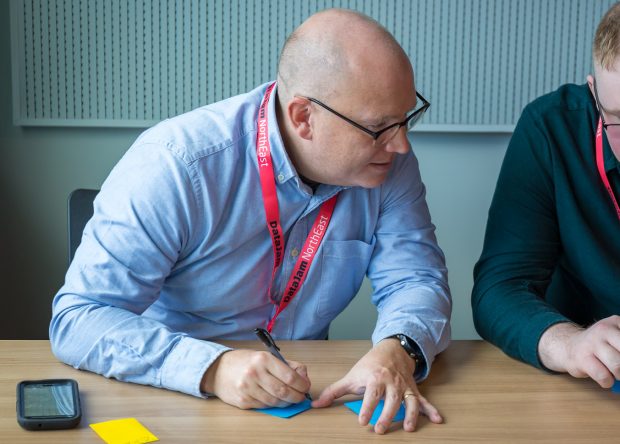 A student perspective: the opportunity to lead a project for DWP Digital
I joined DWP on an 8-week work placement after meeting Nagesh Reddy, DWP Programme Director, Finance Transformation programme at one of the many business analysis workshops, conferences and events I like to attend – I really love business analysis!
Nagesh was impressed by my passion and enthusiasm for working in this field and was keen to support me on my journey into work. He helped me to find out more about the role and hopefully helped me on my way to learning new business analysis tools and techniques and to help me on my journey to become a business analyst. Working with the Capability and Talent team within DWP Digital, who helped to make this happen, he introduced me to Jamie Toyne, Head of Business Analysis and Marie Franklin, a business manager and practice support for Product Design. They worked together to devise a mini project for me to work on which would support their work and help to develop my skills under the mentorship of Mark Young.
Working as a business analyst with my mentor, the recruitment team and the learning and development team, I analysed 2 staff systems and their processes to offer solutions which could increase efficiency, remove any potential business or reputational implications and improve the working lives of DWP Digital colleagues.
I thrived in the positive working environment of DWP Digital and developed many new skills, a major one being agile working which was eye opening and kept me on my toes. The interactive fast paced environment brought a dynamic approach to everyday tasks. No 2 days were the same and every day a new skill was learned and my network of colleagues strengthened.
The feeling that no person was left to stand alone resonated. No day was boring because every day was different and this is what I loved about my time there. I'm really grateful to Nagesh for making this opportunity happen and to Mark for being my mentor and managing me through the project.
Mark: providing opportunities to the next generation of analysts
When the DWP business analysis leadership team approached me and asked if I'd mentor a student, I immediately agreed as I have a real passion and enthusiasm for business analysis and think it's really important to provide opportunities to people to gain experience.
I provided advice and coaching to ensure he was in a position to set his own career goals and forge a path into business analysis. I also introduced him to some learning and development such as the IIBA Entry Certificate in Business Analysis and BCS Foundation Certificate in Business Analysis and helped him to build his networks in the analyst community so he can pragmatically continue his journey beyond his 8 week experience.
I shared a variety of business analysis techniques, including: problem definition, business process mapping, business activity modelling, SWOT analysis, CATWOE, eliciting and defining requirements, stakeholder workshops to understand 'As Is' and 'To Be' process, GAP Analysis, Three Amigos, use cases, writing user stories using Gherkin, Scenarios, MoSCoW, personas and business cases.
Taking part in this experience has taught me that learning is a lifelong journey. As Joseph Joubert said, "To teach is to learn twice".
I'm grateful to the people who took time in my early career to support me and to help me navigate my way into a profession I love. So I feel very lucky to be able to pay this forward and support the next generation of analysts in finding their own path into the profession.
I wish him every success in his journey to become a business analyst and look forward to being involved with more schemes like this in the future.
We're hiring
Be part of the one of the largest and most exciting digital transformations in the world. Apply now by visiting our careers website.